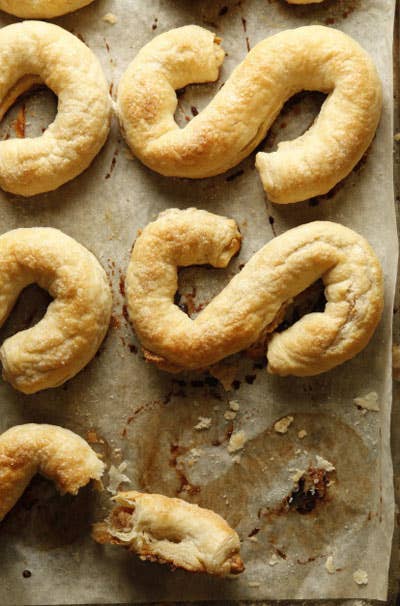 Travel
S is for Sweet
At an Iowa bakery, it's Christmas every day with these Dutch treats
When I was a kid, the winter holiday meant a 20-hour drive from my family's home in the Carolinas to my grandmother's in Des Moines, Iowa. Though the trip was epic, as soon as we arrived, I'd insist that we get back in the car and drive 50 more miles east to Pella, Iowa, a town whose Dutch heritage was apparent in its old-fashioned windmill, in the wooden clogs in shop windows, and most important, in the old-world sweets at the Jaarsma Bakery. Among the spice cookies and butter cakes at this family-owned shop was my favorite treat: the Dutch Letter.
The Jaarsma family has been selling these flaky S-shaped pastries, filled with almond paste and sprinkled with crystallized sugar, since Harmon Jaarsma, an immigrant from Friesland in northern Holland, first opened the bakery in 1889. Though the letters are still made using Harmon's recipe, they're no longer shaped by hand; after almost a century, the Jaarsmas commissioned a machine that takes six people to run and can churn out hundreds of the treats an hour, each nearly a foot long if stretched out. Though that's probably more cookie than a small girl should tackle, I'd down one with ease, savoring the ends where the almond paste had oozed out. They were a near perfect delicacy, their sole flaw being that they came only in S's, and not as a girl named Katie would have preferred, in K's.
In Holland, the treats are called banketletters (named for the type of dough used in this sweet) and are eaten on December 5 for Sinterklaas Eve, when Dutch Santa Claus delivers presents to youngsters. While similar baked letters date back to the Middle Ages, the pastries did not become connected with the holiday until the 1800s, when the popular children's book St. Nicholas and His Servant inspired a renewed interest in the saint. The alphabet-shaped cookies were a natural fit for St. Nicholas, who is also the patron saint of students. Today banketletters are given as Sinterklaas gifts, usually shaped in the recipient's initial.
Harmon's decision to limit the banketletters to S's was in part to honor the holiday's namesake, says his great granddaughter Kristi Balk, who now runs the bakery. But it also had practical benefits: Each sweet is constructed from just one piece of dough, making it sturdier than letters with joints. For birthdays and other special occasions, the Jaarsma Bakery custom shapes these treats into any initial, even the letter K.