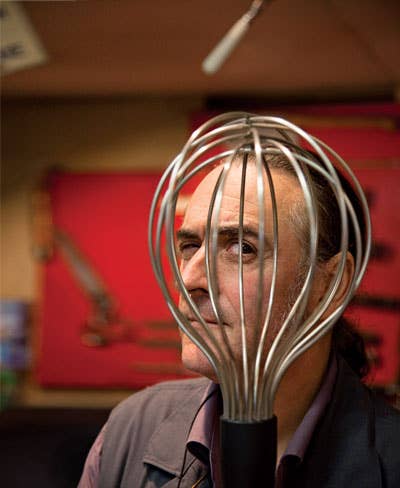 Travel
E. Dehillerin Cookware Shop, Paris
I sincerely hope that, if you find yourself in Paris, you'll go to E. Dehillerin, the 190-year-old kitchen supply store on the rue Coquilliere, near the Louvre museum. You might be underwhelmed initially: the façade is plain as can be, the aisles are narrow, the shelves are cluttered, the floorboards are creaky, and some of the best merchandise is displayed in the cramped basement. But the store is always crowded with restaurateurs, students from the Cordon Bleu cooking school, and even a few non-pros like me.
The first thing that's likely to raise your pulse rate is the copper cookware: hundreds of gleaming professional-grade cooking vessels: saute pans, sauciers, stew pots, double boilers, roasting pans, turbot kettles, bowls for whipping egg whites, and lots more. You'll see all sorts of other tools, too—baking mats, whisks, wheeled dough cutters, chopping blocks, mandolines, meat thermometers, wooden spoons, rubber spatulas, brass-plated duck presses, and a huge selection of cast-iron Dutch ovens, escargot dishes, and loaf pans. Don't expect the salesmen to hold your hand. If you speak to them in English, they might even roll their eyes. But these guys are knowledgeable, and they'll make sure you get what you're looking for, provided you tell them what kind of cooking you're going to be doing.
I've purchased numerous pots and pans at E. Dehillerin, and my cooking's the better for it. I don't burn my braises anymore, and the saute pans always give me a great sear. I love my copperware so much that I always take the food right to the table in it. I plan to buy, on my next trip, a good carbon-steel knife; Dehillerin has a huge variety.
If you can't make it to Paris, you can always visit Dehillerin's website (www.e-dehillerin.fr). You'll still get the best tools out there. But nothing can replace the thrill of navigating those narrow aisles, packed from floor to ceiling with everything a cook could want. —Frank Galella, Denville, New Jersey