Eating in Los Angeles: A Chocolate Haven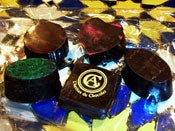 Like some French Legionnaire who dropped his weapons in the sand and decided to stick around, L'Artisan Du Chocolat is an unexpected bastion of the tri-color in a neighborhood of pupuserias and Korean bulgogi. Whajung Park, a chocolatier trained at Paris's Ecole Superieure de Cuisine Jean Ferrandi, together with her husband, Christian Alexandre, are making and selling high-end chocolates, both classical and avant garde. Most can be found at nearby restaurants and hotels. But if you find yourself on the corner of Virgil and 1st Street, stop by and grab a box.
Daniel Milder lives in Los Angeles and has contributed articles and videos to Good Magazine, Men's Journal, and Kenneth Cole's Awearness Blog.