Eating in Paris: Gimme Shelter—and Barbecue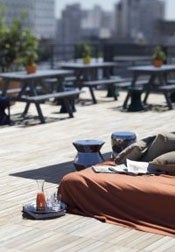 The most talked-about hotel in Paris right now is the uber-trendy Mama Shelter. This summer, the joint got even hotter by hosting weekend barbecue parties on the roof, and it's continuing to do so on sunny days during the fall. The €39 cook-out includes a basket of crudites, lentil salad, grilled kebabs of beef, chicken, and fish, plus lamb chops, potatoes, sorbet, watermelon, and seasonal fruits. Lunch is on Saturdays from 12-4pm, and dinner is on Thursday to Saturday from 7-11pm. Check their Facebook page for fabulous photos and updates.
109 rue de Bagnolet, 20th arrondissement, +33 (0)1 43 48 48 48
Meg Zimbeck is an online contributor to Budget Travel and BlackBook. She blogs about Paris and other adventures at megzimbeck.com.