Eating in Thailand: A Proper Pad Thai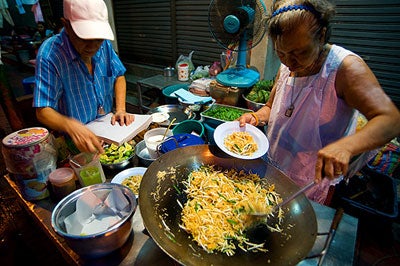 Living in Bangkok, I've come to learn that pad thai—one of the most frequently ordered dishes at Thai restaurants in North America—is oftentimes disappointing as a street food. But Austin Bush recently discovered a satisfying version that appealed to me presentation-wise: I wish more Southeast Asian street vendors would return to the age-old practice of packaging food in banana leaves. They are aesthetically pleasing, biodegradable, and very cheap—miles better than our plastic bags in every way. By the way, Austin's also Bangkok's best street food scribe, having recently penned a piece for SAVEUR.
Jarrett Wrisley is a freelance writer based in Bangkok. Find his food writings and photography at the Atlantic Food Channel, or on his personal blog, Light Snacks Will Be Served.