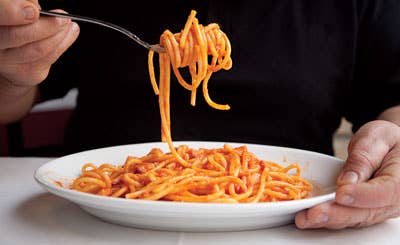 Travel
Eternal Pleasures
Cooks in Rome are reviving the city's iconic dishes.
You have to feel it here," the dark-eyed man said to me, ardently squeezing my pulse. "And here." He gestured toward my heart. "One misstep—it can be ruined. But when it comes together," he cried, "it's strepitoso [smashing]!" In Rome such hyperbolic conversations are nothing unusual, especially when it comes to seduction or soccer. But my acquaintance, a waiter at a trattoria called Felice, was waxing rhapsodic about, of all things, cacio e pepe, a peppery Roman pasta dish so commonplace that until quite recently I hadn't given it much thought. In fact, over almost three decades of visits to the Italian capital, the sturdy cucina romanesca, with its reliable cohort of gutsy pastas and simple secondi, was something I'd regarded with much affection but not necessarily with reverence. As with many a Rome-struck tourist, eating was an activity I contentedly squeezed in between the Caravaggios and Borromini's Baroque architectural geometries.
All that began to change a few years ago. Felice's cacio e pepe certainly had something to do with it. Ditto a sumptuous oxtail stew I ate at a restaurant on Isola Tiberina, Rome's island in the Tiber River. Over the last several visits I found myself less interested in the church of San Luigi dei Francesi (those Caravaggios!) than I was in the supernal pasta alla carbonara at Roscioli, a place near the Campo dei Fiori. And across the Tiber, at a restaurant called L'Arcangelo in the untouristed district of Prati, I was awed by the pasta all'amatriciana, a dish that redefines how a pasta with tomatoes should taste.
If my appetites were reawakening to Roman food, that's because the food in the Eternal City was quietly changing, too. A younger generation of chefs and artisans was revitalizing old classics, paying tribute to a handful of Rome's canonical dishes with exalted ingredients and sharper cooking techniques. Eager to revisit and rediscover those dishes on a return trip, I decide to take a fresh approach. I'll ditch Rome's churches and statues for its bold pastas and sturdy sauces, for its grilled pork chops in a sweet-sour agrodolce glaze, for its gnocchi and thin, crisp pizza bianca, for its big globe artichokes brightened with mint or deep-fried alla giudia (Jewish style), for the bitterish crunch of puntarella chicory with anchovy sauce, and for other earthly pleasures.
I begin my stay by quizzing local experts in earnest about real Roman cooking. Virtually everyone is quick with a definition—of what it is not. Not remotely Mediterranean. Nothing to do with the baroque cuisines of the monzu (southern Italian court chefs). Worlds away from the opulent butter and egg-fueled cooking of the northern regions of Piedmont and Emilia-Romagna. "You have to understand," insists my friend Marco Veneziani, a local restaurant critic and an amateur historian of Roman food: "until we became the capital of unified Italy in 1870, we were two separate cities here in Rome." There was the Vatican, with its wealth, formality, and ceremonious food, and there were the popolino, or common folk, who merely subsisted while the papal state feasted. That's why, unlike the ducal city-states in the rest of the country, Rome never developed a refined, elaborate cooking style. "Our cucina was hefty because it was povera, for the poor," says Marco.
Marco is telling me all this at Felice, the site of my cacio e pepe epiphany a few years ago. Founded in 1936, the restaurant is a stalwart of the formerly working-class Testaccio neighborhood, in south-central Rome. Testaccio was once dominated by the city's main slaughterhouse, the Mattatoio, and today many Romans still come to the neighborhood for a subtype of their local cuisine called quinto quarto—literally "fifth quarter," a polite term for offal. I like nervetti (calf's foot tendon) as much as the next person, but I've returned to the neighborhood for Felice's cacio e pepe.
Along with the rest of Testaccio, the place no longer feels proletarian, but its kitchen has remained loyal to Rome's cucina povera, refining it ever so slightly. "Any real Roman knows the city's weekly specials by heart," Marco declares, pushing away the menu. "On Monday, capellini in brodo; on Thursday, gnocchi; Friday, salt cod." And every day, a quartet of Roman dishes is prepared with dried pastas: bucatini, rigatoni, tonnarelli (a kind of squared-off spaghetti), and ziti-like mezze maniche. The choice of sauces includes carbonara, amatriciana, and cacio e pepe, which is conjured out of nothing but olive oil, Pecorino Romano (mellowed, perhaps, with some Parmigiano), and the black pepper that's been omnipresent in Roman kitchens since antiquity.
Cacio e pepe is Rome in a pasta bowl. It's brash (the sting of the pepper, the salty bite of the cheese), gritty (experts insist that you must feel the pepper and cheese grains on your tongue), and a bit challenging (vigorous tossing is required to blend the ingredients without causing the cheese to clump up). And, of course, when it all comes together—strepitoso! A waiter beckons me into Felice's kitchen to see how the chef, Salvatore Tiscone, prepares his famous version. After placing a portion of cooked tonnarelli in a shallow bowl, Tiscone generously peppers the cooking water and splashes a couple of ladlefuls into the pasta. On top goes olive oil, along with Pecorino, Parmigiano, and more Pecorino. Then the whole is sent out to the dining room to be tossed in front of ravenous diners. The dish is a triumph, elevated by a rigorous attention to detail that belies its simplicity.
Our pasta course devoured, we move on to the involtini in sugo, braised beef roll-ups. It's a quintessential Roman secondo, Marco pronounces: "a bit of meat and tons of tomato sauce, meant to dress pasta over several days." Tiscone starts the dish with thinly pounded sheets of la pezza, a humble cut from the rump. Layered with a slice of prosciutto, the meat is rolled up with garlic and basil, tied, then lightly browned and slowly braised in plenty of tomato sauce. The long cooking breaks down the meat's fibers, and the involtini are soft enough to be cut with a spoon.
Among the many pleasures to be had at Felice are the contorni (side dishes), a cornerstone of Roman cuisine (see ** Roman Contorni**). Felice serves the obligatory roasted potatoes and carciofi alla romana (artichokes braised with mint and garlic), and, if it's early spring, one can start the meal with puntarelle in salsa di alici, a delicious tangle of curly chicory shoots with a sharp dressing of olive oil and mashed anchovies. Dessert? Ciambelline (ring-shaped cookies) dipped into plonky sweet wine. And that's Roman cooking—dura e pura.
In the same family of simple, big-flavored Roman pasta dishes, and perhaps the city's most famous, is spaghetti alla carbonara. Most carbonaras are just pasta, cheese, cured pork, and eggs, but the version at Roscioli, an eight-year-old wine bar and restaurant off the Campo dei Fiori (and a sister establishment of the legendary Antico Forno Roscioli, where you'll find the most exquisite pizza bianca in Rome), represents an evolutionary leap, at a run. In all of Italy there might not be a dish more obsessively sourced: from the slightly gamy guanciale del Conero (from a nearby town that's known for its version of those cured pork jowls) that's cut into thick squares and seared without oil, to the duo of local Pecorino cheeses (Romano and Moliterno), to the perfectly textured durum wheat spaghettoni from a tiny producer in the nearby Abruzzo region. Most crucially, the eggs come from Paolo Parisi. This perfectionist Tuscan farmer feeds goats' milk to his hens to achieve a lean, compact yolk, one that conveys a surprising suggestion of almonds. The final touch—three different kinds of black pepper, from Jamaica, China, and India—cunningly renovates this cucina povera staple. "A great carbonara is all in the balance of flavors," the chef, a Tunisian-born Roman named Nabil Hassen, tells me. "No single ingredient should stand out." Eating his carbonara is like discovering the dish for the very first time: the guanciale pops in your mouth, the eggs create a silky sauce, and the peppers add a faintly exotic, lingering kick.
Roscioli also makes a stupendous amatriciana, a lush, zesty tomato-and-onion-based pasta sauce that's flavored with guanciale, but it's even better at L'Arcangelo, a sedate restaurant in the Prati district. There, the chef-owners, Arcangelo and Stefania Dandini, have breathed new life into this folkloric red sauce. Gratings of excellent Pecorino give the sauce a surprising depth; the guanciale, this one from the jowl of a Tuscan Cinta Senese pig, lends it a dusky complexity; and sweet, organic tomatoes give it a bright flavor without imparting the sharp acidity that's a trait of most versions of the sauce.
The amatriciana at L'Arcangelo is a paragon of elegance, and this leaves me wondering: Does cucina povera lose its essence when you aesthetisize it? What is more authentic: to eat indifferent food prepared from frozen ingredients at a neighborhood trattoria, or to revel in the newfound respect for tradition at bourgeois places that charge more than 30 bucks for a portion of tripe? As if reading my mind, Arcangelo Dandini tells me that good-quality Roman essentials like salt cod, offal, and fresh vegetables were once dirt cheap and as abundant as water. Now, he says, one has to pay through the nose for that organic tomato. To preserve traditional cooking—this takes research, dedication, and money, he adds.
The same preservationist ethos rules at the historic Sora Lella restaurant on Isola Tiberina, home to what may be the ultimate coda alla vaccinara, a long-cooked oxtail stew that's one of Rome's slaughterhouse-district classics (a vaccinaro is a slaughterhouse worker). I ask one of Sora Lella's chef-owners, Mauro Trabalza, to talk me through his recipe, and I'm struck once again by the attention to detail. Like most Italian stews, his begins with a battuto (fried mixture) of carrots, onions, and celery. The celery, Trabalza points out, lends a mellow depth to the dish and tempers the strong taste of the meat. Once the meaty oxtails are blanched to render out some of their fat and then browned, the prepared battuto is added. Next, he simmers them short of forever with white wine, crushed tomatoes, water, and a touch of bay leaf and clove, which further sweeten the sauce and counter the tomato's acidity. At the end he adds a grating of bitter chocolate or cinnamon that beautifully rounds up all the flavors. The resulting stew is a mound of burnished, fall-apart meat in a rich, subtly spice-infused sauce. At Sora Lella you can also savor soft, springy veal polpette (meatballs) swathed in tomato sauce, and an excellent rendition of gnocchi alla romana, pillowy baked semolina or potato dumplings, which is a kind of comfort food I could eat every day.
Now forget all you've read. For a taste of the greatest Roman food on the planet, you must leave the imperial city behind and head southeast. After about 25 miles you'll come to the nondescript town of San Cesareo, in the Lazio countryside. Here you'll find a veritable museum of ethnographic Roman-Lazio flavors, at a rustic but elegant place called Osteria di San Cesario, a restaurant that sums up perfectly the new direction of Roman cuisine.
The restaurant's guiding spirit and chef, Anna Dente, is larger than life, fond of red toques and of arm gestures so expansive you'll be afraid to get in her way when she talks. And talk she will. About being a butcher before becoming a chef, cleaning innards for 42 years in her dad's shop. About Roman cuisine being shaped as much by Lazio's shepherds and farmers as by Testaccio's slaughterhouse workers. About the importance of Lazio's kitchen gardens to the cooking of Rome.
With her butchering background, Dente is a queen of quinto quarto cooking, but she also pays special attention to legumes and seasonal vegetables, most of them grown nearby. Her acqua cotta soup, loaded with squash sprouts, onions, zucchini, tomatoes, beans, and garlic and topped with fried bread and baccala (salt cod), is a cucina povera masterpiece; the same can be said for her soft heirloom borlotti beans laced with gelatinous slivers of pig's ear.
The dinner at San Cesario is my arrivederci to the region, and I'm joined by my pals Marco Bolasco, the director of publications at Slow Food, and Bob Noto, a food photographer who has flown down specially from Turin. We feast on pastas, such as the toothsome fettuccine with mutton, prepared by Dente's 90-year-old mother, Maria, with special flours they get straight from the mill; on sweetbreads with porcini mushrooms; and on a polenta pizza with wild herbs. After dinner, over homemade fennel liqueur, Dente regales us with tales of the time she was flown to Hollywood to cook for a promotional event for Italy's famed Cinecitta film studio. "The one who loved me most," she cries, "was, you know, the bearded director: Spilembergo!" On our drive back to Rome we're still laughing about it. "Signor Spielberg, he does have good taste," Bob says. And then we all talk about what we've just eaten and say "strepitoso." We say it a lot.