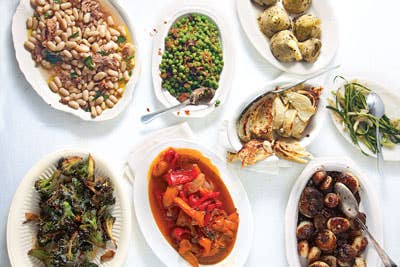 Techniques
Roman Contorni
Some of Rome's most splendid dishes are the sauteed, braised, boiled, roasted, and otherwise simply prepared vegetables that are served with most meals. Called contorni, these fresh, flavorful dishes round out meat and fish main courses, and they are also often served as antipasti, before meals. In trattorie all over town, waiters serve braised cardoons (a cousin of the artichoke), mixed local greens known as misticanza, and dishes like the ones featured here. Classic contorni are common i
The rich, fleshy beans known as cannellini are grown throughout the region of Lazio, of which Rome is the capital. They're used in Roman soups, in pasta dishes, as a topping for bruschetta, and in this white bean and tuna salad.
Strascinati, which means "dragged," refers to a technique for sauteeing in olive oil with plenty of garlic and chiles. This dish, which pairs beautifully with porchetta or pork chops, can be made with regular broccoli, broccoli rabe, or broccoli romano, known in the States as romanesco.
The peas that grow outside of Rome are reputed to be some of the sweetest and most tender in the country. In spring they appear in all sorts of dishes, like the fava- and artichoke-studded vignarola stew. Braised and sauteed with salty prosciutto, they are a classic contorno.
You'll find this ancient sweet-sour preparation of onions across Italy (particularly in Lazio), but the dish is beloved in Rome, where it pairs naturally with roasted meats like porchetta (see ** Porchetta**).
In spring and summer, crates of peppers grown around Lazio come to market, and cooks prepare this sweet, simple pepper stew to serve alongside meats and fish. Peperonata also makes a great antipasto atop bruschetta, perfect with a glass of local white falesco wine.
No vegetable is as important to Roman cuisine (both ancient and modern) as the artichoke. This ubiquitous contorno calls for trimming down locally grown artichokes to the heart, braising them until tender, and flavoring them with mint, a popular herb in Roman kitchens.
The long, white interior shoots of puntarella, a kind of chicory, are often sold sliced and soaked (to reduce their bitterness). Tossed with some of the vegetable's green leaves and a garlicky anchovy dressing, this dish is a great foil for rich pastas and roasted meats.
Fennel, the sweet, anise-flavored bulb that turns even sweeter when cooked, is a traditional Roman ingredient. This creamy dish is rooted in the cucina povera technique of braising ingredients in milk to tenderize them.