Food in the News: Oil Spill's Impact on One of Our Last Working Fish Houses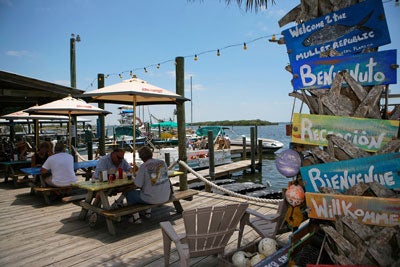 Cortez Fishing Village, a quaint and colorful throwback to simpler times, lies just off the main artery of the boom-and-bust strip mall experience of southwest Florida in Bradenton. Nestled at its tip is the A. P. Bell Fish House, one of the last working fish house on the state's west coast. The community's fleet comprises a hundred boats, and its economy rests on the sea. Eighty-six-year-old Walter Thomas Bell, son of the fish house's founder, still goes in every day to see that things run smoothly. His daughter, petite and soft-spoken Karen Bell, the day-to-day manager of the entire business, which also includes a fish market and a restaurant, is uncharacteristically concerned. The Bells have seen a lot. Sunken boats from an unnamed hurricane still riddle the harbor, creating nesting areas for local fish. The net ban and various moratoriums forced many of the fishermen into new lines of business or changes of methodology. But nothing has been as unsettling as the BP oil spill.
Karen Bell is also angry, and not only with those who mismanaged the oil rig; she is angry with the media. Florida's commercial fishing boats do not fish in any waters affected by the spill, and the state's Department of Agriculture spot-checks the fish for pollutants—as of yet, nothing has been found—and updates its reports daily at www.fl-seafood.com/hotline.htm. Certainly, no one wants anyone to eat anything toxic. But Karen has seen a precipitous drop-off in clientele. Restaurants have been opting not to order local fish, solely out of fear. Much of A. P. Bell's catch is shipped to other states and countries; how anxiety over the spill will affect those markets is still unknown. What Bell does know is that, for now, her fish are safe. She hopes that everyone will help support the local economies that haven't yet been hit by the devastation. She knows it's coming, and she and the rest of Cortez are trying to figure out how to prepare for it. But they are fishermen at heart, with great perseverance and equally great hope for the future.