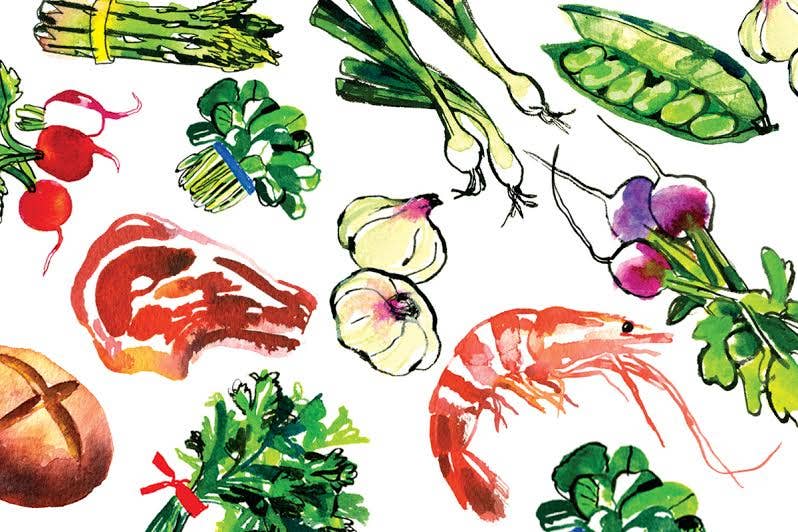 Zurich, the commercial and travel hub of Switzerland, is the ideal gateway for a visit to that country, muesli themed or not (see "Going with the Grain", in the October 2008 issue of SAVEUR); Swiss International Airlines offers daily service from several major American cities. Zurich's appeal is more than merely practical; indeed, the city's reputation as a chilly business town is totally undeserved. Present-day Zurich is a lively, culturally important, immensely user-friendly city with a beautifully preserved Altstadt (old city) surrounded by leafy residential enclaves and inviting commercial corridors—all of them accessible by streetcar—that are home to excellent eating destinations, of both the traditional wurst-and-beer kind and a newer kind: innovative, ingredient-driven restaurants that make the most of Switzerland's long-established commitment to organic and biodynamic farming. The central Swiss city of Lucerne, as well as its environs, is a perfect second destination for a short Switzerland visit: it's a fairy-tale confection of medieval-era architecture arrayed along the crystal-clear Reuss River.
Hotel Eden au Lac
Utoquai 45, Zurich (41/44/266-2525; www.edenaulac.ch). Rates: $470 double.
This elegant, century-old hotel sits on the eastern shore of Lake Zurich and has retained much of its early-20th-century charm without feeling fusty or museum-like, from the elegant moldings and polished wood of the reception and bar areas to the heavy brass key fobs. An impeccable full Swiss breakfast is served in the sun-drenched dining room every morning; it includes both the traditional Bircher-style muesli (see "Going with the Grain") and dry grain mixes accompanied by a huge selection of dry and fresh fruits, nuts, yogurts, and cream.
Hotel Pax Montana
Flueli-Ranft (41/41/660-2233). Rates: $125 double.
Built in 1896 in the art nouveau style, this palatial hotel is set dramatically on a hillside in the village of Flueli-Ranft, about 25 minutes south of Lucerne, in the foothills of Switzerland's central Alps. A throwback to the era of grand resort hotels, the Pax Montana (Peace of the Mountains) has retained a remarkable measure of its bygone glory. The modestly priced rooms are basic but clean and comfortable, and the view from most of them—of craggy, snowcapped peaks in one direction and the cobalt waters of the Sarnersee, an alpine lake, in the other—is impossible to beat. The factory of Bio-familia, Switzerland's leading maker of packaged muesli, is a five-minute drive away, down the hill in the town of Sachseln (see What to Do, below).
Brasserie Bodu
Kornmarkt 5, Lucerne (41/410-0177). Moderate.
This convivial restaurant on the Reuss River in Lucerne was one of the first authentic French-style bistros to open in that city. The most popular dinner, every night: the grilled entrecote (sirloin steak), made from excellent local beef. In warm weather, ask for a table on the small terrace overlooking the river and its bustling sidewalk cafes.
Hug Backerei Konditorei Cafe
Muhlenplatz 6, Lucerne (41/41/410-1092). Inexpensive.
Facing a busy pedestrian square not far from Lucerne's famous Chapel Bridge, this pleasant cafe/bakery offers prepared muesli—available in sealed plastic bowls from a cold case, for a perfect snack on the go—made with fruit-flavored yogurt and lots of fresh fruit. It's as much a dessert as a breakfast.
Kaiser's Reblaube
Glockenstrasse 7, Zurich (41/44/221-2120). Moderate to expensive.
This cozy restaurant and wine bar in the heart of Zurich's Altstadt occupies a building that the German writer Johann Wolfgang von Goethe briefly called home. Inside, the emphasis is on fresh, seasonal ingredients, from locally raised lamb to duck and chestnuts.
Tibits
Seefeldstrasse 2, Zurich (44/250-7444; www.tibits.ch). Inexpensive.
This trendy, upscale buffet-style restaurant, located not far from Zurich's Opera House, serves fresh vegetarian fare, including what many locals consider the best muesli in town. Try the knuspermuesli, "crunchy muesli", or the restaurant's version of beerenmuesli, muesli with fresh berries.
Vier Linden
Freistrasse 50, Zurich (44/268-8810; www.vvierlinden.ch). Inexpensive.
This always busy, welcoming cafe/bakery is a lunchtime hub in the picturesque residential neighborhood of Hottingen. In addition to vegetarian sandwiches and pizzas, an excellent Bircher-style muesli is served.
Zeughauskeller
Banhofstrasse 28a, Zurich (41/44/211-2690). Inexpensive.
Yes, it's noisy, crowded, and full of tourists, but this 90-year-old beer hall near Zurich's main train station is the real deal: excellent locally brewed pilsners, wheat beers, and dark lagers are served in towering glass mugs alongside plates of outstanding house-made veal bratwurst and rosti—Swiss-style roasted potatoes. There's no muesli in sight.
Bio-Familia Factory
Brunigstrasse 141, Sachseln (41/666-2525; www.bio-familia.com).
In operation since 1954, the Bio-familia company was the first cereal maker in Switzerland to package a Bircher-style muesli; today it is the country's leading maker of dry muesli mixes. The pristine factory is located in the small alpine town of Sachseln, south of Lucerne, and is open for visits by appointment. Visitors have a rare opportunity to see how modern-day breakfast cereals are made (in addition to muesli, the company produces all manner of packaged granola and American-style kids' breakfast cereals).
Zurich Development Center
Keltenstrasse 48, Zurich (41/44/625-7560; www.zurichdevelopmentcenter.com).
This state-of-the-art corporate conference center and retreat in the hills north of downtown Zurich occupies the villas and grounds of the former Vital Force Sanitarium, where Dr. Maximilian Bircher-Benner invented muesli and served it to his patients. The center has preserved Bircher-Benner's old library (where photographs and curios from the clinic are on display), and the cafeteria is one of the few places in Zurich that still serve true, unaltered birchermuesli made exactly as Dr. Bircher-Benner specified: with grated apples and condensed milk. Visits are by appointment only.