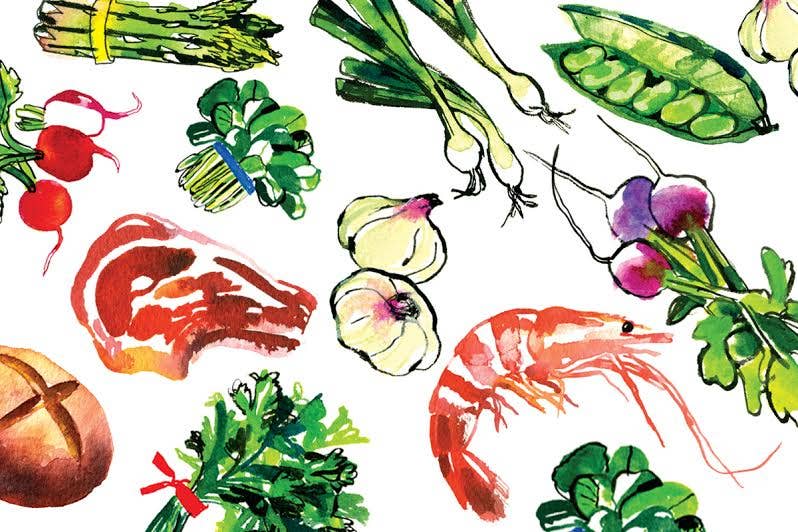 "I was away at school when my mother told me she was opening a restaurant at our house," recalls Tim Allen, Myrtle Allen's son. "I was very excited. I thought I'd come home and have chips and mixed grills and all. I was so disappointed when I got back and discovered that she was serving the same food I'd eaten all my life." Though he didn't realize it at the time, the food Tim Allen had eaten all his life was something of an endangered species: fresh, honest Irish home cooking based on ingredients grown or raised around the house, or at least in the neighborhood. And his mother was to become the leading light of modern-day Irish cooking, a mentor and an inspiration, as important to her country's cuisine as Alice Waters was to America's.
In 1948, Myrtle and her husband, Ivan, a fruit grower (now deceased)—who were living on a farm in Shanagarry, not quite 20 miles southeast of Cobh—moved to a house nearby called Ballymaloe. (The name means place of sweet honey, says Tim, or possibly of milk and honey; Shanagarry is an English corruption of the Irish for old garden.) The house, originally part of a 15th-century Norman castle, sat on the edge of a large mixed-used farm. Ivan raised a wide variety of fruits and vegetables on the property, and Myrtle raised six children. "In 1943, in wartime," she has written, "large quantities of tomatoes, mushrooms, cucumbers and apples were … exported from the farm to England and Wales. The surplus came into my kitchen along with cream, butter and eggs and slowly I learnt how to cook with them, guided by my gourmet husband." She also took cooking classes at the School of Commerce in Cork City and started writing a recipe column for the Irish Farmers Journal.
In 1964—to her son Tim's initial excitement—she opened a restaurant in the house, originally dubbed the Yeats Room. Three years later, she opened a portion of Ballymaloe as a guesthouse, at least partly because this made it easier for her to get a liquor license for the restaurant. Gradually, word of her homey, savory cooking spread, and Ballymaloe became a culinary destination.
Today the restaurant remains one of Ireland's best. As you'd expect with what is essentially home cooking based largely on ingredients from the garden or from nearby farms—and on just-landed fish from nearby Ballycotton and shellfish from West Cork—the menu changes constantly. In general, soups (lettuce and mint, for instance) are simple and flawless; salads glisten with freshness. Main dishes are straightforward and taste of what they are—food like roast cod with champ or roast leg of free-range pork with herbs and garlic and Bramley apple sauce. The dining room shines the brightest, though, with its Friday-night seafood buffet, sometimes carried over through the weekend—in effect, a glorious Italian-style antipasto table with an Irish accent. On our most recent visit, we had tiny fresh mussels, rock oysters, cockles, crabmeat, Frank Hederman's smoked mussels and mackerel and eel, and various nonpiscatorial items including pates of chicken liver and of pork with chicken and bacon, thin-sliced seared eggplant, pickled onions, pickled beets, and salads of cucumber and tomato.
Allen has long been much more than just a restaurateur, though. Convinced that Irish products and honest Irish cooking were as good as any in the world, she became an eloquently vocal and tireless exponent of Irish food, both in Ireland and abroad. She traveled, taught, appeared on radio and television, wrote books. She organized "Taste of Ireland" events in Amsterdam, Brussels, and New York. From 1981 through 1985, she helped run an Irish restaurant in Paris, La Ferme Irlandaise—named one of the city's top ten "foreign" restaurants. She founded Euro-Toques Ireland and later was president of that international organization for three years. In her native Cork, she started a consumers' group, Free Choice, to support and promote local artisanal producers.
Today Allen is formally retired, leaving her daughter-in-law Hazel to run the hotel and young (unrelated) Jason Fahey in charge of the kitchen, but she remains bright-eyed and vigorous and seems never to stop moving—welcoming visiting culinary dignitaries, driving off to Cork City to take part in a symposium or around the county countryside to drop in on artisanal cheese makers and organic farmers, whom she has championed for decades. Even when she agrees to go back into the Ballymaloe kitchen to show us how she makes her famous brown bread and a few of her restaurant specialties, she works crisply and efficiently—and can't help teaching as she goes. ("Irish brown bread actually came from a book by the English food writer Doris Grant, who developed the recipe at the request of the British government as something nutritious and easy to make at home. We made it here, and it spread all over Ireland.")
The accomplishments of Myrtle Allen herself form just the beginning of the Ballymaloe story. Allen is also the materfamilias of a large and widespread network of food-related businesses, run by several of her children, grandchildren, and in-laws: for example, the Ballymaloe Shop and Cafe at the End of the Shop, next to the house itself; Hyde Ltd., which produces packaged Ballymaloe food products; Feidhlim Harty Wetland Systems, an environmental consultancy service; a culinary employment agency called Jobs for Cooks; a ready-to-serve pub-food producer known as Cully & Sully; another restaurant, Crawford Gallery Cafe, in Cork's Crawford Municipal Art Gallery; and, most significant, the world-renowned Ballymaloe Cookery School, back at Shanagarry, which was started by her daughter-in-law Darina (Tim's wife).
The school, as large and well equipped as a small high school—but in a much prettier setting than the vast majority of such institutions, with organic kitchen gardens and beautiful unmanicured grounds—offers 12-week certificate courses of study for would-be culinary professionals (or working cooks who want to brush up on their skills), as well as individual classes or short courses in everything from barbecue cooking, mushroom hunting, and stress-free entertaining to beekeeping and "how to keep a few chickens in your garden." Tall and wise looking, and as much the globe-trotter and natural teacher as her mother-in-law, Darina seems the perfect embodiment of the Ballymaloe tradition. "The coolest words in food as we slide into 2006," she wrote in her year-end online newsletter, "are local, artisan, and slow." Those three words could be the defining motto for the best of what Ireland has to offer to the world of food today.