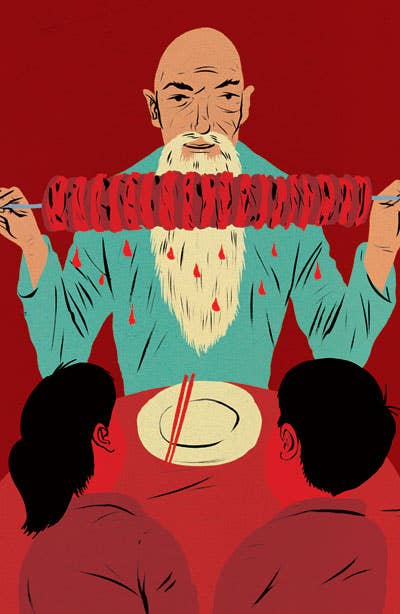 Travel
Eastern Riches: Remembering Hong Kong's Gold Coin Chicken
In Hong Kong, leftovers are a delicious treasure.
Back in the 1980s, visiting my grandfather in Hong Kong meant eating well. Grandpa would wake up in the morning, go to the Cantonese restaurant down the street—the one with the roasted meats hanging in the windows—and return with a skewer loaded with burnt ends and trimmings. "Are the grandkids visiting?" the shopkeepers would ask when he made his purchase. They would always throw in steamed buns with the meats. These elements made up Grandpa's assemble-at-home version of a snack that was once found throughout the city: gum tsin gai, or gold coin chicken.
Sleepy-eyed, I would watch him slide portions off the skewers to wedge between the soft white buns: a medallion of char siu (barbecued pork), a hunk of chicken liver, a slab of pork fat—all of which had been brushed with a honey-soy sauce glaze and flashed under the restaurant's broiler. Even with its bun, it was a mess to eat. The sauce stuck to our teeth, and oil slipped down our forearms. But was it tasty. First, there was the subtle smokiness of the pork; the smooth chicken livers added a metallic zing; and the moist bits of fat burst inside our mouths.
From the early 1920s on, at restaurants with roasting ovens, gold coins—a reference to the tidbits' circular shape and two-bite size—were stacked high on platters like doubloons, a means of using leftover meat. They were favored by laborers who saw the hearty parcels as a way to sustain their energy. But by the end of the 20th century, a new generation of diners had dismissed the dish as unrefined. Slowly, gold coins became less common, and the extra bits were reserved for staff meals instead. But I still have a favorite place where I go for a fix: the Manor Restaurant, a dim sum specialist that roasts its own meats. I make sure to cozy up to the chef there so he'll prepare me an extra-thick portion of gold coins, with double the filling.