A Taste of Place: Mumbai's Vada Pav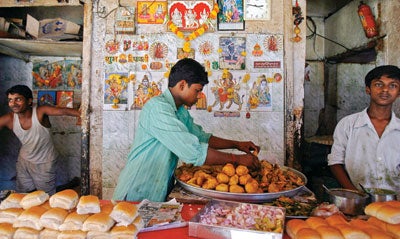 My favorite food is Indian food—I've long been awed by its complexity and vibrancy. Yet I was about to turn 30, and I had never been to India. So I decided to give myself a gift: I would fly to Mumbai to eat. I landed at Chhatrapati Shivaji International Airport at three o'clock in the morning and took a taxi downtown, anticipating the intense throngs that I'd seen in films, photos, and the news. But the famously busy metropolis was dead, so I went to sleep too. Eight hours later, I awoke to shouting, talking, and smells—thick, profound smells like those of a city on fire, exhaust fumes mingled with the smoke and spice that I knew must be wafting from Mumbai's legendary street food. I quickly dressed and stepped outside into the welter of activity. The first thing I saw was a hawker making sandwiches.
Though I considered myself an Indian-food enthusiast, I had never heard of Indian sandwiches, yet in Mumbai they were everywhere. I sampled the frankie, a flatbread roll coated with fried egg and mounded with chicken curry so saucy, it's served with a sleeve to catch the gravy. Then there was a creation I liken to a vegetarian club: white bread smeared with garlic and cilantro chutneys, sandwiching sliced tomatoes, beets, white onion, and a slice of boiled potato, cinched and crisped in a cast-iron press over an open flame. Yet the sandwich that truly won me over was the vada pav (VA-da POW), which is the Mumbaikars' answer to the burger. I joined dozens of men, dressed in loose slacks, sandals, and untucked button-down shirts, lined up at a small table that was nearly obscured by the aluminum platters of golden fritters, vibrantly hued sauces in metal pails, and clusters of Parker House-style rolls (pav, from the Portuguese word for bread, is a holdover from that country's 500-year presence in parts of India). The vendor reached for a soft bun and moistened it with splashes of tart tamarind and fragrant coriander chutneys, then snatched up a vada—a mashed-potato beignet flavored with cumin, fennel, coriander, turmeric, chile, garlic, and onions—and stuffed it into a roll; it was like cramming a tennis ball into an oyster shell. He handed me the finished sandwich. The fritter, so swollen that I had to smash it so I could fit it in my mouth, was intensely spiced, a starch-on-starch flavor bomb with a pastry-like softness. Like all other Indian food, I learned at that moment, the subcontinent's sandwiches are mind-boggling, bold, and beautiful.