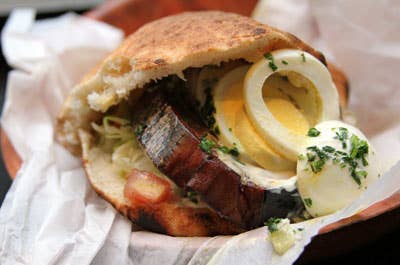 Travel
Hybrid Power: The Iraqi-Israeli Sabich
The beauty of one of the world's great sandwiches
The Middle East is known for its vegetarian sandwiches. Although falafel is the region's most popular specialty, it has one especially delicious rival: the sabich. Marrying fried eggplant with hard boiled eggs, amba (mango chutney), pickles, and a host of sauces to delicious effect, I was first introduced to this Israeli-Iraqi hybrid when I asked what the strange, orange, exotic-looking sauce was at a small falafel shack in the Negev Desert.
Falafels and sabiches are both served in pita bread and contain hummus and tahini as toppings. But that's where the similarity ends. The sabich's roots lie in the wave of Iraqi Jews who fled their native land in the wake of anti-Semitic violence in the 1940s and 1950s. Large numbers of the refugees ended upin the newly formed country of Israel, with many settling in the town of Ramat Gan, generally considered to be where the sabich originated. On the Sabbath, when no cooking is allowed, Jews in Iraq would often eat cold meals of long-cooked eggplant, steamed potatoes, and hard-boiled eggs. After picking up the tradition and bringing it to Israel, Iraqi vendors who saw opportunities available from selling fast food began rolling up all the ingredients in a single pita. Open-air stalls selling sabich began to open throughout Israel in the 1950s and '60s; the inexpensive and filling sandwich quickly became one of the nation's go-to blue-collar lunches.
According to chef Einat Admony, whose New York restaurants Balaboosta and Taim serve Israeli-inspired street foods, credit for the sabich (pronounced with a hard ch) belongs to a specific Iraqi emigrant to Israel - a man named Sabich, who operated a small Ramat Gan restaurant that originally served the sandwich. But, like many culinary origin stories, that's up for debate. Rejecting the fable of the eponymous restaurateur, some claim that the word is an acronym for the Hebrew words for salad (salat), eggs (baytzim) and eggplant (chatizilim, with a hard ch). Modern Hebrew uses acronyms frequently; the story is not impossible.
But how did an Iraqi-Israeli eggplant sandwich end up with mango chutney as a central ingredient? Since the medieval era, Iraqi Jewish traders maintained close business and personal ties with India. (To this day, one of the largest Indian Jewish communities calls themselves the "Baghdadi Jews" after their origins in Iraq.) The frequency of trade meant mango chutney was frequently imported to Iraq, where locals - Muslim, Jewish, and Christian alike - introduced it to the Iraqi larder, after jazzing up the condiment with fenugreek, mustard, and chili. Moving ahead a few hundred years, and a few hundred miles west, the Iraqi-Indian ingredients met with extant Israeli cooking methods: the sandwich went into fluffy Israeli pita rather than the traditional Iraqi flatbread; European-inspired cucumber pickles were thrown in too; and the Israeli passion for adding hummus to any sandwich was, of course, indulged.
In Israel today, sabiches are a common street food in almost every city, and local stands are fiercely competitive with one another. High-end vendors punch up the proletarian dish with whole wheat pita and organic ingredients, while value-oriented fast food operators stuff sabiches full of extra ingredients like feta cheese and deep-fried cauliflower. Regardless of how it's doctored, Admony says the sandwich's appeal is simple: it's "delicious and great - filled with protein inside and vegetables." Like any other great food, the sabich is deeply connected to immigrant folkways and history's pathways. Although Baghdad may face its own problems these days, in both Tel Aviv and New York the sabich remains a little piece of Iraq.
Neal Ungerleider reports on international business and emerging technology for Fast Company; he has previously written for Slate, Wired, and Foreign Policy.