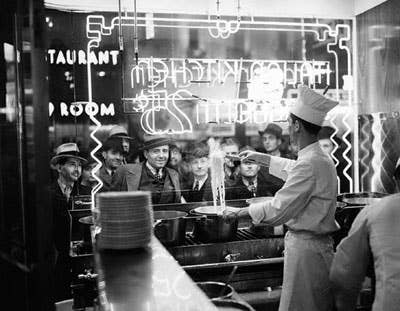 Travel
Italian America
Italian immigrants took pride in feeding their families sumptuously.
At my family's home in the Bronx, we ate slices of fresh, milky mozzarella with seeded bread from the Italian bakery down the block, macaroni shells stuffed with Polly-O ricotta, lasagne with little meatballs between the layers, baked rigatoni, eggplant parmigiana, chicken cacciatore, beef braciola. We drank chianti that came in a straw-covered flask and espresso from a drip pot, with a sliver of lemon peel. This was the 1950s and '60s, and though Mom was always cooking for our family and friends, Dad knew his way around the kitchen, too. He took to the stove on weekends, concentrating on a single dish: lobster fra diavolo, because my mother hated handling live lobsters.
We thought we were eating authentic Italian food, because the dishes were the same ones all the other Italian families we knew cooked and ate. But in reality, our cuisine was an American invention: an amalgam of hearty, rustic dishes brought here, primarily by southern Italian immigrants (my grandparents came from Abruzzo and Campania), then adapted and embellished upon in American kitchens. By the time I started writing about food in the mid 1970s, this homegrown cuisine had fallen out of favor as northern Italian—inspired dishes, deemed (sometimes erroneously) lighter and more authentic, became all the rage. I can't say that I didn't welcome the new trend of delicate fresh egg pasta, or celebrate the fact that grilled branzino had replaced shrimp scampi on so many Italian menus. But I will never deny my love for a supersize plate of spaghetti with homemade meatballs, or an eggplant parmesan hero, with its ample breading and sauce and molten mozzarella. There's a beauty and succor to Italian-American food, and it's for a good reason that so many chefs have been returning to those classics recently, preparing them with a newfound zeal and sense of respect.
The story of the rise and fall and rise again of Italian-American food is a fascinating one; it's an American story, its plot interwoven with the entrepreneurial drive, embrace of pop culture, proliferation of convenience foods, and creativity of home cooks that has informed our country's culinary spirit. It began authentically enough, with Italian immigrants who were skilled at making the very most from the very least. The abbondanza for which Italian-American cooking is known stems from the fact that these immigrant cooks, most of whom came from dire poverty, took pride in being able to feed family and friends sumptuously on the kinds of foods they couldn't afford back home. Ingredients like mozzarella and ricotta were no longer used as accents, or as meals in themselves: They were added to dishes with abandon. My father's lobster fra diavolo, which was likely inspired by tomato-based seafood stews made with small spiny or inexpensive rock lobster in Italy, was another example: When it was popularized in the 1950s in Italian-American restaurants, it became a lavish dish—far bigger in size and flavor than its predecessors—of fat New England lobsters cooked in a fiery tomato sauce. Another ingredient considered an extravagance in southern Italian cooking, veal, could be found on early Italian-American menus in myriad forms: alla parmigiana (breaded and covered with sauce and cheese), alla marsala (doused with fortified wine), and as massive one-pound veal chops, often stuffed with mozzarella and prosciutto, then smothered with tomato sauce.
Foods from the homeland became springboards for invention in the States. Take pizza, which evolved from its simple Neapolitan roots into styles unlike anything found in Italy (see Any Way You Slice It), with more cheese, more sauce, and more toppings. Or, tomato sauce, for that matter: When my wife and I first traveled across Italy, on our honeymoon in 1977, we saw neither marinara (that quickly cooked sauce of just tomatoes, garlic, and oil) or the long-simmered "Sunday sauce," stocked with all kinds of meats, which most families I knew while growing up served on Sunday. Of course, tomato sauce exists in Italy; the irony is that tomatoes were brought to Italy from the Americas in the 16th century and considered poisonous by all but southerners, who found them a delicious addition to their meager diet and discovered that they flourished in their sunny clime. Which explains why when more than 4 million Italians, a vast majority of them from the south, immigrated to America between 1890 and 1910, they brought tomatoes, and tomato sauce, with them. Every cook had a version, and it became the food on which immigrant mothers staked their eminence within their neighborhoods. Growing up, we would no more insult a friend's sauce than we would his mother or grandmother. The sauce was sacred.
Soon enough, red sauce became emblematic of Italian food in the United States, embraced by Americans from every ethnic group and marketed by savvy restaurateurs as part and parcel of the cuisine's abundance. My family dined out at least once a week, usually at a place called Amerigo's in the Bronx, which began as a pizza stand in the 1930s and evolved into a restaurant of extraordinary breadth, with a menu that ranged from antipasti to zabaglione, and a dining room decked out with an illuminated waterfall and a mural of the nearby Throgs Neck Bridge. It was at restaurants like Amerigo's that we feasted on the kind of fancy dishes that Mom didn't make on weeknights: I always had the gnocchi with tomato sauce and my brother, the manicotti. My father would order a massive New York strip steak, introduced to the city's steakhouses by Italian-American butchers, and my mother would have filet of sole "Livornese," a dish with clams and mussels, white wine, and a moderate amount of garlic. Portions were huge, including the cheesecake and cannoli for dessert. A waiter came to the table to whip zabaglione in a big copper pot.
The epitome of this style of dining was Mamma Leone's on 48th Street in Manhattan. That multistoried spectacle of Italian kitsch, with nude statuary and blocks of mozzarella and provolone cheese on every table, opened in 1906 and was operated by the same family until it was sold to a restaurant group in 1959, eventually closing in 1994. Had Verdi lived to eat there, he would have written an opera about it, and Enrico Caruso and Luisa Tetrazzini—both of whom were immortalized in pasta dishes that bore their names—would have sung the leads.
As much as Americans adored places like Mamma Leone's, Italian-American food was often referred to as grub for "greasers" and "garlic eaters." It wasn't until the arrival of first-rate Italian ingredients—many of which had been kept out of the U.S. by trade laws—in the 1970s and '80s that Italian-American cooks were able to reproduce the regional flavors that travelers to Italy complained they could never find in the States. This included prosciutto di Parma, extra-virgin olive oil from different locales, parmigiano-reggiano, arborio rice, funghi porcini, balsamic vinegar, and outstanding Italian wines from producers like Angelo Gaja and Giovanni di Piero Antinori.
By that time, many Italian-American restaurants had become tired and tiresome, and some restaurateurs tried to refine the cliches—and justify higher prices—by turning to northern Italy for inspiration. In New York there were Romeo Salta (opened in 1953), Nanni (1968), and Il Nido (1979); in Santa Monica, California, Valentino's (1972). They all downplayed the red sauce factor, substituting butter and cream sauces and adding—at $20 a plate—risotto and, of all things, polenta, a dish that had been the thrice-a-day staple of poor northern Italians who could afford to eat little else. This food was welcomed as authentic regional Italian: Lasagne with meatballs and meat sauce was dismissed in favor of lasagne alla Bolognese, with besciamella and spinach pasta. Italian-American cheesecake and cannoli were replaced by tiramisu and panna cotta. The old chianti bottles in straw fiaschi baskets were abandoned in favor of expensive barolos, barbarescos, and "super-Tuscans." Murals of Mount Vesuvio were painted over in favor of blown-up photos of Sophia Loren and Marcello Mastroianni. Red-checkered tablecloths disappeared; now the tables were set with Frette linens.
The zeitgeist looked north for another reason: Italian fashion and design (centered in northern cities like Milan and Florence) was all the rage in the 1980s. The chicest new restaurants in the U.S. proclaimed they were Tuscan-style trattorias or grills (even if they didn't serve Tuscan food). Among the first to promote their Tuscan origins were Da Silvano, opened in 1975, and Il Cantinori (1983). Both, still operating in New York's Greenwich Village, became darlings of magazine editors, art gallery owners, and other members of the cultural elite. Before long, their menus were copied across the country, and extra-virgin olive oil became the new red sauce.
These northern Italian—inspired places adopted the tenets of the Mediterranean Diet, named for a book written in 1994 by cookbook author (and saveur contributor) Nancy Harmon Jenkins. The basic argument was that what real Italians ate—a diet abundant in vegetables, seafood, grains, and olive oil—was far more healthful than the meaty, rich, fried, cheese-laden, red sauce-drowned food of Italian-Americans. Quick sauteed greens and farro were in; chicken parmesan and meatballs were out.
But who doesn't love meatballs? As influential as the Mediterranean Diet has been, the Italian food you are most likely to encounter in London, Berlin, Moscow, or Mumbai will be far closer to the old "red sauce" archetype than to regional Italian menus featuring Alba's white truffles, Sardinia's cheeses, or Venice's cuttlefish ink risotto. Even the most trailblazing purveyors of modern Italian cuisine in America, while proudly serving regional specialties, still champion the good old-fashioned Italian-American classics, even if they change the names. The addictive, confectioners' sugar-dusted fried doughballs known in the Italian-American canon as zeppole often show up as similar bombolini, and what used to be called plain macaroni is now broken down into specific subclassifications, whether it's rigatoni rigate, garganelli, or casarecci. At Osteria Morini in New York City, Michael White—born in Wisconsin and trained at San Domenico, the Michelin 3-star outside of Bologna—serves mostly Emilia-Romagna-style food, but he also offers meatballs in tomato sauce and pasta with white clams.
Moreover, traditional Italian-American restaurants are opening in higher profile, trendier spots. The 10-table, infamously hard-to-get-into Rao's in New York City opened in Vegas in 2006, serving classics like meatballs and veal chops. And, Rubirosa, owned by the same family that runs the 51-year-old Staten Island pizzeria Joe and Pat's, recently opened in downtown Manhattan, serving the kind of food I grew up on, in a dining room painstakingly designed to evoke the classic midcentury neighborhood red-sauce joint. The chef, Albert Di Meglio, and owner Angelo Pappalardo, both worked at the Manhattan restaurant Circo in the 1990s, owned by Sirio Maccioni, the man responsible for inventing pasta primavera and making it one of the most popular dishes of the 1980s at his celebrated Le Cirque. Rubirosa is returning to the Italian-American classics by serving the likes of sauteed broccoli rabe and stuffed clams.
Perhaps the place offering the most creative take on Italian-American cooking is the widely praised—"aggressively Italian-American," as Sam Sifton, former restaurant critic for The New York Times put it—Torrisi Italian Specialties. In a storefront on Mulberry Street, Little Italy's main drag, Mario Carbone and Rich Torrisi typically serve more than 300 Italian-American-style hero sandwiches at lunch, and at the neighborhood's annual San Gennaro festival, they set up a booth hawking mozzarella sticks. But where they really capture Italian-American food's melting pot qualities and spirit of innovation is at dinner. In a dining room decorated with a poster of Billy Joel, fifty bucks gets you five courses, which may include their inspired take on garlic bread, slathered with tomato-garlic butter; bowls of still-warm, made-to-order mozzarella; gemelli from Severino, a 40-year-old pasta company in New Jersey, in a hearty duck ragu; maybe tilefish with pickled green tomato relish or duck breast with broccoli rabe and mulberry mustard. The meal ends with a paper cup of Italian ice and a plate of cookies. That was last night; tonight it will all be different.
What's also different is that Carbone and Torrisi, who often incorporate Asian influences from neighboring Chinatown into their menus, use only American products. Nothing's imported, not the prosciutto, not the tomatoes, not the spaghetti, not the bread crumbs—because, what's wrong with Progresso? The message is clear: It doesn't have to be straight from Italia to be special. And if it was good enough for Italian home cooks, then it's good enough for us.
Whenever I eat at these new school, or cheffy, Italian-American restaurants, I never expect the food to taste just like my mother's. These restaurants are a testament to the fact that Italian-American food is its own living, breathing cuisine; that can evolve just like any other. What I love most about where Italian-American cooking is now is that there's an equal respect for the tried and the true, as well as the changing tastes of the day: even at home, the dishes I prepare tend to be lighter, and maybe a bit brighter with fresh herbs, than they used to be. But they still embody all that is genuine, and generously wholesome, about Italian-American food. And they're served with gusto and with just one intention: to make me and my family and friends very, very happy.