LA Food Lovers' Calendar
A yearlong guide to the city's most delicious events and festivals.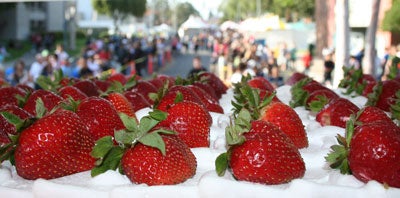 **March 6-7 **
2010

World of Wine Weekend
Temecula, California
In the vine-covered hills of the Temecula Valley, California's only prominent wine region south of LA, 25 producers open their doors to wine lovers, offering samples straight from the barrel, along with well-paired food. Information: www.temeculawines.org.
March 27
2010
Los Angeles Sake Festival
Hollywood
Both connoisseurs and novices learn all about Japanese rice wine at this evening festival, now in its third year. Attend an introductory sake class, sip concoctions made by top bartenders, and sample more than 100 bottles. When you've had enough to drink, take a karaoke break. Information: www.drinkeatplay.com/lasakefestival.
April 6-August 22
2010
In Focus: Tasteful Pictures
The Getty Center, Los Angeles
This appetizing exhibition, drawn from the Getty's photography collection, looks at all things culinary through the lens of photographers like Weegee (who captured everything from early-morning bagel deliveries to restaurant scenes from New York City's Little Italy on film). Information: www.getty.edu.
April 24
2010
The Grilled Cheese Invitational
Downtown Los Angeles
Eight thousand fans of melted cheese are expected at this event, where they will tuck into sandwiches made with everything from cheddar to mascarpone, listen to cheese-inspired poetry, and watch as amateur and professional chefs face off for the title of Grilled Cheese Champion. Information: www.grilledcheeseinvitational.com.
May 22
2010
Armenian Food Fair
Montebello, California
Music, games, and, most of all, food are on offer at this annual celebration of LA's sizable Armenian community. Graze on kebabs, cheese borek, the flat bread called lahmajun, and baklava. Then learn how to make string cheese and other specialties at the cooking demonstrations. Information: www.armenianfoodfair.com.
May 28-31
2010
Garden Grove Strawberry Festival
Garden Grove, California
Fifty years ago, strawberries were a major cash crop in the LA area; today, enthusiasm for the fruit still runs high. Over this four-day fest, locals and visitors will crowd fresh strawberry stands, taste an assortment of strawberry desserts made by local charities, and grab a slice of the world's largest strawberry shortcake (last year's is pictured at top; it fed more than 2,000 people). Information: www.strawberryfestival.org.
June 19
2010
Pupusa Festival
Los Angeles
This festival in McArthur Park, a Salvadoran neighborhood, celebrates the beloved pupusa, a lightly griddled corn masa disk filled with quesillo cheese, black beans, and shredded pork. There are other snacking options, too—fried green and sweet bananas, roasted chicken, and milk shake-like licuados, which come in such flavors as mango and papaya. Information: www.hispaniceventsmarketing.com.
**
June 19
2010
Eat My Blog Charity Bake Sale
West Hollywood
Nosh for a worthy cause at this sweet event benefitting the Los Angeles Regional Foodbank, featuring goods baked by more than 50 LA bloggers. Treats include tarts, savory pies, cookies, cupcakes, layer cakes, and candies. Information: www.gastronomyblog.com/eat-my-blog.
**
**
**
**July 11**** **
2010
Bastille Day Los Angeles
Elysian Park, Los Angeles
More than 10,000 Francophiles gather to eat, drink, and watch as servers from local restaurants compete in the traditional Bastille Day waiters' race, in which contestants whiz through an obstacle course while carrying a tray, one-handed, teetering with glasses and water. Plenty of crepes, salade niçoise, merguez, and pastries are on offer. Information: www.bastilledaylosangeles.com.
**July 9**** **
2010
East LA Meets Napa
Downtown Los Angeles
Latino winemakers and restaurateurs come together at Union Station to showcase Hispanic foodways. Sample dishes like mole poblano with chicken, crab ceviche and beef empanadas, and sip wines from the Napa wineries Alex Sotelo Cellars and Ceja Vineyards. The event benefits Altamed, an organization that provides health services to the uninsured. Information: 323/889-7342; www.altamed.org.
**July 24-25**** **
2010
Oxnard Salsa Festival
Oxnard, California
This spicy two-day festival celebrates salsa music and dance, as well as the condiment: an entire tent is devoted to showcasing the salsas of area restaurants and purveyors through tastings (chips optional) and recipe competitions. When you've had enough salsa, move on to the carne asada and tacos al pastor, and wash it all down with margaritas. Information: www.oxnardsalsafestival.com.
August 13-15
2010
Sunland-Tujunga Lions Watermelon Festival
Sunland, California
More than 20 tons of free watermelon will be passed out in the course of this three-day event, which also features a watermelon-eating competition, watermelon coladas, seed-spitting wars, and a greased-melon relay. Round out your watermelon intake with the likes of pulled pork and barbecued pork ribs, taquitos and pupusas, and chocolate-covered cheesecake on a stick. Information: www.lionswatermelonfestival.com.
August 14-22
2010
Nisei Week Japanese Festival
Little Tokyo, Los Angeles
Cheer on the big appetites at the gyoza-eating contest, thrill to martial arts demonstrations, and sample Japanese street snacks like okonomiyaki (a savory seafood-stuffed pancake), grilled squid, and sweet mochi ice cream at the city's oldest ethnic festival, first held in 1934. Information: www.niseiweek.org.
**September 4-October 3**** **
2010
LA County Fair
Pomona, California
Congratulate the blue-ribbon winners of the cooking, livestock, and produce competitions, and then chow down: Mexican funnel cakes, chili dogs, barbecued beef and pork sandwiches, and deep-fried zucchini-wrapped hot dogs are just a few of the artery-clogging delights you'll find at the largest county fair in North America. Information: www.lacountyfair.com.
**September 30-October 4**** **
2010
Los Angeles Korean Festival
Koreatown, Los Angeles
Traditional dance, folksinging, martial arts, tea ceremonies, and even a wedding ceremony keep festivalgoers entertained in between tastes of bibimbop, kimchi, japchae (stir-fried noodles with vegetables), and many other Korean specialties at this lively even—now in its 37th year. Information: www.lakoreanfestival.com.
October 1-3
2010
California Avocado Festival
Carpinteria, California
Home to the world's largest vat of guacamole, this fest south of Santa Barbara celebrates the avocado—of which California is the nation's largest producer, growing more than 90 percent of the nation's crop—with entertainers, craft booths, contests for the largest avocado and the best guac, and a whole lot of avocado-centric cuisine, from a deep-fried Hass to avocado-flavored ice cream. Information: www.avofest.com.
October 2
2010
LA County Sheriff's Department Fun in the Sun Chili Cook-off
Jack Bones Equestrian Center, Castaic, California
At this annual cook-off in Santa Clarita Valley, north of LA, dozens of competitors vie for top chili honors. Thick, spicy, vegetarian, chunky, Frito studded, cheese laced, or riddled with habaneros—there's something here to please every chili palate. When you're through, try barrel racing or horseback riding. Information: 661/294-6309.
**October 3-8, 10-15**** **
2010
DineLA Restaurant Week
Indulge in three-course, prix fixe lunches and dinners, ranging from $16 to $44, during the city's Restaurant Week, which also takes place for two weeks in January. Hundreds of restaurants, from casual eateries like Susan Feniger's Street to upscale spots like Neal Fraser's Grace, are scheduled to participate. Information: www.dineLA.com.
October 16
2010
Taste of Soul
Crenshaw Boulevard, Los Angeles
Billed as LA's largest street fair, this soul food and music celebration draws more than 100,000 attendees, who come not only for performances by entertainers like Evelyn "Champagne" King but also for all kinds of barbecue, jerk chicken, and jambalaya. Information: www.tasteofsoulla.com.
September 25-26
2010
28th Annual American Wine and Food Festival
Universal City, Los Angeles
This six-hour feast, catered by some of the city's most celebrated chefs—including Wolfgang Puck, Nobu Matsuhisa of Matsuhisa and Nobu, Mark Peel of Campanile, and Gino Angelini of Minestraio Trattoria—unfolds against a backdrop of beautifully lit movie sets in the back lot of Universal Studios. Last year, more than 2,700 people attended. Tickets cost $300. Information: www.awff.org.
**November 7**** **
2010
Dia de los Muertos Festival
Hollywood Forever Cemetery, Los Angeles At this Mexican celebration that honors the dead, friends and family of the deceased build altars of their dearly departed's favorite foods at the historic Hollywood Forever cemetery (think tamales, In-N-Out burgers, and tropical fruits) while vendors sell pan de muertos, a large, sweet bun covered with anise seeds or sugar, and other sweets. Information: www.ladayofthedead.com.
November 7
2010
Great Chefs of Los Angeles "Go Green Go Organic"
Studio City
At the CBS Studio Center, LA's finest chefs—Mary Sue Milliken and Susan Feniger of the Border Grill and Govind Armstrong of 8 oz. Burger Bar have participated in the past—serve dishes made with local, organic, and sustainable ingredients. Paired with green wines and spirits, the fare makes for a splendid—and guilt free—eco-friendly dinner. Tickets are $150. Information: www.kidneysocal.org.
**December 11-12**** **
2010
Festival Navideño en la Calle Ocho
Koreatown, Los Angeles
LA's Korean and Latino communities come together for one of the country's largest toy giveaways during this weekend-long bicultural Christmas party. Watch the smiles spread across the faces of kids getting gifts, rock out to bands, and nibble on Korean bulgogi (barbecued beef), Mexican sopes, and other delicious Asian and Latin dishes. Information: www.navidadenlacalleocho.com.
February 4-6
2011
Tết Festival
Garden Grove, California
During this Vietnamese celebration of the Lunar New Year, cheer on contestants in the Chinese chess contest, the spelling bee, and the Miss Vietnam Southern California Tết Pageant. Or just dig into classic Viet dishes like thit nuong (grilled pork) and chả gio (egg rolls). Information: www.tetfestival.org.