Behind the Story: Reporting in Juchitán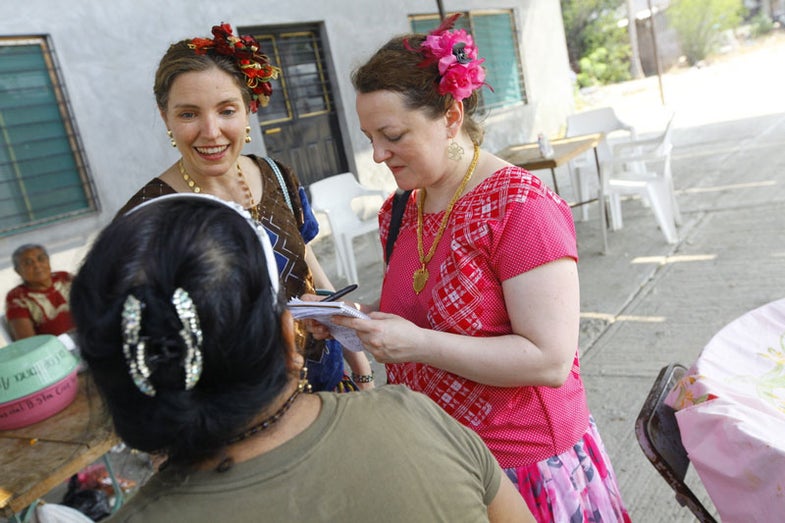 Travelling in Mexico's Isthmus of Tehuantepec during the height of fiesta season, I had more fun than I've had reporting any other story. In this photo, I'm the one dressed in pink; standing next to me is my good friend and favorite travelling companion, Ellen Sharp. Ellen, an anthropologist, had just completed a couple of years of fieldwork in an indigenous town in the mountains of Guatemala when she met up with me in Mexico; after the rather reserved and very patriarchal Mayan society she'd grown accustomed to, the rowdy Zapotec fiestas we attended, with their powerful and flamboyantly attired female hosts, were something new. They certainly were to me.
One day we visited the town of Tehuantepec, where we had the great good fortune of meeting Julin Contreras. An artist as well as a terrific cook and raconteur, she owns a local restaurant called Pueblo Mio and leads tours for the handful of travelers that make their way to the area. After feeding us delicious chiles rellenos stuffed with a picadillo of minced beef, raisins, capers, and olives, she hustled us over to her house and outfitted us like locals (i.e., fabulously) in woven huipil blouses, flowing skirts, and blingy gold jewelry, with flowers in our hair and a spritz of Anais Anais for good measure.
Then Julin led us to a barrio on the edge of town called Santa Cruz Tagolaba, where Julieta Santos Castellano was presiding over a group of her neighbors preparing massive quantities of food for a celebration of the neighborhood's patron saint. Castellano inherited her position as cook-in-chief from her mother, her grandmother, and an unbroken matriarchal line of cooks leading back further than anyone can remember. She massaged the meat of a bull, sacrificed and butchered hours earlier, with a marinade made with guajillo and ancho chiles, canela, avocado leaf, and fistfuls of salt. What looked like a gringo-style potato salad—rich with sour cream and mayonnaise and spiked with plenty of mustard—was cooked in an adobe oven, alongside the cazuelas filled with the massaged and marinated beef, to make the creamy casserole called pure de papas. At least as much effort was expended cooking the foods to feed the cooks: a soupy red mole thickened with ground corn; silky hot chocolate served with tamales; a spicy stew called mondongo made from the bull's offal. The bull's blood they reserved to be used as a hangover cure; having attended the rollicking fiesta later that evening, I'm sure there were many takers the following morning.