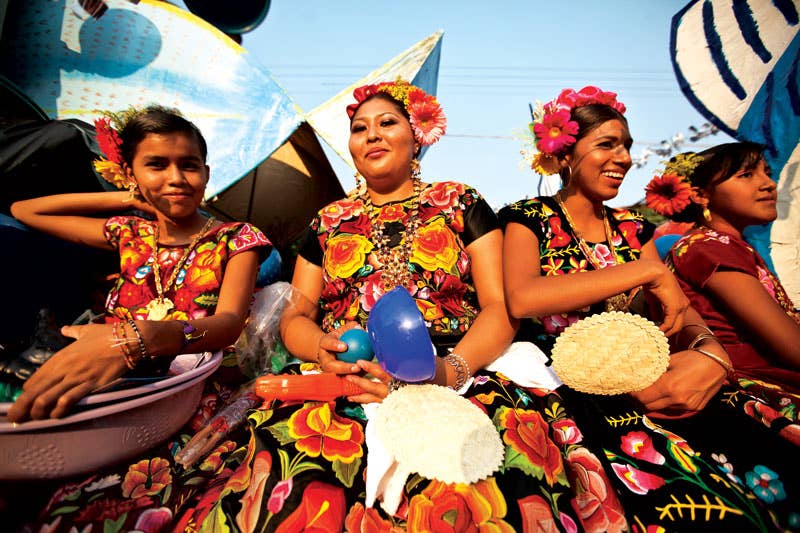 Travel
In Full Bloom
They favor brash and saline flavors here in the isthmus, buffeted by the Gulf of Mexico on one side and the Pacific ocean on the other
I'm told things are going to get a little wild later on. But the day begins quietly, under a palm-thatched palapa at the edge of a lagoon. It's a restaurant called Las Tres Tecas—"Tecas" being short for Juchitecas, the famously hard-bargaining women of the nearby market town of Juchitan—where the Teca in charge, Marcelina Rosado Guerra, cooks the seafood that her husband spends the nighttime hours hauling from the water. Wood-roasted striped mullet stuffed with tomatoes and chiles; a lime-drenched shrimp ceviche I scoop up with totopos, corn tortillas baked to a crisp in an adobe oven: It's a meal run through with the brash and saline flavors they favor here in the Isthmus of Tehuantepec, a windswept strip of land at the southeastern corner of Oaxaca state, buffeted by the Gulf of Mexico on one side and the Pacific Ocean on the other. Having tasted Isthmus-style cooking years ago at a restaurant in the capital city of Oaxaca, I knew I'd make my way here one day. What I didn't know is that I'd arrive in May, fiesta time, a monthlong party that's part Roman Catholic ritual and part pre-Columbian pantheism, but mostly a lot of dancing, drinking, and feasting.
I fall in step with the festivities at a regada de frutas, a parade complete with brass bands and floats carrying regal Juchitecas tossing out prizes of candy, toilet paper, kitchenware. It's in honor of Santa Cruz de los Pescadores and the bounty the sea provides. A woman in traditional ankle-length attire of black velvet emblazoned with floral embroidery smiles and hands me a plastic mixing bowl as the float she's riding on drifts along; close behind, resplendent in lame and peacock feathers, a beautiful muxe—the name for a man who lives as a woman, the "third sex" traditionally recognized in the Zapotec Indian communities of the Isthmus—dances by on foot. Each of these celebrations lasts two or three days: first the vela (party), then a parade like this one, then the lavada de ollas, a traditional "washing of the pots" that in practice is just another party. For the next several days I'm constantly confused about which holiday I'm actually celebrating.
The next day, I'm on a residential block collectively observing the vela of Guigu Dxita, a celebration giving thanks for the eggs laid along the region's rivers by iguanas and turtles, cherished delicacies here. Headquarters is the home of the mayordoma, or festival sponsor, Martina Rasgado Orozco, a lady with the brisk and benevolent air of a fairy godmother. In a courtyard, over wood fires, she and her female crew are cooking up crowd-size quantities of the botanas (snacks) we'll eat later.
As the sun sets, the street erupts in a rollicking block party. A band plays soulful Isthmus songs as the ladies in their velvets and satins dance together. The men, some in traditional long-sleeve guayaberas and red neckerchiefs, file in hoisting cases of beer on their shoulders; at the party, they largely observe while their wives and sisters and daughters dance. It's a challenge to manage my plate of food while continually accepting beers I'm informed in no uncertain terms I am not permitted to refuse. There's a pico de gallo bolstered with dried shrimp; tostadas topped with an intense and addictive shrimp paste; empanadas filled with jalapeño-spiked shredded chicken—all of it powerfully savory and spicy. "When you're drinking beer, you want chile!" cries the mayordoma, as she takes my arm and hustles me into the street for the first of many dances that night.
The following morning, I'm late to meet Martha Jimenez Martinez, a fruit seller from Juchitan's main market who's agreed to show me how to make her specialty, oven-roasted chicken. "La fiesta," she says, with a knowing smile. She lives in an outlying colonia of rough wood structures along the Pan-American Highway. Her 12-year-old, Pedro, appears with a live chicken, and Martha efficiently beheads it, plucks it, and cuts it up. While parboiling the chicken, she blends guajillo chiles with garlic, achiote, and mustard to rub on it before roasting on embers; broth from the pot goes into the jalapeño salsa served on the side. I sit still for what seems like the first time in days, under a canopy of mango branches bending with fruit, and focus on eating smoky chicken off the bone. "It's good," Martha says. It's not a question.