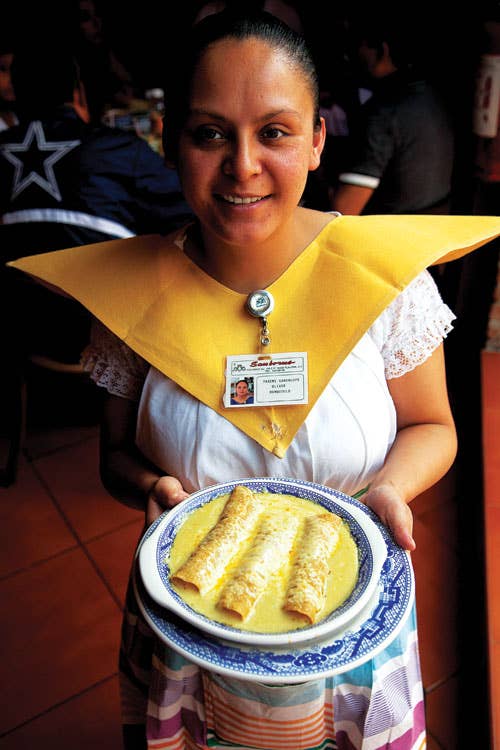 Travel
Saucy Dish: Sanborns' Enchiladas Suizas
Unlike Stateside renditions, Sanborns' chicken-stuffed enchiladas are served swimming in a cream-enriched tomatillo sauce and blanketed in bubbly tangy Chihuahua cheese
One amazing place to eat in Mexico City is actually in a department store. Sanborns reminds me of Woolworth's, and in fact, it has American roots; the chain grew out of a Mexico City pharmacy opened in 1903 by Walter and Frank Sanborn, brothers from California. To encourage employees to stay at work during the midday siesta time, the brothers served them lunch, and the in-store restaurants evolved from that effort.
Today, Sanborns has 174 outlets, but the one in the capital's Centro Historico is unique. It's set inside a spectacular 16th-century residence covered in blue-and-white tiles. Inside, amid the magazines, clothing, and housewares, there's a coffee shop and a cocktail lounge, and then there's the dining room, located in a soaring courtyard festooned in murals and carved stone.
Whenever I'm in Mexico City, I come here for enchiladas suizas. Unlike Stateside renditions, where the sauce is tomato-based and sweet, Sanborns' chicken-stuffed enchiladas are served swimming in a cream-enriched tomatillo sauce and blanketed in bubbly tangy Chihuahua cheese. They're tart, salty, soupy, and unimaginably rich—and their outsize flavors manage to stay in balance with one another.
These blockbuster suizas are also the originals, created in 1950 by a Sanborns chef who added cream to enchiladas en salsa verde. The gooey dish was dubbed suiza ("Swiss") after that dairy-centric cuisine. Along with other Mexican and American-style dishes—club sandwiches, carne asada, and hamburgers—the enchiladas suizas are served by waitresses dressed in cartoonish riffs on indigenous garb. The uniform's outsize triangular collar and striped skirt are so iconic that amigos of mine have worn them to costume parties. But it's not just the subject of parody. Sanborns is a real part of Mexican life—beloved as a one-stop shop for everything you need, including a rich and comforting meal.
Sanborns
Centro Historico
Tacuba No. 2
Centro
C.P. 06010
Mexico, D.F.
55-10-88-82