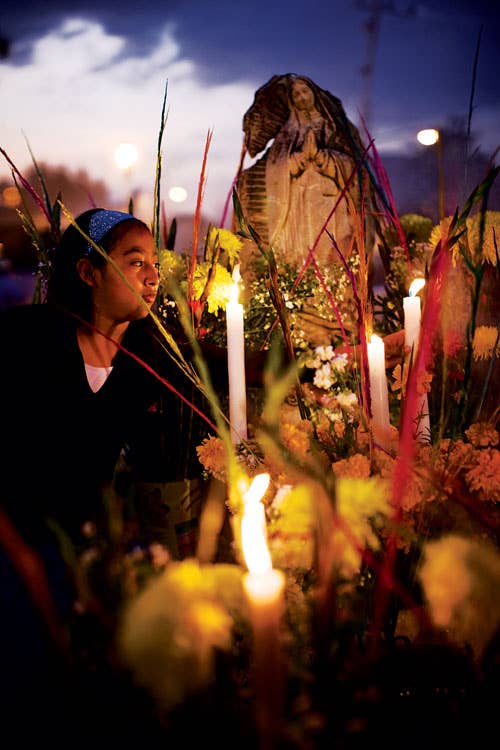 Travel
Day of the Dead
On the Day of the Dead, the veil between the worlds of the deceased and the living becomes more transparent
On the street leading toward the Church of San Andres Apostol in the village of Mixquic, an hour southeast of downtown Mexico City, vendors tempted a festive crowd with the hominy-rich stew pozole, and with radishes, fried grasshoppers, and pillowy pan de muertos, Spanish for "bread of the dead," a sweet holiday treat. Children laughed around me, begging for cotton candy and sugar skulls. Mariachis strummed. The sun was setting as everyone proceeded through the gates of the churchyard's walled cemetery. I followed, too.
On the Day of the Dead, the veil between the worlds of the deceased and the living becomes more transparent; only then may spirits press against that elastic fabric to savor the essence of tequila poured into a glass or a cigarette burnt to ash. To mark the way from the underworld, families across Mexico create folksy ofrendas (altars) piled with spiced black beans, tamales, and other foods, which serve as the spirits' earthly signposts. In Mixquic, families sit bundled next to headstones covered with marigolds during a candlelight vigil called La Alumbrada (The Illumination), awaiting the return of their lost loved ones. For me, a visitor, it was my sister I longed for, taken suddenly and too young.
Weaving around the crowded graves late into the chilly November night, I was invited to slug fiery mezcal from a communal bottle passed by cheerfully drunk brothers. Another family solemnly shared a home-baked pan de muertos. It was coarse and chewy, with a dusting of sugar on the brown crust. This generosity to a stranger in their midst seemed to me a sacrament of sorts. A stinging fog of copal incense rose from clay burners to swirl eerily around our heads. And before dawn, when the church bells chimed, throughout Mixquic, the aromas and flavors of proffered food faded as phantom travelers, sated, fled once again into their mystical world.
"Come back," I whispered. "Come back."