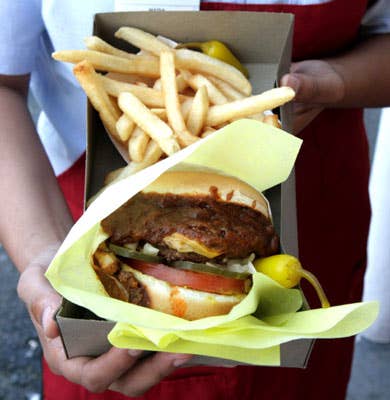 To believe in the chili burger is to turn matters slightly on their head because the usual criteria of a good burger—the char of the meat, the toastiness of the bun, and the crispness of the lettuce and pickles—are secondary. What matters above all else is that ladleful of mildly sweet and spicy beef chili. For more than 60 years, the chili burger at Tommy's in Los Angeles—particularly its first location, on the corner of Beverly and Rampart boulevards—has been the gold standard of this toothsome genre. That Tommy's didn't invent the chili burger (that honor goes to a long-gone LA restaurant called Ptomaine Tommy's) seems beside the point.
Started in 1946 by one Tommy Koulax, the son of Greek immigrants, Tommy's was built for American car culture: the dining area is a narrow ledge of wood that snakes around the parking lot and encircles a service window. There you'll be asked chili or not. You answer, of course, in the affirmative and are presented with a thing of beauty, temptation itself enclosed in yellow waxed paper. You unwrap the burger halfway, to keep it from spilling. You bite into it: first the pillowy bun, then the tangy-sweet chili, and finally the beef. Pure satisfaction.
Look around you. In the smoky dusk, beneath the improbably gorgeous shades of sky that an LA evening is capable of producing, you feel as if you'd found your way to the city's very heart. Perched on that wooden ledge alongside you is a cross section of Angelenos: cholos, clubbers, cops. At this moment, you are all of like hearts and minds. You wish you'd ordered a double, so you get up and return to the window. Give me one, with chili.