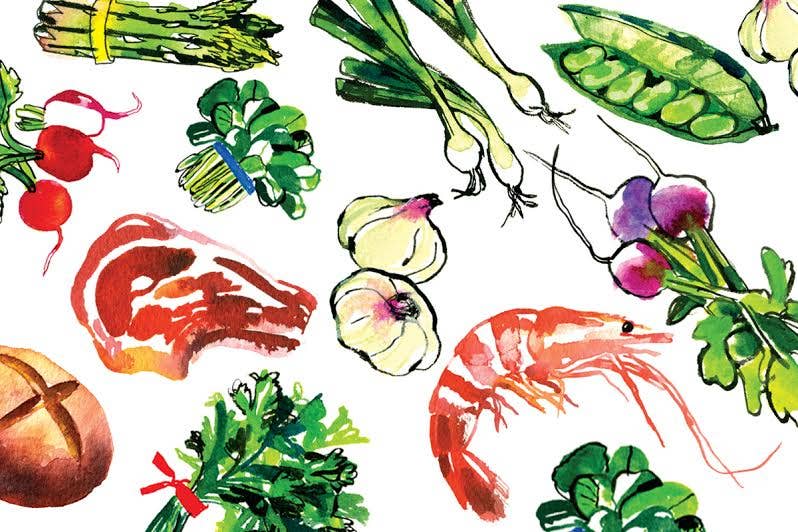 Hisao Nakahigashi began his rounds at seven in the morning. Dressed in a brown suede jacket, jeans, and orange rubber boots, the chef guided his silver van along narrow, winding lanes in the northern outskirts of Kyoto, Japan's former imperial capital. Against a backdrop of low-slung mountains, we passed traditional Japanese houses, rows of prefab apartment buildings, and, as we moved north out of the city, one- and two-acre farm plots planted with rows of carrots, daikon, cabbage, leeks, mustard greens, turnips, burdock root, and other varieties of kyo-yasai—the traditional heirloom vegetables of Kyoto Prefecture.
Chef Nakahigashi, a trim 56-year-old who grew up in the nearby mountains and cooked at his parents' inn outside Kyoto, can be found almost every morning amid these small farms, procuring the foods for the evening menu at Shojiki Nakahigashi, his 28-seat restaurant in Kyoto. Shojiki means eating grass, and until I witnessed the chef's almost mystic relationship with the roots, wild herbs, and other plants that are the cornerstones of his cooking, the name didn't seem to fit an upscale restaurant with a worshipful following in Japan and a six-month waiting list for reservations.
We pulled up to the home of Tojikazu Kitamura, a bus driver who tends a half-acre family plot that has been handed down through the generations. Kitamura, a compact man in his 60s, came out of the house, handed the chef a bag of taro roots, and led us past a small stream to his farming plot. Suddenly, Nakahigashi broke away from us and rushed ankle-deep into the burbling stream. "You see these weeds?" he said, as he crouched over a clump of green and purple leaves sprouting along the embankment. "They're edible." He yanked out several bunches and washed the mud off the roots: wild watercress, upland cress, and water dropwort, he explained. Moments later, Nakahigashi strode over to a grassy mound at the edge of the field, dropped to his knees, and, using a small handheld scythe, cut away a knot of red leaves: wild sorrel. Then he probed the tangle of grasses further, searching for one-inch shoots of tsukushi, a bitter-tasting plant. On finding a shoot, the chef raised his eyebrows and smiled.
In addition to cultivated heirloom vegetables, Nakahigashi told me, he cooks with wild-growing plants whenever possible. He said that when he serves wild udo—a fragrant, asparagus-like plant—customers sometimes complain that it's too bitter; they're accustomed to the milder taste of the farm-raised variety. "But I want to let my customers know that wild udo is the true flavor; I want to be the messenger of the real taste of udo." Nakahigashi also insists on cooking his vegetables on the same day he buys them from the farmers, "so that they taste as they do when they're still alive".
Finally, Nakahigashi loaded the wild greens, along with burdock, flowering rape shoots, and softball-size Kyoto turnips, into the van, and we drove away. We visited five more farmers that morning; all of them greeted the chef like an old friend. "They are my family," Nakahigashi said, as we headed back into the city. It is a slow way to buy ingredients, but Nakahigashi believes that the vegetables these farmers grow in their tiny fields and forage on their land retain more of the foods' "original flavor".
The dishes that Nakahigashi cooks reflect Kyoto's particular inland topography. Surrounded by mountains and valleys on the central Japanese island of Honshu, this ancient city and its environs were, until the relatively recent advent of rail and motor transport, largely cut off from the ocean and fresh seafood, which became the foundation of the cuisine in many other parts of Japan. Because of that, most people here cooked with homegrown heirloom vegetables, tofu, river and lake fish, wild game, salted mackerel and other preserved fish hauled from the coast, and greens collected from the forests and valleys. These ingredients informed the sophisticated ceremonial cuisines that evolved in Kyoto's imperial courts, as well as the simpler preparations that prevailed in many Kyoto households.
When Hisao Nakahigashi opened his restaurant, 12 years ago, he did not want simply to create a faithful reproduction of Kyoto cuisine. He wanted to establish a space where he could experiment with the foods he grew up eating and cooking with. With the exception of some saltwater fish from the closest ports on the Sea of Japan, virtually all his food is raised within 15 miles of his restaurant. His techniques and presentation are at once playful and classically precise, as I was to find out firsthand at dinner that evening.
Shojiki Nakahigashi is located near the Ginkaku-ji temple, one of Kyoto's most famous sights, but the restaurant—devoid of an awning or marquee, its entrance hidden behind latticed screens—completely escapes the notice of the throngs of tourists who walk by it every day.
When I arrived, Nakahigashi's wife, Kimiko, dressed in a kimono, led me to a seat at a burnished, L-shaped counter facing a pristine open kitchen. The chef stood on the other side, preparing a broth; he smiled to greet me. The kitchen is sunk several feet below the floor level of the dining room, so that Nakahigashi and his five young cooks face seated patrons at eye level—a gesture of respect. Nakahigashi wore a crisp white chef's tunic over a white collared shirt and a neatly knotted green tie; on his head he sported a white peaked cap. In the center of the kitchen stood a traditional clay brazier, a rarity in modern Japan. Anchovies sizzled on a metal grill on one side; rice gurgled in two stoneware pots on the other.
There is no menu at Shojiki Nakahigashi, as the cooking depends fully on the season, on the outcome of the daily visits to farms and fields, and on the chef's whims. Nakahigashi delivered the first course on a wine-colored lacquered tray. In his warm, resonant voice, he described the food: red turnips pickled in rice vinegar, thinly sliced, and arranged to make them resemble a red camellia; a pureed wild lily bulb also shaped so that it looked like a flower; a sweet white tofu puree accompanied by the bitter-tasting wild tsukushi buds; a sardine filet poached in soy sauce and sake; and bright orange trout eggs atop a mound of mochi rice wrapped in a pickled wild suguki leaf.
One elegant, intriguing dish followed another: buttery trout filets roasted between two paper-thin cedar sheets and served with carp scales that had been candied in sugar and soy sauce; mackerel narezushi, an ancient kind of sushi made by fermenting the fish and rice for nine months to produce a flavor as sharp as that of a washed-rind epoisse; wild boar braised with sweet heirloom carrots, daikon, rape shoots, and earthy burdock root. There was salted and grilled moroko, a lake fish the size of a sardine, and also a delicate carp sashimi served with taro, dandelion flowers, and wild mustard leaves. From time to time, I would shift my gaze from the plate or the kitchen to observe my fellow diners. When Nakahigashi wasn't explaining a dish to them, they talked and laughed amiably.
After each patron had eaten the last of the dozen or so courses, the chef delivered a simple epilogue: plain white rice and grilled anchovies—the ingredients I'd seen cooking on the clay oven earlier. He crowned each bowl with a crunchy piece of the golden, caramelized rice from the bottom of the stoneware pot. After finishing his bowl, a silver-haired man at the end of the counter asked for more of the crunchy rice, and the chef obliged him; the other customers did the same. Thirteen dishes and two and a half hours after I arrived, I was ready for my finale, too. That dish, like all the others, came with an explanation from the chef, albeit a brief one. "This is the main course" is all Nakahigashi said to me as he handed me my bowl.
I lingered over green tea for a while after my dinner, reflecting on the things I'd just eaten. The question foremost in my mind was why a humble bowl of rice would be considered the centerpiece of a meal that had so many bold flourishes. When Nakahigashi bade me farewell at the door, I asked him.
"We never get tired of white rice," the chef said matter-of-factly. He told me that he considered the other dishes to be a journey. "Why do you enjoy traveling?" he asked rhetorically. "Because you have a home to come back to. When we eat white rice, we go back to the origins of Japanese cooking. It's like coming home."