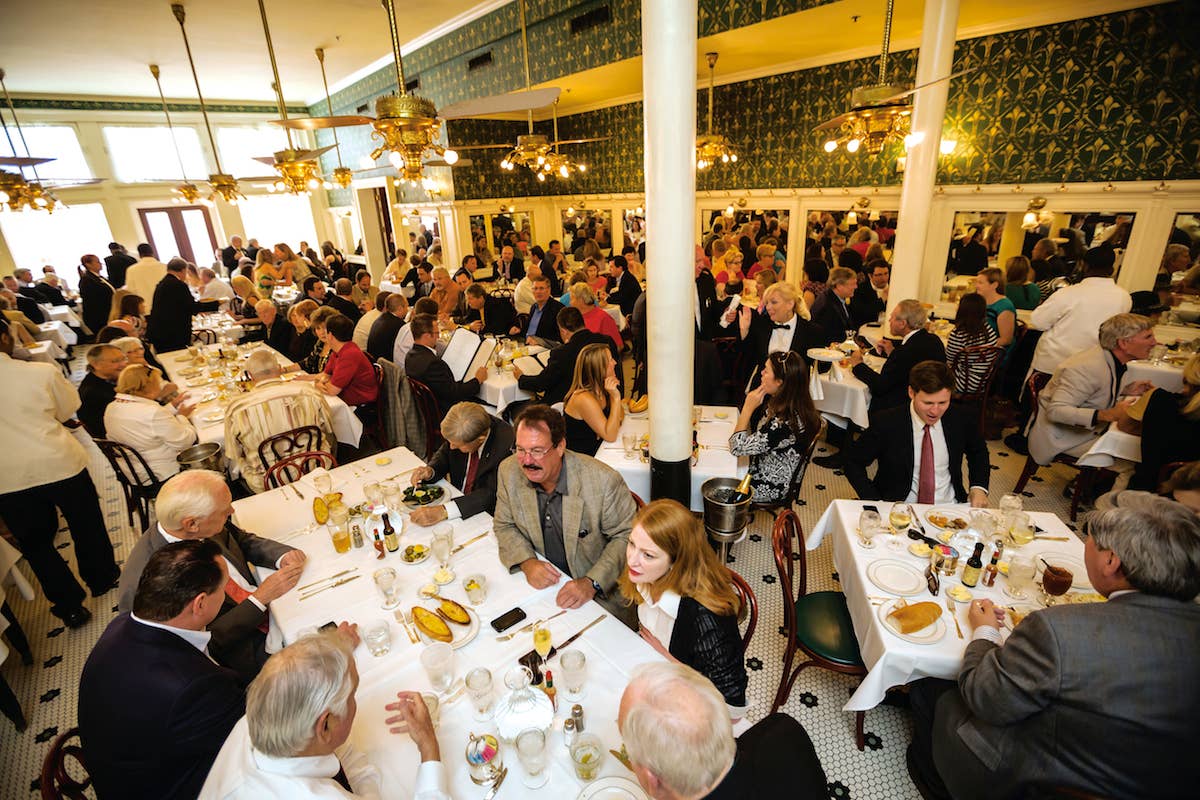 Travel
New Orleans
The best dishes, grandest places, and most colorful culinary history: the heritage of Big Easy dining is alive, well, and thriving.
In 1948, Louis Armstrong, my city's most famous jazz practitioner, told DownBeat magazine: "I always think of them fine old cats way down in New Orleans…and when I play my music, that's what I'm listening to. The way they phrased so pretty and always on the melody, and none of that out-of-the-world music, that pipe-dream music, that whole modern malice." I came late to Louis Armstrong, at least for a New Orleanian. I spent my high school years training to be a jazz musician. But I was more interested in Miles Davis's modernity than in Armstrong's tradition. It wasn't until years later that I realized the genius of Armstrong: his phrasing, his bravura, his audible insistence on technique.
By contrast, I came to the classic New Orleans restaurants early. My parents were among the first in their families to become professionals and thus make good on the promises of desegregation. Wanting the best for themselves and their children, they took my sister and me to the finest restaurants to celebrate birthdays and graduations. We'd dress in our Sunday clothes and sit beneath the chandeliers at Brennan's, a 67-year-old restaurant in the French Quarter, where the gumbo was presented in a metal cup, and the bow-tied waiter served it to us, rich with shrimp, crab, and oysters. The entree might be trout amandine, the white filet moist within its nutty crust, or at brunch, eggs Hussarde, one-upping Benedict with the addition of red wine sauce laden with ham and mushrooms. For dessert, we'd move on to bananas Foster, decadent with butter and brown sugar, and flambeed in front of us on a burner in the dining room. The waiter never failed to astonish me when he poured in rum and banana liqueur and tipped the pan toward the fire to ignite that flaming finale.
I can't say we had our own account at Galatoire's, the bastion of the leisurely Friday lunch, or our own waiter at Antoine's, the city's oldest restaurant. These were the hallmarks of the truly well-heeled families of old New Orleans. But my parents afforded the occasional extravagance. Then they sent me away to college. After a decade of working and studying in other American cities, I returned to New Orleans and its restaurants, but not to the old places. In the 1990s I was interested in trends: truffle oil, peekytoe crab, fingerling potatoes—ingredients that young maverick chefs were using to make their names. When visitors came to town, I steered them away from "the places your grandfather would take you," as I called them. Turtle soup, barbecued shrimp, bread pudding: There was little sense of discovery for me in the dishes I had been raised on, which as far as I understood them, hadn't changed much in more than a century.
But then a funny thing happened: I got older. I won't quite say I'm grandfather age, but I am old enough that it had been years since I'd been to these classic restaurants. I wondered if I knew anymore what was going on beyond their doors. The city had certainly changed: Hurricane Katrina had scooped out New Orleans and sent its survivors scattering. Many restaurants, both new and old, closed, and newcomers have arrived in their place. The face of the city is changing, and so is the cuisine. I suddenly felt protective of the traditional restaurants, worried that they, too, would disappear. What did these old-line places have to offer anymore? I decided to return to them and see.
I have to admit, I adored what I found. The roots of many of these kitchens is Creole cooking, a cuisine developed over the centuries in New Orleans, with its West African ingredients and techniques, its butter-drenched classic French foundation, its Spanish and other melting-pot layers (see Creole Versus Cajun). It's a cuisine in the service of simple deliciousness. As for the ambience, a lot of these places haven't changed their look for 50 years; to sit in Antoine's with its hand-painted wallpaper and fireplaces and historic photographs is to feel like a time traveler, a favorite sport in my nostalgia-steeped city. And they haven't changed their style of service, either; there is a clear desire to entertain and to please.
On a recent Sunday at Brennan's, the house was as packed as I remembered it from my childhood. Of the 550 seats in the restaurant, the only ones empty were at tables being bussed for the next diners. All around me, tourists and locals alike were digging into the flavors of old New Orleans. Such a meal officially starts with gumbo, the city's signature soup, as thick and rich as any stew. Brennan's refined version eschews the roux, that French combination of flour and fat that colors, flavors, and thickens most of the city's gumbos. Rather, this gumbo is thickened West African style, with okra. Unlike in the darker, murkier gumbos that have come to dominate around town, I could see the crab and shrimp and okra and taste them distinctly, but they were all harmonizing, all in tune.
To truly test the ancient waters, I ordered an old warhorse, filet Stanley. An unlikely pairing of grilled steak and sauteed bananas draped in horseradish sauce, it didn't taste arcane; with its sharp, sweet, and mineral flavors, it tasted as novel and delicious as it must have six decades ago when Owen E. Brennan put the 19th-century dish on his menu in honor of the protagonist of A Streetcar Named Desire.
I wandered outside to the restaurant's elegant brick courtyard, the de facto waiting area, where dozens of people were enjoying their bloody marys and brandy milk punches. I could easily imagine this scene playing out in the 1950s, only the gentlemen would have been in white suits, the ladies in linen dresses. These days things are much more casual. None of these restaurants require gentlemen to wear ties anymore. None refuse service to ladies in pants. The air of strict formality faded slowly from New Orleans restaurants, then disappeared all at once.
"After Katrina not everybody was carrying coats and ties, so we sized it down," Eddie Tassin, who has been a waiter at Antoine's for nearly 30 years, told me. "You get a few that say, 'They should still have kept it the same.' But if we'd have kept it the same, we might not still be open."
Tassin was serving me a plate of scalding-hot oysters Rockefeller, or as the menu refers to them, "huitres en coquille a la Rockefeller (notre creation)." In good years, Louisiana leads the nation in oyster production, and there are a number of essential Creole dishes based on the theme of oysters on the half shell, topped with a sauce and baked (see Oyster City). Oysters Rockefeller is the king of the genre, invented at Antoine's in 1889 and named for John D. Rockefeller, then the country's richest man. The mounds of seasoned pureed greens under which my oysters were buried were perfumed with anise-flavored liqueur. Contrary to popular myth, the original (and secret) recipe contains no spinach. Concurrent with popular opinion, it is delectable.
But my favorite oyster dish, oysters en brochette—skewered with bacon, lightly battered, and deep-fried—I discovered when I ate at Galatoire's, the clubby Quarter restaurant where upper-crust locals like to kick off their weekend on Friday afternoon.
It was a Wednesday when I went, so I walked right in and ate my oysters in shirtsleeves, a sea change for a restaurant whose no-reservations policy and old-fashioned dress code were once legendary. Stories abound of notables such as President Gerald Ford, French president Charles de Gaulle, and Mick Jagger being made to wait on the sidewalk for a table, and wear one of the notoriously ill-fitting jackets the restaurant kept to clothe underdressed gentlemen. Despite its bending to 21st-century fashions (at least at lunchtime), Galatoire's holds firm on its food: The signature pommes soufflees, potatoes twice fried so they plump like zeppelins, are as crisp and golden as ever, the bearnaise sauce just as creamy and fragrant with tarragon. And the atmosphere, fueled by table-hopping regulars, is just as festive.
Like so many of New Orleans' older establishments, Galatoire's, opened in 1905 by Jean Galatoire, who hailed from Pardies, France, has always aspired to Gallic standards of fine dining. But not all of classic New Orleans is so highfalutin. Though raw oysters are iconic New Orleans, you won't see them shucked at the city's older white tablecloth restaurants; the kitchens are tucked discreetly away. Looking for a break from the pomp of the Quarter, I ventured uptown to Casamento's, a narrow, tile-floored storefront where the shells have been pried open in full view at the counter since 1919. Their signature is the oyster loaf, a slew of Gulf oysters breaded in corn flour and served on thick white slices of bread. CJ Gerdes, the owner and chief fry cook, says he uses only the largest oysters so the meat stays tender in the heat. He insists on frying them, and everything else, in lard for the golden color and savory flavor it imparts.
Casamento's is among a handful of vintage New Orleans restaurants with roots not in France but in Italy, where Gerdes' grandfather and predecessor, Joe Casamento, was born. Other such places, like the fancier Tommy's Cuisine, serve Italian dishes such as chicken rosemarino, roasted in white wine, olive oil, and rosemary-laced jus, with a side of pasta, alongside more Gallic-style fare like pompano_ en papillote_, baked with crabmeat in a delectable cream sauce.
Then there are the dining stalwarts that have origins just a little more than 100 miles west in Louisiana's Cajun country, settled by French Canadians in the mid-18th century. Those folks lived off the bounty of the land, hunting wild animals in the fields and the bayou, and also raising pigs, and their cuisine also influences the city's. Andouille and boudin sausages, and the spiced smoked ham called tasso—pork-based building blocks of the Cajun larder—often appear on New Orleans menus. My father first took me to the 60-year-old Bon Ton Cafe, likely the city's first Cajun restaurant, more than 20 years ago. On a recent visit, we were both pleased to see that the food had held up.
I would say that the crawfish etouffee, smothered in a sauce chunky with vegetables and bacon, spiced with paprika and cayenne, has a buttery richness, but Wayne Pierce, the nephew of the founders, takes a non-Creole stance on butter; he doesn't much use it. Yet the fare at Bon Ton has, over the years, taken on something of a Creole character: Sitting on the red checked tablecloth was a carafe of sherry, an extra jolt for our turtle soup, a throwback dish in most other places but not in New Orleans. Bon Ton's version of this mainstay is thick with tomatoes, unlike the thinner versions I've tasted in Cajun country.
In this era of celebrity chefs, many of New Orleans' most vaunted kitchens aren't helmed by stars, but by cooks who have come up through the ranks without culinary degrees or European stages. Most of them are African-American. Dot Hall, Lazone Randolph, and Milton Prudence, the chefs at Bon Ton, Brennan's, and Tommy's Cuisine respectively, are largely anonymous, though the proof of their expertise is on the plates.
That's not to say there aren't tradition-minded chefs whose names are recognized in New Orleans. Many of them own their own places. Frank Brigtsen, of the beloved Brigtsen's and the new Charlie's Seafood, both uptown, has been turning out loyal renditions of Creole and Cajun classics for the past 27 years, dishes like pan-fried drum fish with shrimp Diane sauce enriched with cayenne and other Creole seasonings. At one or two of the old-line places, too, chefs have become stars. At Commander's Palace, these include Paul Prudhomme, Emeril Lagasse, and the current chef, Tory McPhail. It's a sign that they do things a bit differently. In the airy Garden District restaurant, I devoured a Commander's original: shrimp and tasso Henican, the ham-stuffed shrimp and pickled okra arranged in a pattern resembling a fleur-de-lys, the city's symbol, atop a sauce flavored with pepper jelly. It wasn't a traditional dish, but with its regional ingredients and references, it was New Orleans through and through. In the cookbook Commander's Kitchen (Clarkson Potter, 2000), Ti Martin, who runs the place with her cousin Lally Brennan, writes of one mash-up of beloved local foods: "When we called it poached eggs with red bean sauce and pickled pork hash cakes, we couldn't give it away. But when we renamed it eggs Louis Armstrong, it started flying out of the kitchen." Like Louis Armstrong, Commander's and the rest of these restaurants have stubbornly defined their own standards, and the standards of New Orleans. They've got integrity that, if you allow it to, proves irresistible.
One evening after dinner, I sat amid the mirrors and polished wood in the French 75 Bar, which is attached to the classic Creole restaurant Arnaud's. Revived by the craft cocktail craze, the pre-Prohibition bar was packed with young cognoscenti. Once having dismissed such places, now I wanted to implore the crowd around me to explore Arnaud's menu, too, to mine it for its age-old delights. I thought of Louis Armstrong then; he was considered old school, but the man had a record, "What a Wonderful World," that became a hit more than a decade after he died.
It had been only upon reexamination that I could see Armstrong as the innovator that he was. When I speak of these classic places, I still describe them as the spots your grandfather would have taken you to. It's an apt description, but tasting the food now, I realize it's also an insufficient one. In the hands of these experienced cooks, served with dignity and eaten amid the trappings of New Orleans history, the time-tested recipes still shine.
Finishing my drink, I recalled something I had noticed a few days before in a dining room at Antoine's. There, the walls are crowded with framed celebrity tributes dating back more than a century. One is by Carl Anderson, who created the popular "Henry" comic strip in the 1930s.
"Henry speaks for the first time," Anderson says in a caption beneath a drawing of his famously silent character. In the bubble above, Henry says one word: "Grand."