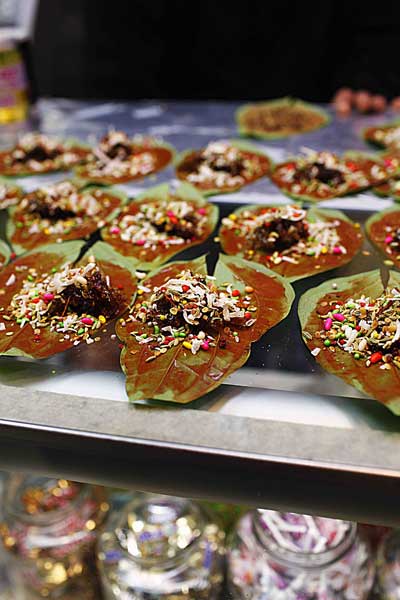 Travel
Eat Street: Oak Tree Road, Iselin, N.J.
The Garden State boasts the country's most delicious South Asian strip.
Home to one of America's largest South Asian communities, Central New Jersey is a cornucopia of saris, samosas, and garam masala. Oak Tree Road, a colorful, chaotic stretch of restaurants and shops linking the towns of Edison and Iselin, is the area's throbbing heart. But don't expect the usual kebab-and-curry fare. Here, India is represented in all its culinary complexity, from the sweet farsan (snacks) of Gujarat to the spicy street food of Mumbai and the meaty entrees of Chettinad.
1349 Oak Tree Road (732/283-9020)
__Named after Mumbai's popular beachfront, this place for western Indian street food makes a delicious dabeli (spiced potatoes and pomegranate in pan-fried bread) and a famed chikoo (a sweet fruit) milk shake.
1679 Oak Tree Road (732/906-2121)
The all-inclusive Kathiawadi thali—puran poli (wheat bread stuffed with sweet lentils) or choorma ladoo (whole wheat flour and jaggery balls), lentils, vegetables and other sides, and desserts—will introduce you to the sweet and savory heat of the cooking of Gujarat's northern regions.
1671 Oak Tree Road (732/516-0020)
This American outpost of an Indian chain serves the fiery foods of southeastern Chettinad. Graze at the impressive buffet, or if you're ordering a la carte, try the chicken_ chettinad_ (spicy chicken in tomato and shallot sauce) or meen kuzhambu (fish in tangy tamarind sauce).
1335 Oak Tree Road (732/283-3350)
This Pakistani-owned storefront is a carnivore's respite on a vegetarian-dominated street. Try the saffron-scented chicken or goat biriyani, minced seekh kebab, or whatever catches your eye from the display case.
1518B Oak Tree Road (732/603-0588)
Its name means "vegetable market," and this outlet of a U.S. grocery chain is indeed the place to find little-known veggies like mild-flavored doodhi (long squash) and karela (bitter melon), plus sweet alphonso mango and other seasonal fruit.
1507 Oak Tree Road (908/222-0069)
Stop into this shop for Gujarati snacks and sweets like khandvi (spiced yogurt and chickpea-flour rolls), jalebi (fried-dough spirals soaked in honey syrup), and dhokla (steamed lentil or chickpea-flour cakes).__