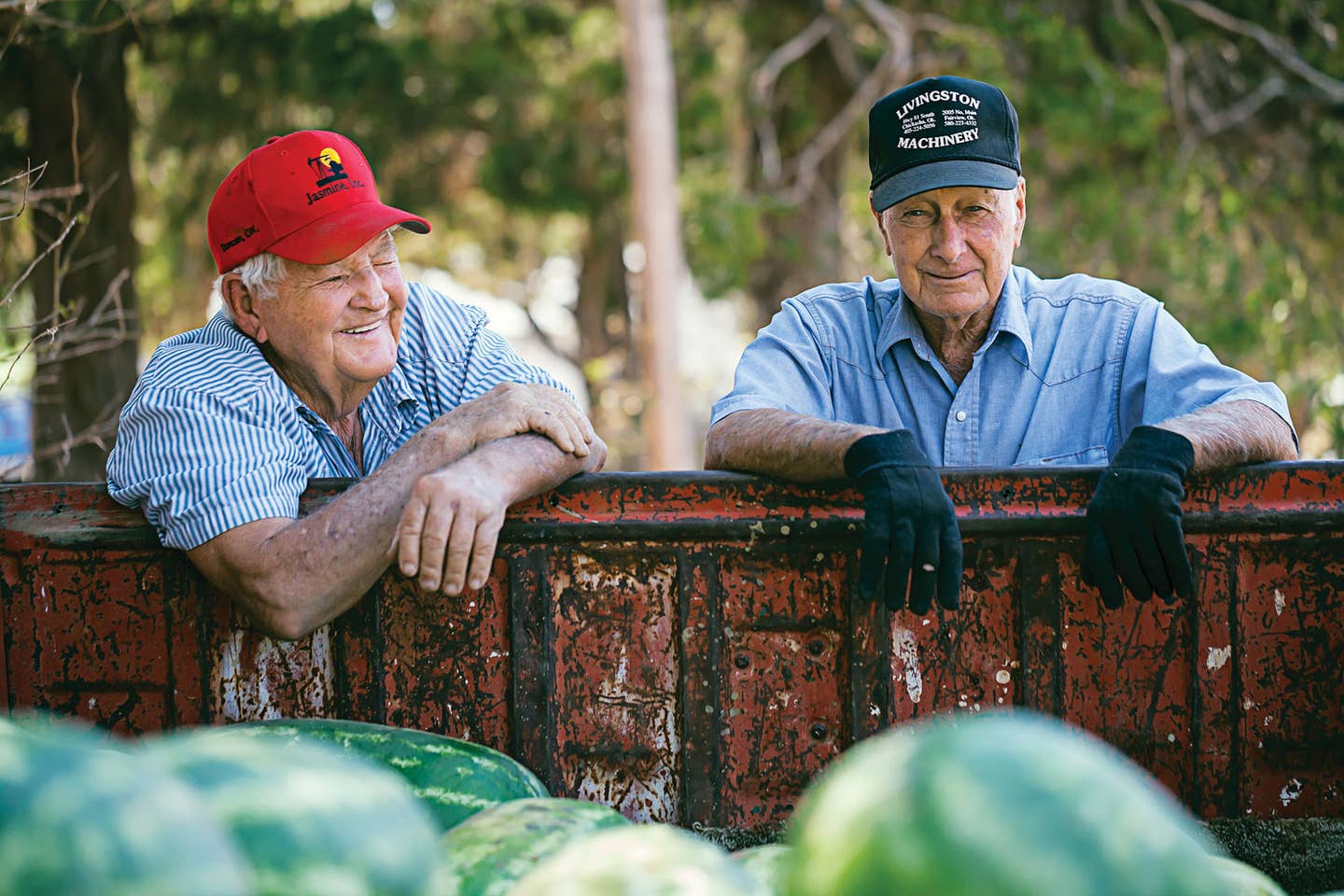 Travel
Melon Man
A woman and her grandfather bond over a harvest
My grandfather, Howard Hitt, has a farm in Sickles, Oklahoma, west of Oklahoma City. While it's primarily a peanut farm, come summertime it transitions over to cantaloupe and watermelons, which grow beautifully in Oklahoma's sandy loam soil. When I was a kid, my family would visit for a week each summer from where we lived in Fayetteville, Arkansas. My two brothers and I spent the days running around the farm. At the end of each hot afternoon, we'd help ourselves to watermelon: enormous Jubilees; crisp, sweet Starbrites; deep teal Black Diamonds; yellow-fleshed Desert Kings; you name it.
Though my grandfather would slip me a twenty sometimes, and we exchanged a few words here and there, I never got to know him very well back then. So last August I decided to go to Sickles and photograph my grandfather, now 86 years old, during his watermelon harvest.
As a professional photographer, I've shot all kinds of subjects, but this experience was personal—and eye-opening. Over the course of four days studying Grandpa through the lens of my camera, I saw a side of him that I'd never noticed as a kid. Starting at six every morning, his days were full: He'd help load hundreds of melons for customers even if they were half his age; he'd go into the field himself and pick melons if someone needed a few more to make their orders, carefully checking each fruit to make sure it was perfectly ripe. The chores never ended, but he didn't seem to mind. And I noticed that whenever this characteristically quiet man spoke, people listened—so I listened, too. I started to understand what it meant to be a farmer, and what kind of man my grandfather was.
After I left, I called and asked him how he knows when each melon is ripe for picking. He told me, "You'll have to come back and learn where you can." I smiled. I know now I'll be going back next year, and the year after that, as long as there are watermelons and Grandpa is harvesting them.