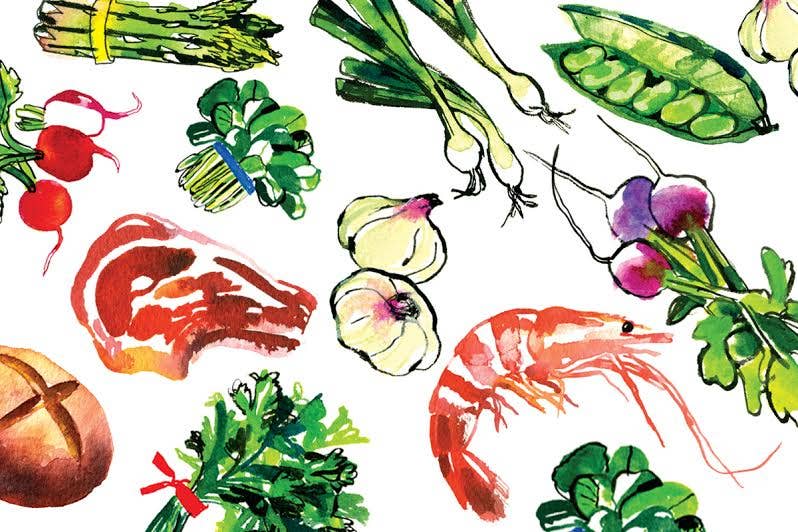 I came to know Macao during the seven years I worked in Hong Kong as a journalist, and it quickly became my favorite weekend escape. Tourists flock to this Portuguese enclave—the oldest European settlement on the Asian mainland, founded in 1557—for its myriad forms of gambling and other entertainment; my friends and I went for the food. We'd sit in Macao's seaside cafes for hours, watching sunny days slip into sepia-toned sunsets over bottles of the fruity young Portuguese wine called vinho verde and soulful fare like thick potato, kale, and sausage soup; steamed clams in a garlicky tomato sauce with coriander; and fried crab with lots of pepper. The service was invariably relaxed, friendly, and unhurried, and these leisurely meals always seemed to me the perfect respite from the frenetic pace of life in Hong Kong.
For years, my friends and I assumed that the dishes we stuffed ourselves with were authentically Macanese. They weren't: They were mostly Portuguese, and sometimes Cantonese. I learned this (and had my first taste of the real thing) while covering a Macanese cooking contest at the Hotel Lisboa in 1995. Genuine Macanese cuisine, I found out, isn't known for its appearance. Dark sauces, pale vegetables, and rough chunks of meats are the rule. The ''earthy'' flavors of dishes like duck in blood can be overwhelming, but the cuisine as a whole is beguiling; it is hearty and rich, and brimming with history.
Located 40 miles west of Hong Kong, Macao first beckoned Portuguese sailors plying the South China coast in the early 1500s. Portuguese traders soon followed, and many of them took as wives the daughters of Indonesian, Malaysian, Chinese, Indian, Filipino, and Thai settlers in the region. Thus a new ethnicity was born.
Diversity, not surprisingly, has always been a point of pride in Macao: Women wear Iberian-style mantillas (scarves placed over the head and shoulders) and Chinese-style cheongsams (body-hugging dresses with slit skirts); street signs are in both Portuguese and Cantonese; children with delicate Asian features speak with Portuguese accents. The colony's food reflects the same cultural mix—but it is also the product of inspired improvisation: With European provisions hard to come by in the region hundreds of years ago, the Chinese cooks employed by Portuguese households would substitute local ingredients. There was also heavy borrowing from other Portuguese colonial outposts: sweet potatoes from Brazil, piri-piri from Mozambique, saffron from Goa, and so on. A typical Macanese meal, then, became a study in contrasts: olive oil and soy sauce, potatoes and rice, chouriço sausage and preserved duck, casseroles and stir-fries, silverware and chopsticks. But somehow it all managed to blend together.
Sadly, this wonderful hybrid cuisine is now an endangered species, living on in only a few restaurants, a smattering of residences, and the memories of the colony's elders. Why? The problem is twofold: First, Macanese food has always been a women's cuisine, prepared at home using closely guarded family recipes passed down from mother to daughter. But today's generation has little time to cook such dishes, with their often lengthy ingredient lists and complicated procedures. Second, the Macanese themselves are a dwindling breed. In 1997, they and the Portuguese together comprised just 5 percent of Macao's 450,000 residents—the remainder of whom are primarily Chinese. The majority of visitors to this commercial entrepot are also Chinese—and the Chinese, it seems, have little interest in Macanese food, preferring to eat Portuguese (like my friends and I used to) or their own lighter fare. The cuisine is further threatened by the enclave's pending reversion to Chinese rule, after four centuries of Portuguese stewardship, on December 19 of this year—two years after its neighbor Hong Kong went back to China.
Ironically, it is precisely the return to China that might help preserve at least some remnants of Macanese cooking. As the hand-over approaches, Macanese both at home and abroad have taken a keen interest in keeping alive their community's unique history, culture, and, yes, food. Many Macanese left home in the 1950s and '60s to escape the shadow of communism in China, forming sizable communities in South America, North America, and, of course, Portugal. In 1993, Macao's government sponsored its first reunion for expatriates. Over seven hundred people attended. In 1996, there were 1,500. The third reunion, scheduled for this month, is expected to draw at least two thousand.
Enthusiasm for the local cuisine is evident at, among other places, Macao's hotel and tourism training school (Instituto de Formaçao Turistica), whose twice-yearly Macanese cooking courses routinely sell out in a couple of hours. The school's student-run restaurant serves Macanese dishes at lunch and offers a popular Macanese buffet every Friday evening. ''Our toughest critics,'' says school codirector Luis de Heredia, ''are the Macanese senior citizens.''
In fact, it is these senior citizens—many of them accomplished cooks—who are leading the way to save Macanese food from extinction. Willing to share the secrets of their elusive cuisine (unlike their own mothers and grandmothers, perhaps), some have opened restaurants, while others teach cooking classes or work as chefs. One example is Maria Eusebio, the acting chef of Balichao. This 68-year-old dynamo presides over the kitchen of the bustling open-air restaurant on Coloane that her daughter, Isabel, a former clothing industry executive, opened in 1993. The work is hard and the hours long, but Maria feels her contribution and support are important. ''The Chinese government will have an interest in, and can benefit from, maintaining things as they are,'' she says. ''But it is the people of Macao, not the government, who ultimately will carry on and preserve our culture and traditions.''
Isabel turned to the restaurant business not so much to line her pockets as to line her stomach—and, she hopes, those of generations to come. She wanted a way to preserve her favorite Macanese foods—specialties like curried crab, chamusas (minced meat turnovers), and lacassa, a simple shrimp and noodle soup (see recipe, this page) flavored with balich‹o, the famed Macanese shrimp paste for which the restaurant is named. If there is one ingredient that distinguishes Macanese cooking, it is this piquant, odoriferous condiment. Just a small amount of the purplish-brown paste gives a salty, sour edge to such dishes as lacassa, pork stew, even fried rice.
The best balichao is made with tiny fresh shrimp from China, salt, bay leaves, chiles, lemon, peppercorns, and rice wine. Chefs and home cooks alike used to make their own—which involved a tedious preparation process, followed by a hundred days of ripening. Today, however, many people admit to buying jarred salted shrimp or one of the many mass-produced versions of Southeast Asian shrimp paste, and doctoring it at home.
Another champion of Macanese food is Manuela Ferreira. Four years ago, she took an early retirement from her job as a civil servant and parlayed her savings, energy, and family's 200-year-old Macanese recipes into Restaurante Litoral—a chic wood-beamed farmhouse furnished with Portuguese tiles and Chinese and Macanese artifacts. Many of Ferreira's former government colleagues frequent the spot, indulging in specialties such as chile crab (crabmeat tossed with chiles, then panfried with garlic and onion, and finally simmered in coconut milk), pork in tamarind sauce with green onion and ginger, and coconut custard.
But because of the limited demand for traditional food, most places serving Macanese food, including Balichao and Litoral, also offer Portuguese, and even Chinese, dishes. An all-Macanese restaurant, explains Ferreira, wouldn't survive. Even Riquexo, a 20-year-old cafeteria-style institution that delivers lunch daily to many of Macao's senior citizens, recently added a few non-Macanese items to its daily lineup. But the pride of the supervising chef—83-year-old Aida de Jesus, whose Macanese cooking classes at the Mandarin Oriental hotel in the early '90s were often videotaped by students—remains her Macanese dishes, which include chicken curry, beef stew, tripe stew with chickpeas, pine nut and almond cake, mango pudding, and the ever-popular minchi.
True comfort food, minchi is the Macanese equivalent of sloppy joe: ground meat, often a combination of pork and beef, sauteed with chopped onion and garlic, flavored with soy sauce, and stretched with diced potato. It's a dish not commonly found in restaurants, not only because of its simplicity and humble appearance but because criticisms would be inevitable: Every Macanese seems to believe that the version made by his mother or grandmother is unquestionably the best. Minchi is usually served with a scoop of boiled white rice or shoveled down cold, late at night, by the light of the refrigerator. Locals insist it's a cure-all for too much strong drink or for the gloom induced by an unlucky tryst with the ''hungry tigers'' (slot machines).
Edith Roque Jorge is the undisputed queen of Macao's foodies. For decades she reigned as the enclave's most prominent hostess and arbiter of all matters gastronomic. Baking baptism and wedding cakes, hosting lunches for 40, helping to orchestrate pheasant-hunting parties to China—all these memories are now carefully organized in her captivating photo albums. For her seventy-ninth birthday (she is now 87), her children bought Jorge a computer, which she promptly used to record all of her treasured recipes. Macanese cooking ''is more complicated than Portuguese and slower than Chinese'', she says. ''The Macanese cook must always stand by the pot.''
But these days there is little opportunity for most people to stand by the pot. As Juliana de Senna Fernandes, a fifty-something marketing executive with the Hotel Lisboa, says, about the only chance she has to use her mother's Macanese recipes is during the holidays. However, in a '90s twist, her son, Luis, a Michigan State University graduate, has made a point of incorporating the recipes into his own life. He prepares them at home and occasionally offers them at his Broadstreet Restaurant in Linden, Michigan. ''When I cook Macanese,'' says Luis, ''it pulls everything together—my family, my background, my culture. It's a way to keep Macao alive.''