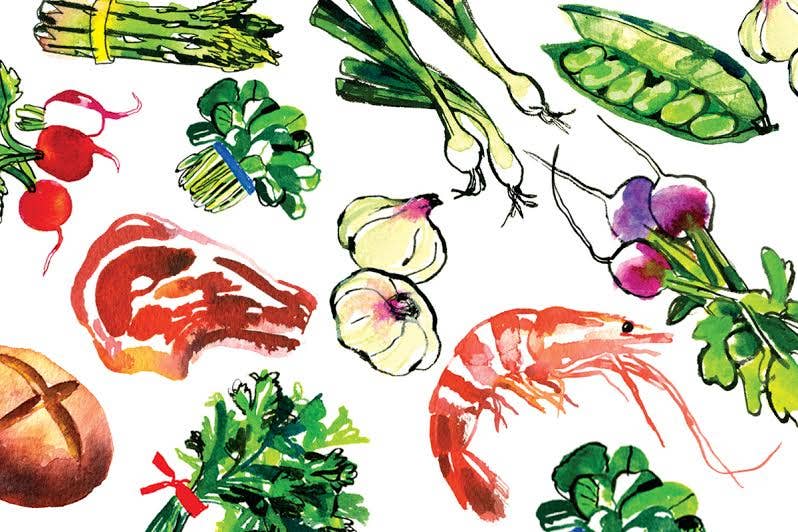 "No, no!" shouts Gerard, "Let him go. Tell her we don't want to eat him." The young girl carrying the giant turtle just plucked from between the stilts of our restaurant on the banks of the Mekong River in Phnom Penh pauses, confused, on her way back to the kitchen and then returns the reprieved terrapin to the lotus-studded marsh below.
As it turns out, that turtle is one of only a few things that we don't eat during our gastronomic tour of Cambodia.
Longteine (Nyep) de Monteiro and her husband, Kenthao (Ken), with their daugh- ters Launa and Nadsa and the daughters' husbands, Gerard Lopez and Bob Perry, run two highly regarded Boston restaurants devoted to the cuisine of Cambodia—both called The Elephant Walk. I first met Nyep two years ago, when she interviewed me as the possible coauthor of a cookbook she wanted to write about Cambodian, or Khmer, food (which is influenced by Indian and Chinese cuisines, is subtler than Thai cooking, and uses more spices than Vietnamese). I got the job, and a few months later I found myself accompanying the de Monteiros on a trip back to their native Cambodia. There was an element of poignancy to the journey, and uncertainty; The family had become exiles when the communist Khmer Rouge took over the country in 1975—and hadn't been back since.
Both Nyep and Ken were born into the Cambodian elite: She is the daughter of the country's first licensed veterinarian; he comes from a long line of de Monteiros, descendants of a 16th-century Portuguese physician. Shortly after the couple's arranged marriage, in 1957, Ken was elected to the national assembly. In 1960, he was made minister of national education and, two years after that, vice president of the national assembly. When Launa and Nadsa were still young, Ken joined the diplomatic service, and the family moved abroad, first to the Philippines, then to Yugoslavia, then to Taiwan. No matter where they were, however, Nyep was responsible for entertaining a flurry of international guests, and her French and Cambodian cooking won regular raves.
Cambodia fell to the Khmer Rouge while the family was living in Taiwan. This left the de Monteiros suddenly homeless and Ken without a career. So they moved to France, ending up in Beziers, an historic town in the Languedoc. There, with no other prospects of supporting their family, they opened a Cambodian restaurant, with Nyep as chef and Ken running the dining room. Meanwhile, Nadsa relocated to Boston, and in 1990, Nyep and Ken moved there as well, followed by Launa and her husband, and soon they opened the first of their two Elephant Walks. (The second was not up and running until 1994.) Around the time that the political situation in Cambodia seemed to stabilize, they started thinking about returning for a visit. When Nyep decided to write her cookbook, the trip took on a professional purpose as well.
Our first morning in Phnom Penh, Cambodia's capital, we leave the hotel before nine, and—as if tracing a map of the country's history—make our way down Quai Karl Marx, around the Victory Monument, a statue commemorating independence from France in 1953, and along Siwotha Boulevard, named for the man who led a rebellion against King Norodom (his own half-brother) in the 1870s. (These street names have since changed, along with the political scene.) Once a jewel of Southeast Asia, today the city looks bombed-out and haggard, after more than 20 years of assault and occupation by the Khmer Rouge and foreign forces. Streets are rutted (many have returned to dust) and piles of garbage are mounded high along their edges. Motos (small motorbikes) whiz past, some loaded with crimson litchis or huge sacks of rice on their way to market, some carrying passengers, women in long silk skirts, their ankles crossed and their children tucked in around them. Archaic cyclos (three-wheeled rickshas) move briskly around us.
Despite all this, I am stunned by Cambodia's delicate beauty. Trees are weighed down with ripe bananas, papayas, and mangoes, and sampans are gracefully poled out into the Mekong River. It also seems that everywhere—at makeshift stands, alongside wooden carts, and in plastic chairs that practically spill out into the roadways—people are jabbing chopsticks into giant bowls, most of which hold either soup or rice porridge. "This is the same," Nyep says. "This is how it always was."
For our first meal, Nyep directs us to one of the many new dining establishments along the river. Before 1975, most restaurants in Cambodia were either Chinese or French, the choice of the colonial aristocracy. Now, a legion of eateries competes for the tourist trade, and traditional Cambodian food, like that served at the restaurant we enter, is one of the most popular offerings.
After carefully studying the menu, Nyep chooses an array of what she considers typical Khmer dishes including fresh turtle soup (which Gerard promptly vetoes), a spicy chicken stir-fry with lemongrass, a soup of braised venison with shallots and garlic, and three fish dishes: elephant fish with a sweet-and-sour sauce ("Chinese-style," she admits); mudfish with a green mango sauce; and one of the most popular items at the de Monteiros' restaurants back home: tuk kroeung. (All spellings of Cambodian foods are from the de Monteiro family as contemporary transliterations of the Khmer language vary.) This is a thick dip made of grilled fish, mint, red pepper, tamarind, and, in this case, peanuts and fish eggs, and it comes with a platter of raw vegetables—tomatoes, Thai eggplants, cabbage wedges, and a regional green called popeay.
The table is set with large bowls of rice and small dishes of salt and pepper, kaffir lime slices, tiny red bird's eye chiles, and tuk trey, or fish sauce. It all makes for a riotously sensual still life, but we are far from still ourselves, reaching and dipping and tasting in many directions, all at once. The three Elephant Walk chefs among us (Nyep, Gerard, and Nadsa) eat critically and find that they are disappointed in dishes like the pleah saiko, a lime juice-cured beef salad. Nadsa pronounces it too sweet, with too much lemongrass, and Nyep agrees, convinced that the sweetness is a Thai influence—the result of so many Cambodians having lived in refugee camps in Thailand. "Maybe the recipe for pleah saiko is lost," she laments. "Maybe people are just making it up. Someone needs to save the real thing."
We also visit Wat Lang Ka, the Buddhist pagoda where the ashes of Nyep's ancestors are buried; Kol de Montero Street, which is named for Ken's grandfather (chief adviser to King Norodom—whose own great-grandson is the current king, Sihanouk); and, not far from the Royal Palace, the house where Nyep's parents used to live. Nyep is stunned to find the elegant French colonial home inhabited by squatters—although there are remnants of her mother's garden: one of her star fruit trees is still producing. In the park surrounding Wat Phnom, the city's oldest temple, we buy Nyep's favorite drink: fresh coconut juice, served in the shell. Later, at a Chinese-owned restaurant in the middle of Phnom Penh's commercial district, Launa and Nadsa rediscover one of their own childhood delights: a baguette filled with liver terrine and pork pate, cucumber slices, chiles, and pickled carrots and green papaya. It is nom pang pate, but Bob calls it a "liver sub".
For all the foods that look and taste as Nyep and her family remember them, there are just as many, if not more, that do not—like the marinated cubes of beef with a lime sauce that we find served with fries one day, fried eggs the next. More distressing to the de Monteiros is the fact that a whole range of dishes made with ground spice pastes (an Indian influence) seems to have disappeared altogether. Nyep is very happy, though, when we are finally served bakong ang—grilled freshwater prawns presented on a bed of rice and served with fish sauce. "This was always something special," she says. Indeed, we see these prawns at markets everywhere: alive, bright blue, stacked up, and waving their long spindly legs. Nyep tells us of the days when she and Ken used to dine on this delicacy with local dignitaries. "We would be sitting on the floor, eating and eating," she remembers. "The shells would pile up high all around us, and we would laugh...."
It takes a dusty, bone-rattling three hours to drive from Phnom Penh down Highway 3 to Kep, a town on the Gulf of Thailand where the de Monteiros once had a villa. We see missile launchers and detachments of government soldiers carrying automatic rifles; we pass through the once-charming town of Kampot, where Ken was born. Here, Nyep hopes (in vain, as it turns out) to find a regional specialty, trey chap kampot; nonetheless, she insists on putting it in the book. "It's a flatfish, deep-fried, with a simple sauce," she explains, "and they used to make it everywhere."
Kep has been completely destroyed by the Khmer Rouge; every house razed and every structure ruined, save for the former governor's mansion in the center of town, which stands roofless and windowless, its former grandeur lessened—but not conquered—by decay. The beach used to be lined with chic hotels and restaurants, but individuals have taken over, hustling tourists—an uneven trickle of visitors at best. Two enterprising women direct us to their makeshift dining emporium: a plastic table, a few plastic chairs, and an umbrella. They give us canned sodas from their coolers, then scurry across the road to procure for us grilled shrimp, fish, crab, and squid, and a famous local dish called mouan ang: chicken marinated in mushroom soy sauce and grilled. "People always used to say, 'Go to Kep and eat mouan ang,'" recalls Launa. "I'm so glad this, at least, is still here."
A few days later, we fly north to the ancient Khmer capital of Angkor to celebrate Chaul Chhnam, the three-day Cambodian New Year. We visit thousand-year-old temples, climb sacred mountains, and explore the neighboring town of Siem Reap, where we spend a whole morning in its market. We find mounds of watermelons, great vats of palm sugar, and vegetables and fruits of such variety that it boggles the mind. The butchers' displays feature what appear to be all parts of every edible creature, but most intriguing are the fish stands with their festoons of dried squid and dazzling collections of salted and smoked fish. Some fish are stacked, some skewered, some neatly tied up in bundles. Large ceramic jars overflow with grayish mounds of prahok, the fermented fish vital to so many Khmer dishes; smaller glass jars hold more fermented fish; bottle after bottle is filled with Cambodia's many varieties of fish sauce.
The holiday is celebrated with music and dancing, and everywhere—on the porch of our hotel, in the deepest recesses of some of the temples we visit, atop one of the mountains we climb—we see offerings for the tevada, the angel who will bring the New Year to Earth. It's a time to ask for divine favor—and for Nyep, it's a time to find some of the dishes she's been searching for. It turns out that the cook at our hotel is familiar with many of Nyep's requests. He serves fried fish in a coconut milk and red chile sauce, to her complete satisfaction, but Nyep finds the spices in a stir-fried beef and curry dish all wrong. She also says his somlah prahah trapeang, bamboo shoot soup, is diluted with coconut milk, but as it turns out, this is a regional variation. The cook also presents us with two dishes made with p'aw, a type of fermented fish. One is seared, one steamed, and—it is apparent from the expressions on the de Monteiros' faces—both are essentially and elementally Khmer.
Back at the airport in Phnom Penh, we are silent and somber as we await our flight to Boston. The food that we have come here to find, in all of its abundance, has left some of our hungers untouched. Like much of what has passed our lips, the trip has been both sweet and sour, rich and bitter—and upon our return home, we all know we will have a lot of unpacking to do.