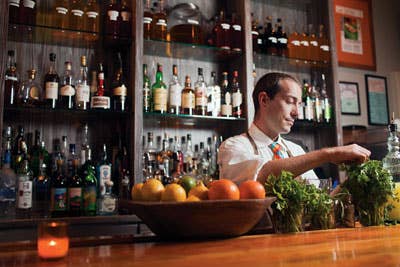 Travel
Restaurant Review: Dominique's, New Orleans
French twist: Dominique's brings new creativity to New Orleans
I first encountered Dominique Macquet's cooking in New Orleans in 1997, shortly after he'd opened his namesake restaurant in the French Quarter's Maison Dupuy Hotel. The young chef—who hailed from Mauritius, the tiny island nation off South Africa's eastern coast—had been cooking in New Orleans for just two years, and his success signaled a new sense of openness in this tradition-bound city. Instead of crawfish remoulade, oysters Rockefeller, and other rich, cream- and roux-based Creole classics, Macquet served the likes of baby conch ceviche with a crispy papaya relish, and yellowtail snapper on a banana leaf with a fricassee of rock shrimp and hearts of palm. The city had never seen a chef like him.
Nearly a decade later came Hurricane Katrina, and, along with many other great New Orleans restaurants, Dominique's was destroyed. Macquet packed up his knives and moved to Houston. Every time I went back to New Orleans, I missed Dominique's, but I was inspired by how the dining scene was rebounding. Now, six years after Katrina (and despite the population being 29 percent smaller), there are more restaurants here than ever before, and more creative cooking going on inside many of them (see link to "New and Notable in New Orleans" at the end of this article). The time was ripe for Macquet to return and reopen Dominique's, which he finally did late last year—this time, not in the French Quarter, but just beyond the Garden District in the Uptown neighborhood on Magazine Street, which has become a trendy restaurant row.
My first trip back, I fell into the casual, comfortable energy of the place: inside the 19th-century shotgun home that houses the restaurant, the tables and the bar in back were packed with regulars from the neighborhood, couples, groups of friends. The interior echoes both the elegance and rollicking bonhomie for which New Orleans restaurants are famous; there are linens on the tables, candles everywhere, and in good weather seating spills out onto a breezy patio in the front yard.
Macquet's cooking seems more highly personalized now, meant for a crowd who come here not to get away from the Creole dishes they already love but to taste them in fresh, new incarnations. Indeed, Macquet seems to be embracing the spirit of the city's cuisine like never before, and blending it with his own. Case in point: He pan-fries Gulf drumfish and serves it crisp and moist, with a finely textured risotto made from local corn and mirliton (also known as chayote squash); it's bright with lime and grapefruit and a Scotch bonnet chile mojo sauce. Nothing in that dish strays far from Creole-Caribbean traditions, but the combination is wholly surprising and wholly Macquet's.
Macquet is French, and growing up in Mauritius he absorbed a local food culture built on tropical ingredients and spices used there—ginger, cinnamon, star anise, mace, nutmeg. His initial move to New Orleans came after culinary wanderings through South Africa (he counts as his proudest moment cooking the first meal taken by Nelson Mandela after his release from prison), Southeast Asia, England, the QE2, and the kitchens of the Four Seasons in Beverly Hills. At Dominique's, Macquet seems to draw on all of these experiences, as well as a deep, abiding love of New Orleans and its terroir.
That means that you may start your meal with a gratin of Gulf oysters dotted with andou-ille sausage, or a shooter of shrimp and kaffir lime "cappuccino." Macquet's duck and port terrine with a kumquat gastrique telegraphs his classical training, while lightly pickled sweet Royal Red shrimp with Vietnamese cilantro, lime, and habanero peppers comes straight from his romps through Asian kitchens.
One night, I reveled in a dish of juicy duck with a parsnip and porcini puree, cracklings, crisp-fried arugula, and a sauce that tasted like the essence of tangerine—a brilliant reworking of the classic duck a l'orange. Another time, it was a superb grilled pork chop with black kale and pork confit, grilled pumpkin, and chile oil, the fat-rich, bitter, and sweet flavors in impeccable balance.
It's a menu that's at once classic and innovative—and pastry chef Brenda Howlin's desserts are both: traditional ile flottante, that cloud of meringue with rich creme anglaise; goat's cheese cake with toasted nuts and honeycomb harvested a few blocks away; panna cotta flavored with lemongrass. The service leans to effusive Southern hospitality with a sophisticated cast: on each visit, servers steered me toward a few gems on the moderately priced wine list, which includes more from South America, Spain, and Portugal than you usually find in New Orleans, and creative cocktails, with housemade fruit liqueurs that complement Macquet's cooking.
To me, the new Dominique's represents a new phase of New Orleans dining, and a new breed of nonnative chefs who have greatly expanded the city's highly traditional, sometimes stultified Creole repertoire. And, the city seems to be loving it: Macquet is opening an Asian-inspired Tamarind this winter, and plans to move Dominique's to a larger location on Magazine Street come spring.
A talent like Macquet's would find haven in any city, and he might well have stayed in Houston after Katrina drove him there. So it is to his credit and a testament to New Orleans' indomitable nature that the two of them have reunited at a moment when the good times are rolling once again.
_Dominique's
504-894-8881
4729 Magazine St.,
New Orleans, Louisiana 70115
_