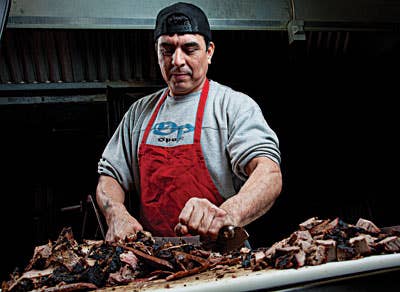 Travel
Ribs and Ritual in Kansas City
For a native of Kansas City, only one kind of barbecue will satisfy
Does this happen to you, too? The memory of fabled dishes from all the places I've lived ends up tasting better than the food itself. The one mouthwatering exception is Kansas City barbecue. Specifically, the meat the Fiorella family has been smoking since 1957, when the late Russ Fiorella sold his house and moved his wife and seven children into an apartment above a dive he called the Smokestack, "out south" at 71st and Prospect. My father owned an auto-parts store nearby and often took credit for discovering the Fiorellas and their amazing way with the hickory pit. To this day, theirs is the only Kansas City barbecue our family eats.
Dad did takeout for his staff, but as a family, we ate at the restaurant—on Prospect in the early days, and later, when we moved farther out south, at the Martin City location. Various Fiorella children and grandchildren have taken over different Smokestack locations over the years, but today, just one place named Smokestack remains, owned by Ben Eisman, Russ Fiorella's grandson; Ben's uncle, Russ's son Jack, founded what is now a mini Kansas City empire known as Fiorella's Jack Stack. To us, though they are separate companies now, they are all the Stack. No matter which place you go to, the wait is an hour. No reservations. Nobody fawns; the owners never come out to greet you. But that would never be our expectation, and it's not the reason we keep coming back.
Time and again, we conveniently forget we'll be too full for the next course if we start by sharing heaping plates of breaded mushrooms and onion rings, all so exquisitely deep-fried that they leave no grease on your fingertips. Then out come the slabs. We get the aromatic beef ribs—never fatty, the kind that slip off the bone at the slightest touch. I like the thinly sliced, hickory-infused brisket, as well as the brisket's "burnt ends," a local specialty that looks but never tastes burned. We order coleslaw, too, and those unrivaled baked beans, with their irresistible smoky scent.
Let's talk about the sauce. Tomato-based, molasses-sweet sauce is, after all, a defining feature of Kansas City barbecue. We never add it in the restaurant, because the pitmaster applies just the right amount. But we stock up on bottles by the caseload, both the regular and the spicy versions. I simply must have it on cold sliced chicken or turkey, and I alternate indiscriminately between the two flavors.
After living abroad for years, a huge advantage of my move to New York, in 1984, was no ocean to cross to get to Kansas City. Immediately, my husband and I devised a system of barbecue special delivery: Mother or Dad with a box of frozen meat on dry ice, chilling the bearer's lap for a two-and-a-half-hour airplane ride. That Grand Schlep happened at least once or twice a year until 2000, when Jack Stack blessedly instituted overnight shipment.
An early hardship was no succulent hickory-roasted lamb ribs—a new addition to the menu in the '80s. But now they come too, along with medieval-scale crown prime beef short ribs, and even melt-in-your-mouth ribs of Kobe beef. These innovations we quickly embraced.
Loyalty and memory may play into our Stack devotion, but they do not account for the longing between visits. We may love the Fiorellas, but wanting—needing—their barbecue is always and only about the meat.