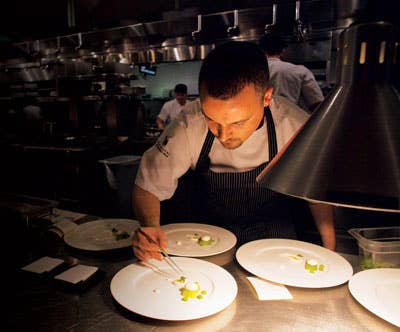 Travel
Serious Fun
At chef Jose Andres' playful LA restaurant, The Bazaar, both the classic tapas and the gastromolecular innovations are excellent.
If I had studied only the food on the plate in front of me at Jose Andres's restaurant The Bazaar, in Beverly Hills' SLS Hotel, the experience would have been curiously dislocating. Sure, much of it pointed to Spain, drawing on the modernist doctrines of El Bulli, Ferran Adria's restaurant north of Barcelona, where chef Andres trained. Here were foie gras lollipops. Here were liquid-center "olives" coated in a miraculous gel so that they burst in the mouth. Here were cocktails "cooked" in liquid nitrogen. But every self-respecting city from Tokyo to Dubai to London and back again now boasts a chef trying to sharpen the gastronomic cutting edge by playing with his food this way. Even a glance at The Bazaar's traditional tapas menu—with its jamon and pimientos de padron and croquetas—did not necessarily root me in a particular place.
I had to look up, gawk shamelessly at the glittering, glass-encased, cushioned and tasseled, tchotchke-scattered madness of the various Philippe Starck-designed rooms to remind myself I was in LA. It may be a city filled with extraordinary eating opportunities, but, save for a few noble exceptions, conventional high-end dining has never truly thrived here. Angelenos are suspicious of formality and demand added value in equal measure. Andres, who has already built a restaurant empire in Washington, D.C., on the strength of his gastronomic whiz-bangery, has clearly understood that.
So, the music pumps and the light settles in pools and the people arrive in their on-trend finery to sip cocktails in the bar and get sugar hits in the Alice in Wonderland of a patisserie, where clever chefs do extraordinary things with spun sugar and chocolate. And that's the key. If The Bazaar were just so much design and posturing, it wouldn't be worth the cost of the valet parking. But while the service may be laid-back and the vibe playful, the food is almost uniformly good, which is remarkable given that the place can serve 300 customers or more a night.
The suspicion with any restaurant experimenting on the wilder shores of new cookery is that, while the kitchen may be versed in modern techniques, it hasn't yet mastered the classical. At The Bazaar that qualm is dispelled with a taste of the offerings on that traditional tapas menu: the finely sliced jamon served just warm enough that the fat begins to melt the moment it touches the tongue, the crisp-fried croquetas of bechamel-coated chicken, the coarse Catalan sausages. Tapas may not be hard to come by outside of Spain these days, but a selection of tapas this well executed is. And it's easier to trust a reengineered tortilla—potato foam, slow-cooked egg, caramelized onions—from a kitchen that has first proved it knows how to do the fundamentals. Anybody who, like me, has spent too much time, money, and hope in the world's self-consciously avant-garde restaurants could not help finding The Bazaar refreshing. —Jay Rayner, restaurant critic for The Observer_ in London and author of_ The Man Who Ate the World: In Search of the Perfect Dinner _ -(Headline, 2008)_