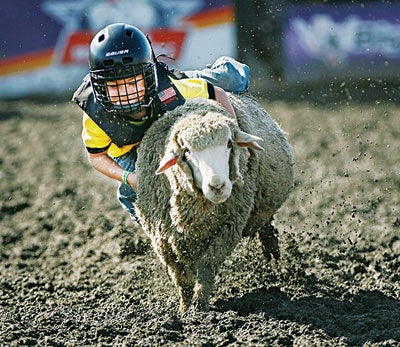 Iowa State Fair
August 9-19
Inspiration for the Phil Stong novel State Fair, which was made into Rodgers & Hammerstein movie musicals in 1945 and 1962, the blowout in Des Moines is everything a heartland fair should be. Hogs rule: Visit the Swine Barn, then go to the Pork Producers tent for a pork chop—not a regular pork chop, but an Iowa pork chop, meaning it is thicker and sweeter and so tender that a plastic knife slides right through with ease.
The Great New York State Fair
August 23-September 3
Yes, there is a full roster of fried Oreos and snow cones (pictured, below), just like at any worthy devil-may-care fair, but this rural upstate event features a unique dish that is neither fried nor sugary. Cornell Chicken, introduced here in the 1950s by the late Professor Robert Baker (inventor of chicken nuggets), is bathed with an eggy marinade and cooked over coals until the outside is a caramel glaze: ideal al fresco summer fare.
Puyallup Fair
September 7-23
Puyallup (pronounced pew-al-up) is a small city in Washington State, but its fair (pictured, at the top, during a sheep-riding competition) is huge, one of the 10 biggest in the nation. Since 1915, the essential snack has been a scone served almost too hot to handle loaded with butter melting into the soft biscuit and around a dollop of raspberry jam. More than a million are served each year.
Eastern States Exposition
September 14-30
Held in Massachusetts, this is the big end-of-summer party for all of New England. The "Big E" features all kinds of concessions (a Mexican food vendor is pictured, below), but it is best known for its cream puff. Made while you watch and served fresh and fragile, it is the size of a softball, sliced horizontally and piled with fluffy white filling that is lighter than custard but thicker than whipped cream. The Big E menu recently was enhanced by the addition of the Craz-E Burger, a bacon cheeseburger sandwiched in a doughnut rather than a bun.
State Fair of Texas
September 28-October 21
This three-week extravaganza, one of the nation's largest, has dubbed itself "the Fried Food Capital of Texas" for such innovations as fried beer, fried latte, fried salsa, and fried bubble gum. On a (slightly) more serious note, the State Fair of Texas claims to be the original home of the corn dog, here known as a Fletcher's Corny Dog, first served in 1942.
Arizona Exposition and State Fair
October 12-November 4 Bring a healthy appetite to the Arizona Fair and you will be rewarded by getting a jumbo Mexican funnel cake topped with strawberries and whipped cream for free—if you eat all five pounds of it in 30 minutes. On a smaller scale, there are little chocolate-dipped scorpions and skewered crickets. The prettiest (and most delicious) food at the Arizona Fair—which started in 1884, when Arizona was still a territory—is a hunk of tempura-crusted, flash-fried watermelon drizzled with strawberry syrup.