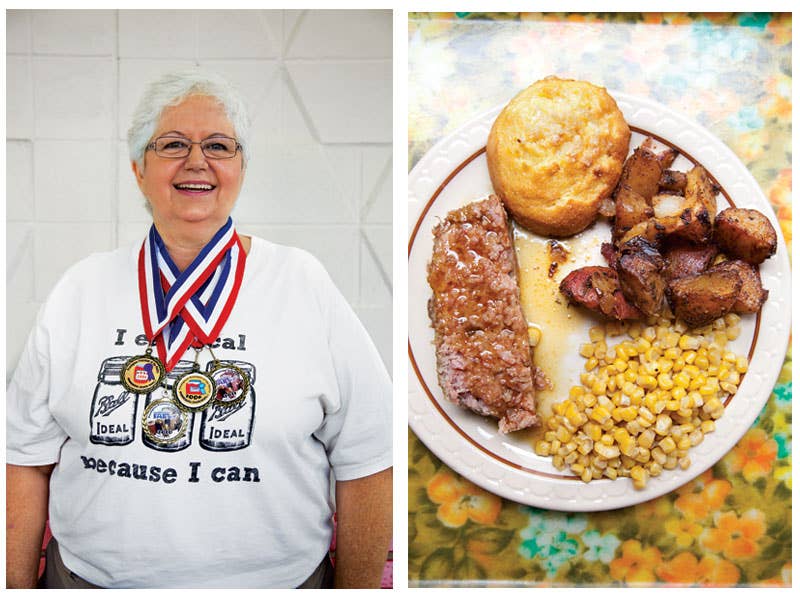 Travel
Fair and Square
Indulging in regional favorites and food-on-a-stick at the Minnesota State Fair
Profligacy reigns at state fairs. They are all about the bests and the biggests, the strongest oxen and fastest horses, the tallest space tower ride and slickest water slide. Fairs are especially notorious as orgies of nutritionally incorrect food. Contrivances like deep-fried butter and chocolate-dipped jalapeño peppers notwithstanding, many fairs have really delicious things to eat. Crunch-crusted Fletcher's Corny Dogs in Texas, fresh peach sundaes in Maryland, and cinnamon-dusted Navajo fry bread in New Mexico are signature temptations that make fair-going an avid eater's paradise.
There is no fair bigger and better than Minnesota's, which attracts nearly 1.8 million visitors each year and offers a bill of fare that might have been concocted by a voracious Hieronymus Bosch. Held since 1859—the year after Minnesota joined the Union—the 12-day, end-of-summer blowout hosts more than 300 vendors selling food that ranges from salubrious wild rice soup to sinful deep-fried pie, and from predictable hot dogs and cotton candy to precocious sweet corn ice cream with hot honey-butter-bacon sauce. As we discovered when we arrived last summer toward the tail end of the fair, temptation is everywhere, in every imaginable form.
The Minnesota State Fair is the last word in things served on sticks, offering more than three dozen impaled edibles: a class of food that is ideal for gobbling while walking among crowds. Some items are traditional stick cuisine, such as caramel apples and chicken kabobs; but the roster of skewered munchies also includes third-of-a-pound hunks of maple-glazed bacon, sausage-and-corn muffin breakfast lollipops, walleye, ostrich, deep-fried fruit, and even seemingly unlikely candidates like mashed potatoes, salad, coffee (in frozen form), spaghetti with meatballs, and macaroni and cheese.
For easy ambulatory eating, nothing beats a serving of Minnesota State Fair french fries. "Big deal," you say? "What's so special about fries?" Taste these and know. If called pommes frites and served in a swank dining room on a china plate, they would earn four stars. These fries are fresh; crowds constantly lined up to eat them insure that every batch sold is still hazardously hot from the fry kettle. They are available all around the fairgrounds at booths stocked with bushels of skin-on potatoes, ready to be cut and fried. Once you begin to approach the head of the line, you smell hot-potato perfume and watch the hypnotic sight of glistening fries scooped into cardboard containers ready to be salted or spritzed with malt vinegar. Most of the potato pieces are gorgeous square logs with crisp honeytone crust and creamy insides, but there are always plenty of dark brown charred bits that crunch.
Not all good eats at the Minnesota State Fair are deep-fried or served on sticks, though, and that's what makes this fair so special. Local churches run dining halls that serve breakfast, lunch, and dinner in venues insulated from the surrounding commotion. Fairgrounds church suppers, dating back well over a century, are a tradition at many fairs around the country; in their mid-20th-century heyday, there were more than two dozen of them in Minnesota. By 2011, there were only three, and in 2012, two remain. Run by volunteers for charity's sake, they are a surviving taste of the state fair as an opportunity for rural folk to come to town and share a square meal served by a polite staff in a decent setting.
credit: Penny de los Santos
The Salem Lutheran Church runs a snug dining hall with six tables where customers are served bowls of chili and Swedish meatballs by waitresses in hairnets, some of whom seem to have no task other than refilling coffee cups. A dollar gets you a bottomless cup. This is no ordinary coffee. It is Swedish coffee, made by adding an egg before boiling the brew, which clarifies the coffee and removes any bitterness. Colloquially known as Lutheran latte, it is a drink familiar to many Swedish-Americans of the upper Midwest, although it is little known elsewhere, including Sweden.
The Hamline United Methodist Church started serving sandwiches in 1897 but has since become known for its ham loaf, coarsely ground and seasoned ham served in thick, pink slices under a spill of brown sugar-mustard-vinegar syrup. Hamline's hall is a big place with rows of long tables topped by red-checked cloths; service is cafeteria-style. Although it is a reassuring icon to repeat visitors, Hamline's ham loaf, of which perhaps 1,000 servings are dished out during the run of the fair, doesn't come close to competing with best-selling fair foods such as corn dogs (a half million are eaten), cheese curds (2.6 million), and mini doughnuts (338,000). According to Jan Bajuniemi, who has been on the Hamline dining hall committee for 20 years and points out that several volunteers have been awarded for a half-century of service: "It's mostly the veteran visitors who come for our meals. Newcomers want the novelties."
A state fair is all about the prizes—for fat livestock, excellent horsemanship, perfectly spherical tomatoes, crop art (we particularly enjoyed a map of the Americas made entirely of different colored beans), and, of course, kitchen skills. The Minnesota Fair's Creative Activities building is devoted to the display of winners and contestants in all kinds of culinary arts, from baking to canning. Glass cases are filled with row upon row, shelf after shelf of cooks' best efforts, the blue, red, and white ribbon winners lined up with dozens of examples that didn't take a prize. Judges make their decisions before the fair begins so that ribbon winners are on display from opening day. Each cake has had its tasting slice removed. Jellies, pickles, and relishes are shown in sealed jars. For all there is to eat around the fairgrounds, it is strange indeed to gaze upon so much beautiful food that cannot be consumed.
It makes some sense for the foods to be displayed like objets d'art. Beauty earns blue ribbons. Last year, Barb Schaller entered the maximum allowable entries in canning categories—20—and took home seven blue ribbons and six red; she seems to be gunning for the all-time record for canning victories. ("I am a ribbon slut!" she loves to say.) She insists the competition is not simply a recipe contest. "Its purpose is to determine how well you do it, and that includes much more than how it tastes."
credit: Penny de los Santos
The all-time Minnesota State Fair baking champ, Marjorie Johnson, has been banned from cake and cookie competitions because she published a book, The Road to Blue Ribbon Baking (Beaver's Pond Press, 2007), thus nullifying her amateur status. But over in the bee department of the agriculture building, in contests that judge recipes made with honey, Johnson still is welcome to compete, and took blue ribbons last year for her honey bars and cinnamon raisin bread. Johnson's tiny, fragile-boned frame belies her hearty personality and huge reputation among Minnesota's baking class. As we chatted, so many passersby wanted to take a picture with her that serious gridlock ensued.
One other place where it becomes literally impossible to move during the fair is inside the dairy building, in the vicinity of the butter sculpture. Even more than the Miracle of Birth Center, where people coo over the sight of baby animals coming into the world, the butter sculpture exhibition elicits cries of unabashed joy and wonder. Sculpted butter has been a feature of dairy-state fairs since before refrigeration (when it was kept in ice-houses), but what makes Minnesota's exhibit so mesmerizing is that visitors watch the sculptor, Linda Christensen, at work. For the past 40 years, Christensen has sculpted busts of Minnesota's regional dairy princesses in a glass-walled, 40-degree studio that slowly rotates so spectators outside can see the princess and the sculptor as well as the butter heads that already have been sculpted. It takes six to eight hours to create each bust—one per day.
The heads are all-butter—not butter affixed to a wire frame, as is the case with butter sculpture in certain other states' fairs. Nor is this some sort of specially textured sculpting butter. It is Grade-A edible. When the fair is over, each of the princesses is given her bust. Some have kept their heads in a freezer for years, even decades. But dairy princesses, being civic-minded sorts, usually share their likeness. When Emily Krekelberg of LeSueur County was sitting for her sculpture, she said that she planned to donate her head to her church for a community corn roast.