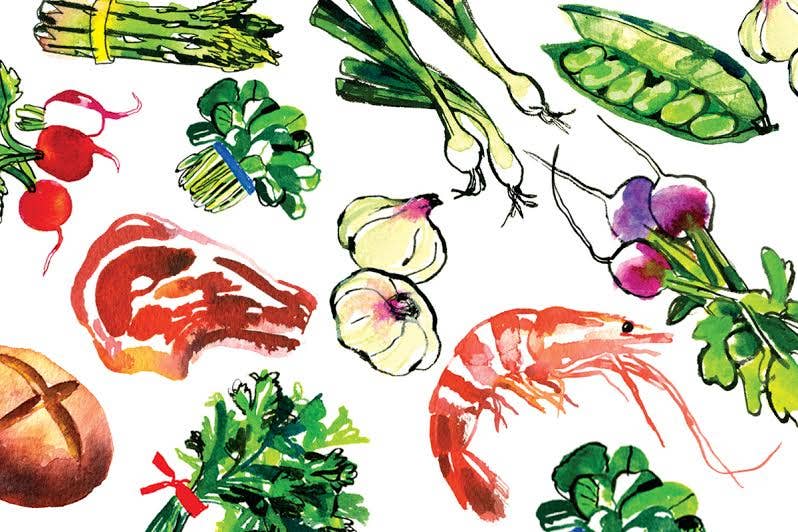 Travel
Spain's Market Masterpiece
This legendary produce vendor straddles both sides of the market's main entrance, off the central thoroughfare known as La Rambla, and offers a fitting welcome with its riotous display of vegetables, fruits, nuts, candies, olive oils, and dried fruits (stalls 465/512; phone: 34/933-187-390).
Bar Pinotxo
Juanito Bayen's bar has only a dozen stools, but it has played a big part in the lives of Boqueria regulars for a half century. Bayen prepares specialties such as cigrons amb butifarra negra (chick peas with sausage) and calmarsets amb mongetes de santa pau (baby squid with white beans) (stall 466; phone: 34/933/171-731).
Cansaladeria Can Vila
Among the glorious cured meats sold at this stall in the market's northwest corner are dozens of prized Iberico hams along with sausages, chorizos, and excellent cheeses from the best producers in La Mancha, Roncal, Mahon, and virtually every other region of Spain (stall 162; phone: 34/933/024-581).
El Quim de la Boqueria
Joaquim Marquez, the owner of this elegant tapas bar, knows every inch of La Boqueria, and he turns the market's bounty into flavorful creations, including ous esclafats amb xipirons (fried eggs with baby squid) and gambes a l'all amb reduccio de cava (garlic shrimp in cava) (stall 584; phone: 34/933/019-810).
Petras Fruits del Bosc
Llorenç Petras, the owner of this stand near the back of La Boqueria, is widely acknowledged as the mushroom czar of the Western world. Petras offers foraged mushrooms from Catalonia's forests, including regional favorites like subtle-tasting ou de reig, as well as varie-ties from as far afield as Asia and South America (stall 867; phone: 34/933/025-273).
Avinova
Avinova is where I buy all my poultry and wild game: Bresse chickens, wood pigeons, quail, ducks, partridge, pheasant, hare, and more. From October to March, the hunting season in Catalonia, the selection here soars. In the spring, I come to admire the impressive choice of snails (stall 689; phone: 34/933/013-071).
Jesus y Carmen Frutas y Verduras
A colorful curtain of dried chiles is strung across the front of this stall in the central part of the market. The husband and wife who run the business offer more than a dozen varieties, both fresh and dried, from around the world, as well as a great selection of microgreens and baby vegetables (stall 579; phone: 34/933/022-981).
Fishmongers' Section
La Boqueria's sanctum sanctorum is the oval island of fishmongers at its center. I like Genaro (stall 734; phone: 34/933/021-242), a business that's supplied the city's best restaurants since 1920, and Peix Pilarin i Cristina (stall 838; phone: 34/933/013-049), whose artful display of bloodred Palamos shrimp is enough to fill me with joy.
Fruits Secs Morilla
This vendor's stock of figs, dates, raisins, nuts, and, above all, spices is encyclopedic. The range of peppercorns alone spans the spectrum and the globe: black, green, white, Sichuan, Jamaican, and dozens of other varieties. Even if I'm not shopping for anything in particular at Morilla, I always pause here to breathe it all in (stall 359; phone: 34/933/019-427).