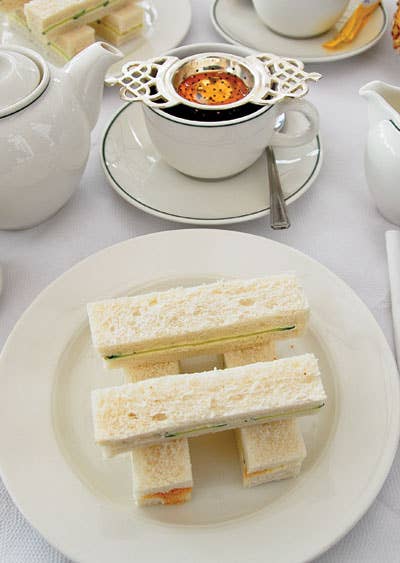 Travel
Standing on Ceremony: The History of Tea Sandwiches
It is the sandwich that defines the English afternoon tea: its presentation and filling; its size and shape and slenderness; whether it is with or without the crust. Tea sandwiches should know their place—that is, before the scones and well before the cake.
It was in 1840 that Anna Maria Stanhope, seventh Duchess of Bedford, hit upon the idea of afternoon tea, a light repast designed to bridge the lengthy gap between luncheon and dinner, which in fashionable circles wasn't taken until 8 P.M. The sandwiches served at teatime are just filling enough to inhibit overindulgence in the scones, cream and jam, and iced cakes that follow.
When I visited my grandparents' house in Sussex as a child, the tea would be served at the long oak table in the dining room or wheeled into the drawing room. It was the meal my brother and I looked forward to beyond all others. The crusts were off, the sandwiches piled in beauteous stacks, with sprigged parsley adding a touch of color. Then there was the jam: whole strawberries from the kitchen garden, with their runny syrup that sank, like ink on paper, into the bread. And the crunch of cucumber, peeled and sliced wafer thin, on buttered brown bread.
The cucumber sandwich may well be the apotheosis of the English teatime snack, immortalized in Oscar Wilde's The Importance of Being Earnest when Lady Bracknell arrives for tea, only to find that Algernon has scoffed the lot. The joy of joys for me, though, was the egg sandwich, with eggs we gathered warm from the henhouse and which Rhoda, my grandmother's cook, didn't quite hard-boil, then bound with butter, salted, peppered, and topped with cress that sprayed out from the edges of the bread. Heaven. —Tamasin Day-Lewis, author of Supper for a Song: Creative Comfort Food for the Resourceful Cook (Rizzoli, 2010)