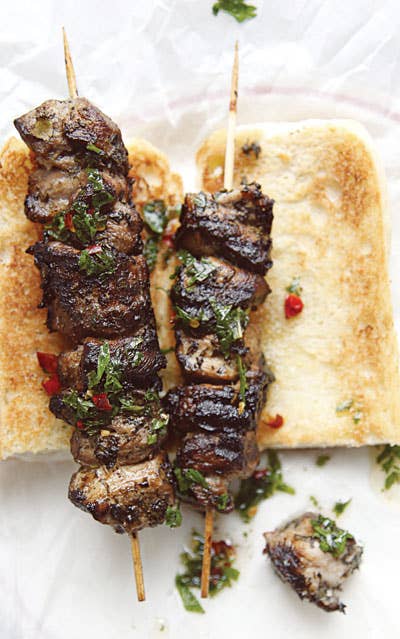 Travel
Summer Skewers
An Italian tradition in upstate New York
I go way back with spiedies. During my childhood days near Rochester, New York, there was a trattoria, since gone, called The Vineyard that my family would hit for a night out. Next to the meatballs on the buffet were the spiedies—tangy, tender cubes of grilled pork on skewers that tasted exotic to our suburban palates. We couldn't get enough.
At the time, we did not bother to question the provenance of spiedies. Now that I am grown up and more curious, I find that Rochester is 150 miles northwest of the spiedie sphere of influence, which revolves around the tri-cities of Binghamton, Endicott, and Johnson City in New York State's Southern Tier. The story has it that spiedies, whose name is derived from spiedino or spiedo, Italian words for "skewer" and "spit," respectively, were the invention of Augustino Iacovelli, an immigrant from Abruzzo. Previously employed in the area's shoe-manufacturing industry, Iacovelli opened a restaurant called Augie's in Endicott in 1939 where the specialty was skewered chunks of lamb, rubbed with garlic and dry herbs, and basted with a vinegar wash during cooking (see recipe below). They caught on and spread to eateries across the region, including The Vineyard, which was opened in the 1980s by two of Iacovelli's sons. Today, the standard upstate New York spiedie is cubed pork or chicken marinated overnight in a zesty oil-and-vinegar concoction, grilled, and served on a metal skewer with Italian bread.
The specialty is so popular, particularly during grilling season, that there's an August festival dedicated to it. Precubed meat is sold for spiedies in markets, and though the marinade is easy to make yourself, prepared ones are widely sold. My sister, who now lives in Virginia, has Salamadia's Original State Fair Spiedie Sauce shipped to her by the case.
If you find yourself hungry near Binghamton, though, the thing to do is head straight for Sharkey's, an unassuming tavern whose reputation for spiedies is righteous and deserved. When I found the place on a recent visit, it was mostly quiet, with two old smokes parked at the bar and one booth filled. But the spiedies were as succulent as I'd remembered from The Vineyard, the earthy oil and the bright acids shaking hands and deciding to get along. I used the bread as a mitt to pull the meat off the spit. Then I ordered seconds.