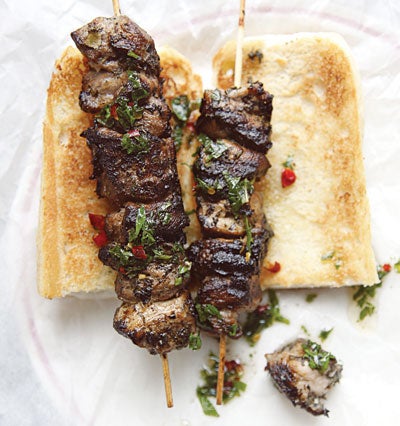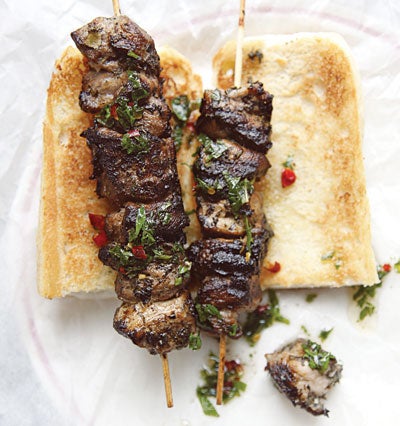 These tangy pork kebabs are rubbed with dry herbs and basted with a vinegar wash. A regional favorite of New York State's Southern Tier, their name derives from the Italian spiedino or spiedo ("skewer" and "spit"). This recipe first appeared in SAVEUR Issue #140 along with Brent Cox's story Summer Skewers.
Yield: serves 2-4
Ingredients
1 1⁄2 lb. trimmed pork loin, cut into 1 1/4″ cubes
3⁄4 cup olive oil
1⁄4 cup white wine vinegar
5 tbsp. finely chopped mint
5 tbsp. finely chopped parsley
2 tbsp. finely chopped oregano
1 tsp. fresh lemon juice
1 bay leaf, finely crushed
Kosher salt and freshly ground black pepper, to taste
1 1⁄2 tsp. crushed red chile flakes
2 (10″-long) Italian hoagie rolls, split, toasted, and halved
Lemon wedges, for serving
Instructions
In a large bowl, toss together pork, 1⁄4 cup oil, vinegar, 2 tbsp. mint, 2 tbsp. parsley, the oregano, lemon juice, bay leaf, and salt and pepper; cover with plastic wrap and chill for at least 3 hours and up to overnight. Soak six 8″ wooden skewers in water for 30 minutes; drain and set aside. In a small bowl, whisk remaining oil, mint, and parsley together with chile flakes, and season with salt and pepper; set sauce aside.
Build a medium-hot fire in a charcoal grill or heat a gas grill to medium-high. (Alternatively, arrange an oven rack 4″ below the broiler element and set oven to broil.) Thread four or five pork cubes onto each skewer. Transfer to grill (or foil-lined baking sheet), and cook, turning once, until charred and cooked through, about 10 minutes.
Place skewers on rolls; drizzle with sauce and serve with lemon wedges.