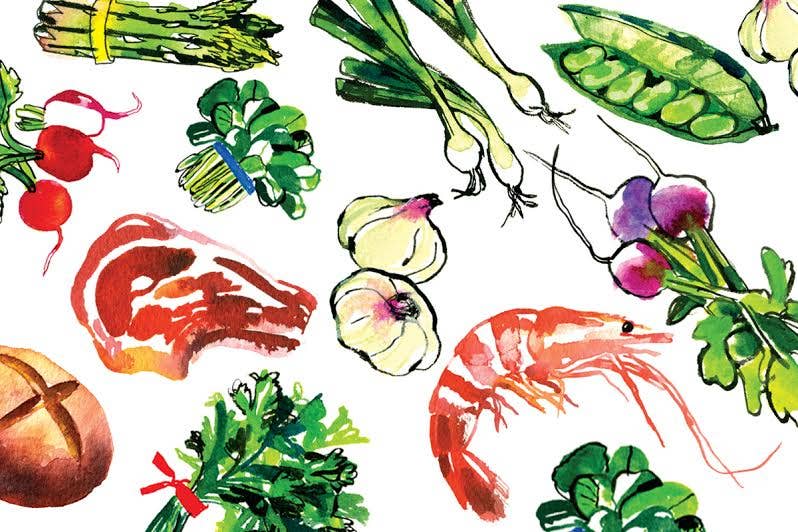 Having lunch at a Michelin three-star restaurant not long ago—a Michelin three-star restaurant in New York City, admittedly, but a Michelin three-star restaurant nonetheless—I was served a featureless little round of beef, the kind you get in Business Class, slathered with liquefied foie gras and topped with a big fluff of rhubarb mousse. I gave it three stars, all right: one for silly, one for ugly, one for pretty much inedible. Oh, well. At least it wasn't boring. I find a lot of fancy French food boring these days. Menus are as predictable as was the old soupe a l'oignon⁄coq au vin variety. This time the cliches are fish tartare, "gazpacho" with shellfish, foie gras with tropical fruit… And, by the way, is there a law that the final savory course of every French tasting menu (when it's not beef with rhubarb foam) must be either lamb or squab? It's enough to make you want to order in.
That's what I was thinking, anyway, when I sat down to another three-star lunch recently, this one on the far side of the Atlantic, not in France, exactly, but in French-speaking (and French-eating) Switzerland. But this time, when the food started appearing on the table, I wasn't bored at all. Far from it. I was dazzled. I fell in love with French cooking again.
There was a small ceramic bowl of jellied chayote consomme concealing minuscule orbs of foie gras, with a thick cream of celery beneath and crunchy shreds of raw chayote and a scattering of sea salt on top. There were meltingly tender, subtly flavored baby scallops from Brittany, almost raw, wrapped in a film of spinach, topped with a bit of osetra caviar and surrounded by a lightly creamy sauce of sea urchin—a sauce so delicate that the unmistakable flavor of that sea creature was expressed as a haunting accent instead of some overpowering take-your-iodine pronouncement. There was an Asian-inflected but unmistakably French preparation of glistening white barbue (brill) stuffed with a "chutney" of mango, pineapple, and ginger, decorated with carrot pearls, and moistened with an acidulated carrot sauce flavored with lime juice and more ginger. There was one wonderment after another.
The skill with which the flavors and textures of this food were posed in harmonious contrast to one another was nothing short of masterly. The ingredients themselves sang with freshness and flavor. The finished works were elegant but vivid, subtle and forthright at the same time. This was some of the best food, in any genre, that I'd had in years—the kind of food that reminds people why French cooking had such a high reputation to begin with. I have no hesitation in calling the man responsible for this cuisine a great chef, a true culinary giant. But even if you follow fine French cooking closely, even if you're a regular chez Ducasse and Robuchon, it is quite possible that you've never heard of him. And it is almost certain that you haven't been to his restaurant, at least not in its current incarnation.
The chef in question is Philippe Rochat, and his eponymous restaurant occupies the attractive old Hotel de Ville (Town Hall) in Crissier, a suburb of Lausanne, in the canton of Vaud. If the location sounds familiar, it's because the site is hallowed ground in sophisticated culinary circles: it was once the purview of Fredy Girardet, who for almost two decades was widely considered to be the best chef in the world. His admirers called him "le pape", the pope—not the king, with that term's implications of temporal grandeur and hauteur, but the pope, the spiritual leader, the enlightened man, above mere earthly things. Indeed, Girardet was a consummate technician with a generous heart and a pure spirit that seemed to suffuse his always surprising, always perfectly crafted food. He was, to put it mildly, a tough act to follow.
The man who has done just that was born in 1953 in Le Sentier, in the Joux valley, about 20 miles west of Lausanne, to a Swiss father and an Italian mother. "I liked to eat," says Rochat, "and I was fascinated from the age of nine by the way the raw materials in the kitchen smelled and felt." At 15, he went off to apprentice at a small restaurant in Romont, in the canton of Fribourg, and after that worked at two top-rated hotels in Zurich. "You have to remember," he says, "that there weren't very many grand restaurants in those days, so beyond some place like La Pyramide in Vienne or the Tour d'Argent in Paris, the serious kitchens were in the big luxury hotels. Then, in the early 1970s, people started talking about Bocuse, Troisgros—a new philosophy of cuisine. This was interesting to me, and when I heard about Girardet, who had begun doing the same things here in Switzerland, I asked him for a job." Rochat signed on with the legendary chef in the summer of 1980. By 1989 he had become Girardet's second in command.
The story of how he came to buy the restaurant from his mentor—ten years ago this December—and of Girardet's subsequent disappointment with the sale has been told in these pages before (see SAVEUR, September⁄October 1998). Today Rochat says only that the transition was very difficult at first. Michelin took away one of the restaurant's three stars, and business plummeted by at least 25 percent. Rochat persevered, though, and with a young French chef named Benoit Violier assuming the role he had played to Girardet, and with his own wife, Franziska Rochat-Moser, helping to run the place, he won back both the star and the fugitive business within the year. (Rochat-Moser, who was a celebrated athlete—she won the 1997 New York Marathon—died tragically in 2002 after being swept down a mountainside by an avalanche while ski-trekking.)
Rochat, a craggily handsome man with a reticent smile, manages a staff of 42, of whom 21 are in the kitchen (one of these is a full-time baker, who makes a variety of extraordinary breads), and serves a maximum of 60 customers per meal—though Rochat confides that his ideal is only about 40 at lunchtime and 50 at dinner. "When people come to work for me, I insist that they stay a minimum of two years," says Rochat. "Otherwise, they learn nothing." In any case, he says, he doesn't take beginners. "Cooks come here to perfect their skills, not to learn the elementary things."
Like most sophisticated French food, Rochat's is a cuisine of details, small subtleties, lapidary craftsmanship. He buys the best ingredients (and identifies their provenance on his menus: asparagus from Pertuis in Provence; john dory from Loctudy in Brittany; lobster from the estuary of Scotland's Clyde river; milk-fed veal from Switzerland's own Emmental valley) and cooks them perfectly, presenting them in a context that brings out their native qualities instead of concealing or transmuting them. (He's not afraid to use that great universal flavor enhancer—salt.) "The menu changes with each season," says Rochat, "and I never repeat any dishes exactly. We are somewhat conservative here. The products give value to the food. If you eat asparagus here, you eat asparagus."
Not just any asparagus, of course, but (for instance) thick green spears with remarkable flavor ("These cost at least four Swiss francs [about three dollars] apiece," volunteers Violier), lightly poached, positioned on a film of sauce mousseline (in effect a cream-enriched mayonnaise) thinned with the asparagus cooking water, surrounded by a rim of homemade "sauce cocktail", and topped with osetra caviar. Other ingredients shine through, too. Tender razor clams are removed from their shell, cut into small pieces, mixed with tiny chanterelles, halved miniature caperberries, and flecks of raw red onion, then dressed with olive oil and artisanal balsamic vinegar. Morels are halved and gently sauteed, then combined with baby fava beans atop a thin disk of crisp pastry, accented with chervil and wisps of raw scallion, and surrounded by a frothy sauce made with wild mushroom juice and a little cream. Roasted sweetbreads on small metal skewers called hatelets take on a faint Spanish flavor from a light sauce made with sweet piquillo peppers and from the accompanying silky, saffron-scented potato puree. Desserts can be elaborate (a pistachio creme brulee with cherries marinated in kirsch and chocolatey lace cookies) but can also be as simple as a "rose" made out of petal-thin slices of strawberry and strawberry syrup atop blancmange. (There is also a memorable cheese cart, with more than 30 offerings, about half of them from Switzerland—including some unusual chevres, magnificent unsalted and semisalted gruyeres, an aged salted one called caramel for its color, and a firm, nutty three-year-old simmental, reminiscent of fine old gouda.)
Rochat is not inexpensive. A typical three-course a la carte meal for two with a bottle of good but not spectacular wine costs around $400, and there are multicourse fixed-price menus (without wine) that run about $225 and $230 per person. On the other hand, you can pay two hundred bucks per person easily in New York or San Francisco for a meal that is downright ordinary in comparison with what you'd get here—and an a la carte dinner for two with wine at Alain Ducasse in Paris would probably run you $900. The truth is that after being known for many years as one of the most expensive countries in Europe, Switzerland—which has not joined the European Union or adopted its currency—is almost a bargain, with a lower value-added tax than its neighbors and a relatively generous currency exchange rate for Americans.
There's much to like on Rochat's wine list, representing the restaurant's 50,000-bottle cellar. Trophy drinkers will be attracted by the more expensive possibilities, like the collection of a dozen vintages of recently disgorged Dom Perignon, dating back to 1959, or the splendid array of big-name bordeaux and burgundy. For me, though, the real treasures are the Swiss wines, many made from uncommon grape varieties like chasselas (the country's definitive white-wine grape), petite arvine, amigne, humagne (rouge or blanc), and cornalin. Choices like Louis Bovard's elegant Villette Sauvignon 2000 and Favre-Carruzzo's La Tornale Humagne Blanc 1999, which suggests some angular blend of gewurztraminer and viognier, are unique and go very well with Rochat's food (and cost about $70 and $60, respectively). The restaurant's sommeliers are adept at steering diners in the right direction.
The maitre d'hotel, Louis Villeneuve, who has worked on these premises for 31 years, confidently runs the pleasant but rather plain-looking dining room, and the service is excellent—anticipatory but unobtrusive. (Rochat plans to remodel the restaurant in a year or two, installing glass between the kitchen and the main dining room and adding a long bar, where simpler meals will be served. "One must think of the future," he says.) Villeneuve is also an old hand at tableside presentation: I watched in admiration one day as he carved a whole Nantais duck, roasted to a glistening dark brown in the lees of chambertin, removing the legs and thighs with swift strokes, then slicing the breast meat paper thin while it was still attached, with a calm, smooth backhand. "I like it when people order this dish," he says, "because this kind of service is becoming a lost art. It's a question of savoir-faire." If Philippe Rochat had a coat of arms, "Savoir-faire" would be his motto.