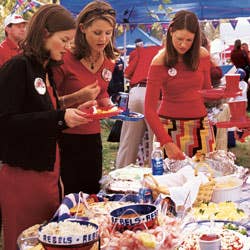 It's game day at the University of Mississippi, and I'm up early on this crisp fall morning to join the migration from downtown Oxford to campus, less than a mile away. Preschool-age girls skip along in miniature cheerleader dresses; little boys wear T-shirts emblazoned with images of Colonel Rebel, the traditional Ole Miss mascot—an elderly gent with a white goatee, planter's hat, and cane—and folks of all ages march ahead in red and blue, the school colors, some with "Go Rebels" or "Hotty Toddy", the school cheer, painted on their faces. We're headed to the Grove, the center quad on the Ole Miss campus and the site of the most famous tailgating party in America.
People have probably been picnicking before college football games for as long as there's been college football. Technically speaking, to tailgate is to serve a picnic on the folded-down tailgate of a station wagon or pickup truck—which is how it used to be done at Ole Miss. Snooky Williams, who has been coming to the Grove since 1937, remembers when the oak- and magnolia-studded lawn was filled before every game with cars and the food served was very simple. Back then, he says, his parents took "nothin' but a case of apples, a case of oranges, and a hoop o' cheese". Over the years, Southern picnic staples like fried chicken and potato salad were added, and with the invention of portable barbecues and devices for keeping food hot or cold, the spreads at the Grove evolved into elaborate potluck productions like those you'd find at church suppers. But the most significant change came in 1992, when, because of heavy rains before one game, cars were banned from the muddy grounds. Veteran tailgaters bemoaned the ruling, certain that it would spoil the day. But without cars, the individual groups were closer together, creating a giant community celebration. People loved it, and cars have been absent ever since.
These days, groups pay someone, often a college student, to stake out their usual spot the evening before every home game, and they hire local companies to erect tents and set up tables and chairs. On game day, the ten-acre Grove becomes a sea of white tents, with as many as 60,000 revelers assembled here.
I've come "to Grove", as some locals say, with Judy and Pat Edwards, both Ole Miss alumni, on the spot where they have picnicked for roughly 30 years. They drive the hour south from their home in Memphis to meet up with a group of about 60 friends, mostly Ole Miss alumni and parents of current students, for an immense potluck meal. Judy is the sister of my friend Sara Foster, who also graduated from Ole Miss. When I was driving across the country last fall, Sara, who owns two Foster's Market stores (in Durham and Chapel Hill, North Carolina), persuaded me to stop in Oxford to witness the spectacle at the Grove with Judy and her party. "Trust me," she said, chuckling. "You just have to see it to believe it." She was right.
"Why are you so late?'' Judy asks as I stagger, amazed, into her tent. It's not yet nine in the morning. Kickoff time is 2:30. I thought I'd arrived early enough to see the scene develop, but the Grove is already a mass of moving red-and-blue-clad bodies. Just as Sara described it, well-groomed young men are dressed in sport coats and ties, and girls with fully done hair and makeup tramp through the grass in high heels and cocktail dresses. The scene is one of happy madness, like the genteel South's version of a Dead show parking lot. But this is no frat party. It's more of a family affair, where the different generations of students and alumni have a chance to socialize. You don't go to Ole Miss because it's the best school; you go because it means joining a big, fun-loving, hearty-eating family. And game days are the family holidays.
That said, not everybody in or around Oxford chooses to Grove. Some locals prefer to have their pregame parties at home. And one entire group is notably absent: African-Americans. While in recent years a few black fraternities and campus organizations have been represented by tents at the Grove, in general, Ole Miss football fans—both in the Grove and in the stands—are white. "White folks wouldn't mind Groving with black folks," says Mary Beth Lasseter, an Ole Miss alumna and associate director of the Southern Foodways Alliance, who was up all night preparing her grandmother's pimento cheese sandwiches for today's event. "But it's hard to be the first black family to go into the Grove and set up your tent. So far, few black folks are doing it, and no white folks are going out to invite black folks in." Nearly 15 percent of Ole Miss's student body is African-American, but most of those students are of the first generation to attend the school. Lasseter hopes that as blacks become part of the history of the university, Groving will become a more integrated event.
Snooky Williams's group is already picnicking on gumbo and etouffee flown up from Baton Rouge. On the periphery of the Grove, some folks have fired up barrel barbecues. Many have brought in Mississippi Delta tamales. And City Grocery, arguably the best restaurant in Oxford, will be feeding shrimp and grits to a party of 300 people today in the Grove.
But these are exceptions. What's under the majority of these tents is a different kind of Southern food but no less a part of Southern culture: the stuff of Junior Leagues, a cuisine of convenience—a can of one thing mixed with a box of another, cooking that fits the lifestyles of a generation of women who have gone to work but who nevertheless wouldn't think of arriving at any gathering empty-handed. And it is food that is designed to taste—even to a person like me who can be rather priggish on matters of, say, eating peaches out of season—really, really good.
"Breakfast casserole?" asks Judy. "French toast casserole? Sausage biscuit? You have to eat somethin'." Becky Tollison, Carol MacIntosh, and Myra Hughes, three of the women in charge of this week's setup, are busy dressing the tables with red, white, and blue tablecloths, big flower arrangements, and silvery candelabra and finding room for dish after dish as each newcomer arrives. Chandeliers have been hung from the tent ceiling; beneath them, chafing dishes warm everything from hot dips to scallop kebabs. Roasts—turkey, beef, and pork—sit ready for carving, and platters of deviled eggs are everywhere. One long table is dedicated to what seems to be the South's antidote to all of life's troubles: dessert. Baskets of brownies and lemon bars and tins of cookies are wedged in among at least half a dozen pies, cupcakes, cheesecakes, and good old American layer cakes.
When faced with this kind of buffet—which includes not just the dishes here but also those of the friends we will be visiting, since "tent-hopping" is essential to the Grove experience—one must think strategically. I decide to start my breakfast by carving into a glorious-looking, slightly lopsided three-layer yellow cake coated with a candylike caramel frosting, the specialty of Sara and Judy's aunt Virginia, who sits proudly, in black and with long manicured nails, in a folding chair nearby.
I feel I have no choice but to follow the cake with a sausage biscuit (when in Oxford…). And then it's a serving of Tollison's puddinglike black-eyed pea corn bread—spicy sausage, canned creamed corn, canned green chiles, pickled jalapeños, and canned black-eyed peas, bound together with white cornmeal and cheddar cheese: evidence that more is sometimes more. An hour later, I am lucky enough to get a slice of pork loin with a sweet and spicy sauce of pineapple preserves, apple jelly, and horseradish before it disappears. Everywhere I turn, there is something gooey and irresistible—crab dip, onion souffle dip, chutney dip, and chili dip, every one of which, I learn, is based on cream cheese. Digging into these luscious concoctions, I begin to wonder whether the "fresh, seasonal, keep it simple" credo I've come to live by can really satisfy a person's lustier food cravings.
Being a girl of the California persuasion, I hadn't considered that all these people—in particular what look to me to be very non-sports-oriented women —could possibly care about actual football, so I had assumed that the game was just an excuse for the party. But when the Rebel team cuts through the crowd on its way to the stadium to play Louisiana State University, I learn differently. "The walk" is the official signal to the fans that kickoff is two hours away. The women in Judy's group—and all over the Grove—immediately begin covering the food, locking up the liquor, and moving with the crowd toward the stadium. Meanwhile, I wander around the relatively deserted grounds of what was an undulating party scene only moments before. I stop by one tent to watch the start of the game on a satellite TV with a few stragglers. As the Rebel fans shout the kickoff chant—"Arrre yoouu reeaadyy?"—cheers from the stadium drown out the TV. And the game begins.
As it turns out, Ole Miss, the underdog, loses after a surprisingly close game. A candlelit party follows, albeit one with a mood more subdued than if the Rebels had won. "We paid too much attention to the food," Judy says, as she prepares what's left of the buffet for the group to snack on, "and not enough attention to our boys."