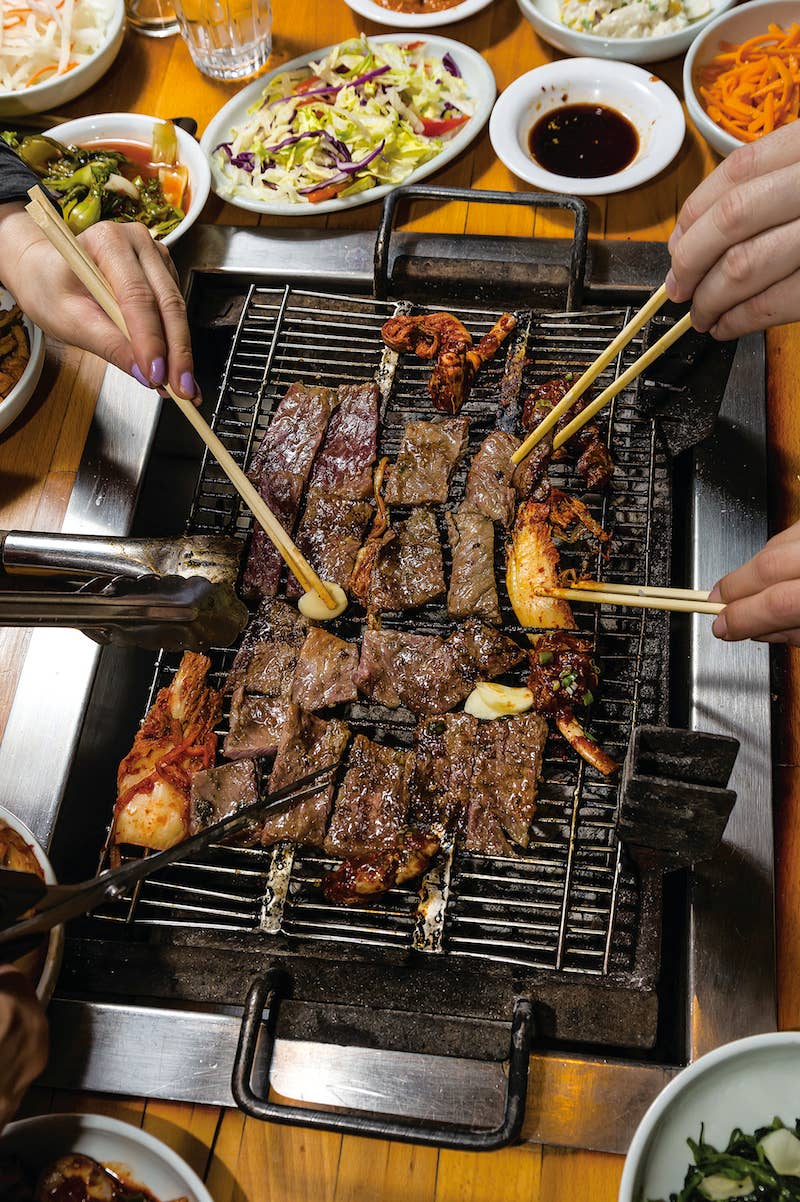 Travel
The Grills Are Alive
Korean barbecue is a feast for all the senses
This is what happened the night I fell in love with my Korean barbecue waitress. Admittedly, things got off to a rocky start. The tabletop grill had fired up gamely, searing meat like a cattle brand, but then began losing its will. When our server arrived with a platter of raw garlic-studded pork belly, I began to worry. I pictured her laying that marbled meat onto the lukewarm surface, where the slab would settle into a deflated burble of steaming pork. I have, I'm sorry to say, seen it happen before.
This is not how it's supposed to be. The primal pleasure I crave from Korean barbecue comes from searing and charring. Warmish grills are an affront to every cook and eater. Going out for Korean barbecue should mean sitting before a grate that's grown brutally hot over a bed of glowing coals. (Or, okay, fine, gas flames, but plenty of them, please.) Servers bring platters of sliced meat—old school places usually specialize in just a few cuts, such as beef short ribs or pork belly—sometimes covered in a marinade of soy sauce, garlic, and sugar. But marinated or not, the meat should hit the metal like a judgment, throwing smoke, before you wrap it in pieces of lettuce, swiping on salty bean paste and spiking it with spicy kimchi.
Some cultures celebrate grilled meat in its naked, unadorned state, but Korean barbecue is all about harmonizing it with strong elements so that each little parcel of lettuce can be a different experience from the one that came before. This is its beauty: the interplay of sizzling just-cooked pork belly and cool sweet-sour cured daikon. The chew of beef, the crispness of pickles, the tenderness of greens. The bite of raw garlic, the trailing depth of sauces made from fermented beans, maybe a little dip in nutty sesame oil. And all bound together by the bitter savor of char.
So what about my char? Would I not get my char tonight? Would the server throw our belly on to steam, rushing off to deal with her other tables? But then she shook her head and waved her hand, dispelling my worries in an instant. "I have another grill, hot, in the other room. Okay if I cook it there?" she asked. When she came back, smiling, she showed us the seared pork, its aromatic, sputteringly hot fat showering us in a fine mist. I had never felt more cared for, more understood. We picked up our lettuce leaves, ready to make magic.