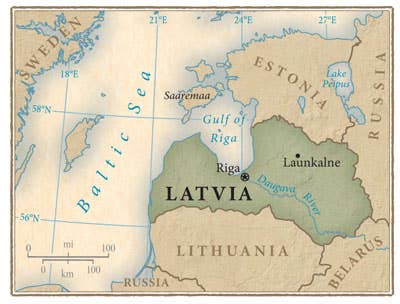 Travel
The Guide: Riga
Dinner for two with drinks and tip: Inexpensive: Under $20 Moderate: $20-$80 Expensive: Over $80
Hotel Neiburgs Jauniela 25/27 (371/6/711-5522; neiburgs.com). Rates: $135 double. Located in an Art Nouveau building in Riga's Old City, these 55 suites offer modern furnishings, kitchenettes, and great views. The restaurant features updated Latvian dishes like trout with black hemp butter and beef broth with chanterelles and caraway cheese.
Istaba Krišjāņas Barona Iela 31 (371/6/728-1141). Moderate. Chef Mārņtš Sirmais, also a cookbook author and cooking show host, transforms seasonal foods into small plates—such as jellied tomatoes and kidney bean pate—at this downtown bistro.
Lido Krasta Iela 76 (371/6/750-4420; lido.lv). Inexpensive. This location of the restaurant chain boasts folk-themed decor (windmills, a kiln), a bakery, dining room, brewpub, and cafeteria, where you can pick from a rotating selection of over 500 dishes, including salted, pickled, and curried herring, and debesmanna (cranberry mousse).
Rīgas Valsts Pirmās Ģimnāzijas Kafejnīca Raiņa Bulvāris 8 (371/6/721-1594; r1g.edu.lv). Inexpensive. Tucked in Latvia's oldest school (established in 1211), this cafeteria serves seasonal fare like ķīselis (red currant soup) and fried pork patties with potatoes in white sauce.
Slāvu Restorāns Vaļņu Iela 19 (371/6/728-3974; slavu.lv). Moderate. This Old City restaurant serves classic Russian dishes: rustic meat or cabbage pie, sorrel soup, and hand-formed sour cherry or potato dumplings, along with a range of infused vodkas.
Lāči Factory Tour Benūžu-Skauģi, Babĭtes (371/6/793-3227; laci.lv). Just outside of Riga, this producer of rye bread and sweets offers tours that end with a visit to the bakery. Sample Vecrĭga, a pastry puff filled with cream and farmer's cheese, as well as biezpienmaizĭte, a raisin-studded sweet cheese pie.