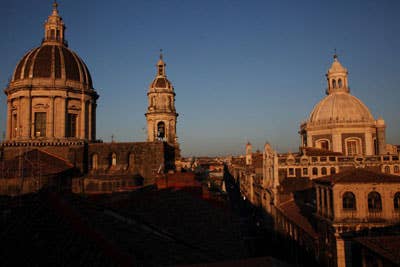 Hotel Letizia via Bottai 30, Palermo (39/091-589-110)
Rates: $105 double.
This lovely 16-room hotel offers spacious, recently updated rooms and a location (near the marina, with ample parking) that can't be beat.
Il Glicine via Castelforte 98A, Mondello (39/091-454-565)
Gabriella Pucci rents out rooms in her lovely 18th-century palazzo in Mondello, Palermo's relaxing seaside resort town that's just a 15-minute drive from downtown. Pucci's garden, filled with citrus trees and tropical plants, is a gorgeous oasis.
L'Orangerie Vico de Naro 5, Modica (39/3/470-674-698)
This beautifully restored family hotel, with two-story efficiencies and sprawling terraces that overlook Modica's medieval scape, is the perfect base for exploring the southeastern part of the island.
Locanda Tanarizzi via Giuseppe Tasca, Vallelungha (39/3/335-787-049)
Rates: $118 double.
Rosemarie Tasca d'Almerita runs this cheery hotel in a village near the Regaleali wine estate. She also rents out rooms in her home at Regaleali.
Cantina Siciliana via Giudecca 32, Trapani (39/092-328-673)
Moderate.
Pino Maggiore's cozy trattoria serves excellent renditions of traditional Trapanese dishes, including cuscusu (couscous), served with a rich fish broth.
Antica Focacceria San Francesco via Paternostro 58, Palermo (39/091-320-264; afsf.it)
Moderate.
This 109-year-old eatery is the most beautiful spot in all of Sicily to sample pani cu' la meuza, the city's beloved Pecorino-topped spleen sandwich, along with panelle (chickpea fritters) and other snacks.
Zia Pina via Argenteria 67, Palermo (no phone)
Moderate.
You pick your fish (maybe a few prawns and squid and a whole mullet) and your preparation (grilled or fried), then help yourself to Zia Pina's colorful table of antipasti: roasted potatoes, stuffed eggplant, caponata, marinated mushrooms, and more. Plan to wait for an outside table.
Antica Marina via Pardo 29, Catania (39/095-348-197)
Moderate.
This fish-centric restaurant, situated in the heart of Catania's fish market, has an antipasti spread that features dozens of seafood preparations, from octopus salad, to baby snails drizzled with excellent olive oil from nearby Mount Iblei, to raw oysters. The three young owners offer a fine selection of Sicilian wines from the Etna region.
Duomo via Capitano Bocchieri 31, Ragusa (39/0/932-651-265) Expensive.
Ciccio Sultano serves some of the most creative dishes in Sicily, from a selection of raw fish with mozzarella and various vegetable sauces, to his cannoli: piped with luscious sheep's milk ricotta and garnished with Bronte pistachios, Avola almond ice cream, and a soup of prickly pears.
Caffe Sicilia corso Vittorio Emanuele III 125, Noto (39/0/931-835-013) Corrado Assenza's century-old pastry shop offers extraordinary gelato, gorgeous layer cakes, and traditional Sicilian sweets. Pick up a jar or two of his raw honey and marmellate (jams), some of the best in Sicily.
Pasticceria Maria Grammatico via Vittorio Emanuele 14, Erice (39/092-328-673) Inexpensive.
It's worth the trip to this tiny hilltop town to try Grammatico's incredible pastries, which include dozens of biscotti varieties like the chewy sospiri, rich with homemade almond paste.
Anna Tasca Lanza Sicilian Cooking Courses (39/3/381-523-175) Fabrizia Lanza teaches single-day classes to weeklong courses on everything from Sicilian sweets to seafood. Students stay at the stunning Case Vecchie, a series of medieval buildings on the Regaleali wine estate and farm.