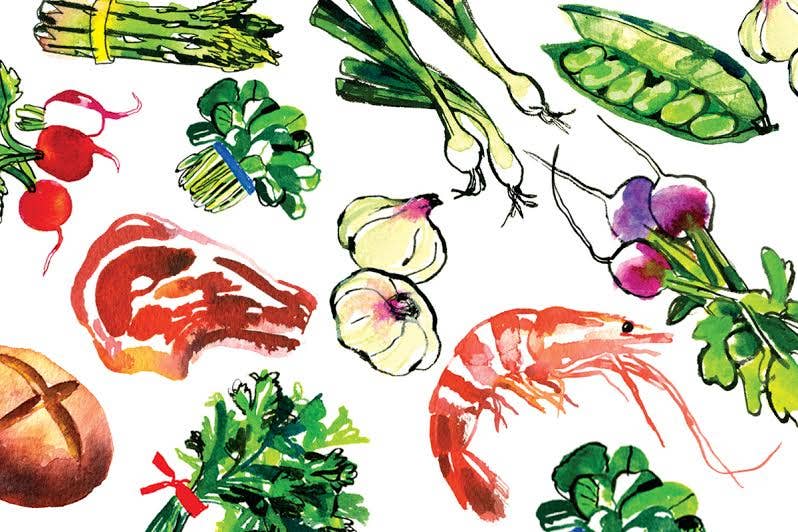 Central Market
_4001 North Lamar Boulevard, Austin (512/206-1000; http://www.centralmarket.com/). Inexpensive. _Brace yourself for sensory overload: Central Market is all superlatives, with 200 varieties of olive oil, a 75-foot-long butcher's counter (with 30 types of sausage), 2,200 kinds of wine, more than 700 hand-cut cheeses, and a cooking school. At last count, the store was Austin's top tourist destination, with 2 million out-of town visitors a year.
**Lonesome Dove
**_2406 North Main Street, Fort Worth (817/740-8810; www.lonesomedovebistro.com). Expensive. _Chef Tim Love's ambition is as big as his famously outsize personality: in the years since he opened this bistro in Fort Worth's stockyards in 2000, he's hosted a television series, set up Lonesome Dove outposts throughout Fort Worth, and written a cookbook. His original restaurant reflects his love for boldly reinterpreted cowboy cuisine, as demonstrated by dishes like quail quesadillas and hand-cut buffalo rib eyes.
**Pier Eight Fish Market and Restaurant
**_409 Todville Road, Seabrook (281/474-4588). Moderate. _This restaurant, in a coastal town 30 miles southeast of Houston, serves local seafood at its freshest and simplest: a rotating menu of fish caught the same day in Galveston Bay, cooked to order, and eaten in full view of the bay.
**Southside Market
**1212 Highway 290, Elgin (512/285-3407; www.southsidemarket.com). Inexpensive. Housed in a giant brick building off the state highway that connects Houston and Austin, this barbecue mecca is best known for its house-made sausage. It also serves an excellent, vinegar-based hot sauce, which is great with virtually every meat platter that Southside sells, from the slow-smoked brisket to the deeply flavorful mutton.
Whole Foods
_525 North Lamar Boulevard, Austin (512/476.1206; http://www.wholefoodsmarket.com/). Inexpensive.
_If Austin had a "gastrodome", this would be it. It's the largest Whole Foods store to date, with 80,000 square feet of groceries, along with such unusual amenities as a 600-seat amphitheater, a 25,000-square-foot roof garden, and on-site massages.
**Hampton Inn & Suites
**_7660 Memorial Boulevard, Port Arthur (409/722-6999; http://hamptoninn1.hilton.com). Rates: $125 double.
_Though Port Arthur, situated in southeastern Texas, is known as a working oil port more than as a travel destination, it still has its perks. Nearby lakes provide an opportunity to fish for speckled trout and redfish, visitors at local animal refuges can spy on alligators and other wildlife, and there's no shortage of ultrafresh seafood at the city's many restaurants. What's more, Hampton Inn has plenty of simply adorned but comfortable rooms.
**Holiday Inn Airport
**_6655 Gateway West, El Paso (915/778-6411; www.hielpasoairport.com). Rates: $159 double.
_The name is anything but glamorous, but this conveniently located hotel manages to exude its own, unique charm. From the boldly colored, hacienda-style lobby to the live mariachi music at the tequila bar on most evenings, this Holiday Inn on the Texas-Mexico border serves as an ideal launchpad from which to explore El Paso.
**Hotel Galvez
**_2024 Seawall Boulevard, Galveston (409/ 765-7721; www.wyndham.com). Rates: $119-$269 double. _This stately old resort hotel offers sweeping views of the Gulf of Mexico and the old Galveston seawall. At the hotel's restaurant, Bernardo's, creative takes on local seafood, like grilled jumbo Gulf shrimp with cumin-infused Indian slaw, are consummately executed.
**Watermark Hotel
**_212 West Crockett Street, San Antonio (210/396-5800; www.watermarkhotel.com). Rates: $300 double.
_Located in the heart of downtown San Antonio, the warm, tastefully decorated Watermark also houses a fully functioning spa. The promise of massages and facials, not to mention the rooftop pool and cafe, might make it hard for some guests to venture beyond the hotel's walls.