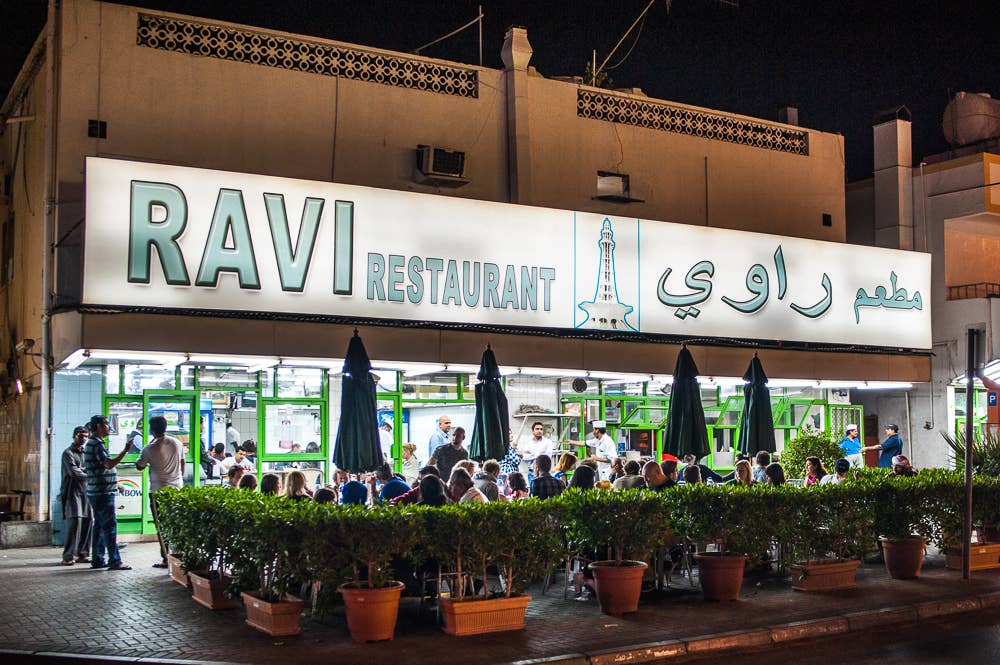 Travel
The Guide: Dubai on the Fly
Whether in Dubai on a business trip, weekend getaway, or a layover, it's easy to pack in a little relaxation and plenty of incredible meals in this Arabian metropolis.
As I prepared for my trip to Dubai, known for over-the-top opulence and Las Vegas-style theatrics, I wondered how I would be able to explore the place beyond its generic glitz in a mere three days. Sitting on the Persian Gulf just across from Iran, the city was not always the teeming metropolis that it is today: In 1883, when the ruling family Maktoum rose to power, Dubai was a just small pearl-fishing village. But in 1966 oil was discovered, forever changing the face of this desert town. By the 1980s the ruling family had made Dubai a tax-free zone to promote foreign investment, and in 2000 Dubai Internet City opened to lure in tech companies. The years that followed have been marked by unabashed displays of luxury, from the Burj al-Arab, the world's most expensive hotel housed on a man-made palm tree-shaped island, to a slew of outposts of some of the finest restaurants in the world, including New York-based Nobu and Frenchman Pierre Gagnaire's Relets Par Pierre. Despite the sudden-wealth and Vegas-like reputation, what I found was a uniquely Middle Eastern metropolis, featuring all the conveniences, trappings and surprises of a big city anywhere else, but with a distinctly diverse Asian flavor all its own. This nonstop, ever-changing town is an ideal destination for frequent trips, whether for urban-paced relaxation or adventure, for business or vacation, as I found out over the course of 36 hours.
Even when I'm on vacation (which is rare), I'm not one to totally disconnect. With its exquisite service, round the clock dining, strong internet connection throughout the entire property (a surprisingly difficult thing to find these days), and convenient location in the heart of the city, the Pullman Hotel Dubai Deira Center was perfect for my whirlwind 36-hour stay. On day one, I popped over to the mall attached to the hotel for a quick mani-pedi before heading to the Old City to explore the souks (open-air markets), and upon my return I had time to sneak in a facial at the hotel's fabulous spa before heading out to an evening business dinner. The rooftop pool and lounge area is wifi wired, so the next day I took in the views, had a drink and caught some rays while filing an assignment. Even walking around the hotel felt luxurious and relaxing thanks to subtle fragrances wafting through the central a/c and changing to match the decor (green apple on the green floors, lavender on the purple floors and lemongrass in the spa). The expansive international breakfast buffet includes prepared and a la minute options, perfect for customizing my breakfast of choice: cappuccino, fresh fruit, and lentil curry.
Explore the "Other Dubai" in a Block
There are fine dining restaurants and international chains to rival New York, London or Hong Kong in this town—with price tags to match—but what makes Dubai stand out among the world's other top food cities are the superb Asian eats, courtesy of an immigrant population that hails from Syria to China. In Dubai you can find some of the best examples of these cuisines outside of their native lands, and many of the most dynamic eateries are located on the stretch. Al Diyafa Road is chock-a-block with tables and chairs set up in front of restaurants that serve authentic Chinese hot pot, the ornate Iranian rice dish pulao, fresh-carved shawarma, and incredible Pakistani butter chicken, daal, and goat curry that I sampled at local favorite Ravi Restaurant, all for ridiculously low prices.
Ravi Restaurant
Satwa street and Al Diyafa Road
Dubai
971/4-331-5353
Credit: Courtesy of SMCCU
Have Some History with your Brunch
If you want to try to track down a taste of the local cuisine but don't have an Emirati friend yet, head to Sheikh Mohammed Centre for Cultural Understanding in the old Emirati neighborhood of Bur Dubai. There you can spend a few hours at the Bastakiya house feasting on traditional local fare, including crepe-like, saffron-laced chebab pancakes with date syrup and fresh cream; and salty-sweet balaleet, a sweet vermicelli noodle and omelet concoction, while sipping tea and learning about the Emirati culture that predates Dubai's current sparkling skyline. Reservations are required, so visit the website to book a seat for breakfast, lunch, dinner or weekend brunch.
Check one of the major "must see" tourist destinations off your list while having a cocktail at At.mosphere Lounge on the 122nd Floor of the Burj Khalifa, the tallest building in the world. The views are truly unparalleled, so sit back, relax, and watch the city below transform as the sun sets and the sparkling lights come on.
Start your Vacation at the Airport
I was lucky enough to start my trip with a business class seat on Dubai-based Emirates airline, so I was able to dine on an incredible breakfast spread in their airport lounge at JFK airport in New York. Keeping pace with Dubai's food-centric, lavish ways, the new planes are equipped with inflight lounges for business and first class passengers. In addition to hand-crafted cocktails from the full bar, the rotating lounge menu features 342 different hot and cold hors d'ouvres options, like turkey bacon wrapped dates, saffron potato cubes with sesame, salmon nori rolls, Australian lamb roulade, nutella cones, baklava, and roasted turkey breast tea sandwiches. Standing at the swanky little bar, I couldn't help but feel that my holiday had already begun.