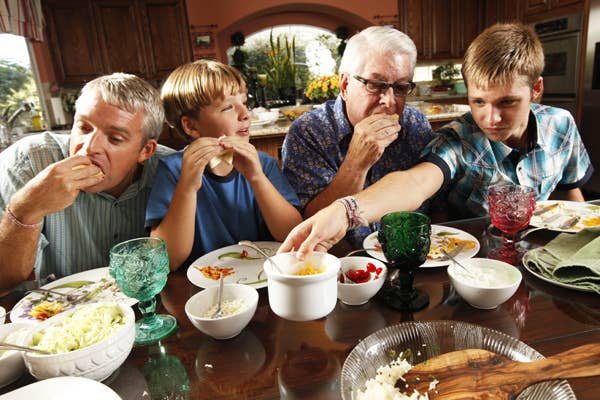 Travel
True West: Family Cooking in Las Vegas
The Bunkers, a sixth-generation Las Vegas family, carry on the spirit of the pioneers
In a buff-colored, terracotta-shingled suburban development at the western edge of Las Vegas's steady spread into the surrounding desert, the Bunker house is a very pleasant place to be on a Sunday afternoon. Bowls and cutting boards and fresh vegetables and herbs cover the island at the center of the kitchen, where various Bunkers are gathered, all of them busy. As Morgan Bunker—a 43-year-old PR executive with a thick thatch of silver hair—reaches for the avocados, his petite, blonde mother, Carole, claps her hands. "Oh, goody. You're working on the guac."
Like Morgan's wife, Allyson, Carole is a transplant from California, whereas Morgan and Allyson's three teenage children—Tristan, Gavin, and Cicely—are sixth-generation Nevadans. Their Bunker forebears, some of the state's early Mormon pioneers, arrived by covered wagon in 1877. So I'm told by Morgan's father, Richard, who was born in Las Vegas in 1933, "when the population was 8,000. Now it's over 1.3 million." Richard is given to producing figures like these, having served as County Manager and, in the 1980s, as chairman of the state Gaming Control Board. "At that time, 80 percent of revenue here came from gambling. Now, 50 percent comes from restaurants, shows, and other entertainment."
This sunny kitchen, bustling as it is with everyone pitching in to prepare lunch, couldn't feel farther from the frenetic action over on the Strip. On the menu today: that guacamole, plus fish tacos made with tilapia grilled out on the back patio, velvety black beans, cilantro-flecked rice, and a homemade limeade so bright and tart and delicious I can't stop refilling my glass. When I ask what's in it, 14-year-old Cicely grabs a blue binder loaded with family recipes. While helping me to find the page, she proudly points to a section labeled Sizzy (her nickname). All three kids are cooks. "Sizzy's in charge of Sunday morning," Morgan says. "Pumpkin chocolate chip pancakes," his daughter adds, by way of example.
As Gavin stirs the chipotle crema for the tacos, Richard says, "OK, wrap it up, buddy." Everyone moves over to the big oak table at the other end of the kitchen. Dishes are passed around; Morgan and his mother quibble genially over whether to use two tortillas or one per taco. I tell Allyson how happy I am to be invited to a part of Las Vegas most tourists don't see. "You know," she tells me, "when we moved out here eight years ago, it was just dirt between here and the freeway." A century and a half after their wagons rolled into Nevada, the Bunkers are still pioneers.