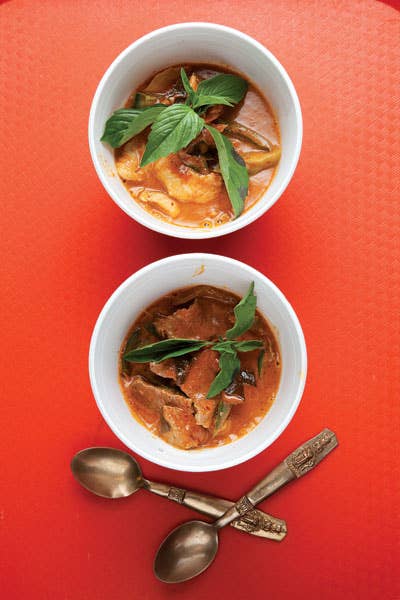 Travel
Hot, Sour, Sweet, Bitter, Hot
The enduring allure of Lotus of Siam, the best Thai restaurant in Las Vegas — and maybe anywhere
When I worked for Gourmet magazine a dozen years ago, one of my duties was to stop by Las Vegas every so often to report on the new hotel restaurants that were just starting to open in astonishing numbers. The confluence of Las Vegas and ambitious chefs seems obvious now, but it hadn't been more than a few years since the California Pizza Kitchen was the most interesting casino restaurant in town.
On one of these trips, I had been hitting bad restaurant after bad restaurant, all of them expensive, many of them classically French: blanquette de veau is hard to digest when it is 110 degrees in the shade. So on the third day, I canceled my reservation at a dining room known for its individual beef Wellingtons and drove a mile or so off the Strip to a new Thai place jammed into an enormous strip mall where Led Zeppelin had once played in a skating rink.
Lotus of Siam was not immediately promising. The banner advertising a cheap lunch buffet was bigger than the restaurant's neon sign, the walls were decorated with torn travel agency posters, and most of the customers were piling their plates with broccoli beef and mounds of fried rice big enough to be mistaken for oyster middens. But when you opened the menu and leafed past the expected fried wonton and mee krob noodles, there was a wonderland of dishes from all over Thailand. From the northeast Isaan region, grilled fermented-pork sausages with fried peanuts and raw chiles; pungent larb salad made with chopped catfish; soupy, intensely peppery Lao-style vegetable curries; and clean, lime-scented, chile-hot salads of every description, even koi soi, a sort of beef tartare whose effect depends on tangy beef bile, an ingredient you don't find at Kroger. A hot-sour soup was flavored with a kind of Cambodian smoked fish I wasn't aware you could get in the United States, and there was a great version of my favorite Thai appetizer, nam kao tod, a salad made with crunchy rice, fried peanuts, and cubes of raw cured pork sausage. On the back of the menu, there was a roster of the restaurant's real specialties: the robust, salty-bitter cooking of northern Thailand, including a fleshy jackfruit salad, the roasted green-chile dip nahm prik nuhm, and an almost-perfect version of the delicate curried-noodle dish khao soi.
It was the best Thai meal I had ever eaten. I went back for the next four or five meals in a row, and I almost cried when I had to get on a plane back to New York. I called it the best Thai restaurant in North America in my review for the magazine, and in the dozen years since, it has become probably the most famous Thai restaurant in the United States. The chef, Saipin Chutima (who runs the restaurant with her husband, Bill, and their daughters), tied for "Best Chef: Southwest" last year by the James Beard Foundation, making her the first Asian-born chef to win a Beard award for cooking the cuisine of her homeland. It was a stunning, and overdue, tribute.
Lotus of Siam has expanded over the years (it no longer has any relationship with the restaurant of the same name in New York), and Bill has built up the meager wine list into an important collection of German whites, a brilliant pairing with spicy food. There's a refinement, a lightness and pitch-perfect balance to Saipin's cooking that captures all that's great about Thai cuisine. But she also occasionally introduces Western elements into Thai formulas in a way that could be interpreted as fusion, putting salmon into khao soi, perhaps, or cooking a steak in the manner of sua rong hai, with a spicy sauce.
The restaurant has made it into practically every Las Vegas guidebook in existence, and tourists regularly cab it there from the major hotels. There is still a $9.99 buffet lunch. But the real astonishment in visiting and revisiting the restaurant over the years is its purity: the authenticity of the cooking and the quality of the ingredients the Chutimas have managed to maintain in a restaurant with essentially no Thai customers. Thai restaurants, like Thai herbs, are difficult to cultivate in the dry heat of Las Vegas. The Chutimas have made theirs thrive.