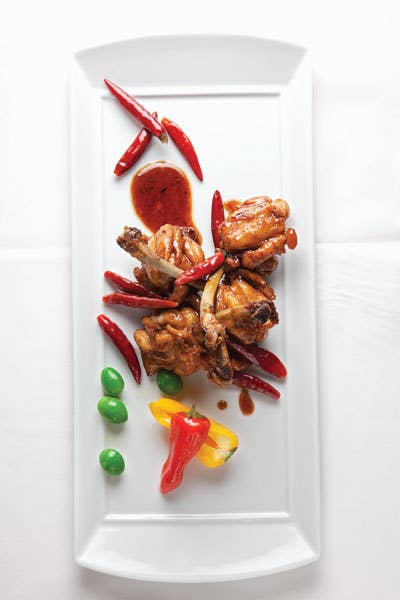 Travel
A Table Set For High Rollers
Hidden away in the MGM Grand, far from the blinking and bleeping of the slot machines on the main casino floor, there is a hushed garden under a high glass dome where it's always between 73 and 75 degrees and the adjoining architecture was copied detail for detail from an 18th-century Tuscan villa. This is the Mansion, and guests are admitted by invitation only.
A majority are Asian—most of them Chinese visiting from the mainland, Hong Kong, Malaysia, Singapore, Indonesia, or British Columbia—and their game is usually high-stakes baccarat. A player retiring from the tables at 1:00 a.m. might spontaneously request a ten-course dinner for himself and a dozen friends. No problem. The menu might run to lobster stir-fried with chili sauce and scattered with slivers of lemongrass. Fried chicken wings glazed with a sauce of dried red chile and miso. Strips of seared filet mignon and king mushroom, garnished with leaves of fried basil and a cherry tomato flash-fried and deftly peeled to resemble a blossom.
Executive chef Pui Wing Hui, a veteran of a number of celebrated kitchens, came to the Mansion from Hong Kong in 1999. "Each guest has their own unique taste," he says. "Some prefer traditional dishes; others are looking for new creations." The game they're here to play, in which one might wager upward of $100,000 in a single hand, is never far from their minds. Auspicious foods—chicken, for good luck; fish, an emblem of plenty—are welcome. An ingredient like bitter melon, whose Mandarin name can also be interpreted as "not happy," will appear on the menu called something else. And should a guest crave a classic coq au vin or something more nouvelle, co-executive chef Christian Rassinoux and his team, in charge of the Continental-style menu, are always on hand to ensure that the good times never, ever stop rolling.