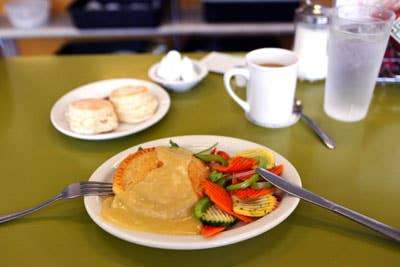 Travel
What I Ate On My Summer Vacation
For one SAVEUR editor, this summer has just been one long, glorious meal
I started my summer vacation by doing a poetry reading at the Colgate Writers Conference in New York State's Southern Tier, where I stopped for lunch at Sharkey's in Binghamton to sample the spiedies that writer Brent Cox reported on for Issue 140. The grilled pork skewers were, indeed, tangy and nice, and the pierogies were delicious, too. Unlike in the nearby Poconos, where my father's family is from and where sour cream rules, in the Southern Tier, the pierogies are swamped in butter sauce. They're soupy and fatty and good.
Then I flew out to LA, drove up to Ventura, and sailed, with family, out to the Channel Islands where I dove for sea urchins, as big as softballs, a thing you can do if you have dive gloves and the right permits and are in the proper location. I pan-toasted sourdough bread on the boat's stove, melted butter, stirred in wasabi, spread that on the toast, and topped it with the fresh-picked shellfish. The urchin was wonderfully delicate, more subtle and also more sealike than at your average sushi or tapas joint. I recommend the spicy buttered toast treatment; I cribbed it from the Manhattan restaurant El Quinto Pino, where chef Alex Raij spreads wasabi butter and urchin on panini for her addictive uni panini sandwiches. My treatment, a lazy boatswain's version, I call the uni crostini.
Wobbly after days at sea, I nevertheless managed to take to the road, in a little rented Ford, heading east out of Oxnard through fields of strawberries. I stopped in Fillmore for a Mexican lunch: two tender tacos—one carnitas, one lengua, topped with tomatillo sauce and pickled onions—on a platter with rice and refried beans that I doused in a salsa of black-charred pureed chiles. Righteous, at $6.81.
Through the monumental wind farm at Tehachapi, into Bakersfield and on up the 99 past miles upon miles of citrus groves and corn fields and nut groves and feedlots and vineyards to sleep that night in Fresno, following in the tread marks of our writer Gerald Haslam, an Oildale native and esteemed author of umpteen books on the Central Valley. Haslam penned an elegy on the Valley for Issue 140. The article, photographed by Landon Nordeman, features a picture of Grand Marie's Chicken Pie Shop, one of Fresno's many mid-century glories. I pulled in there for a late breakfast, taking a swivel seat at the sine-wave-shaped counter by the green-on-green Naugahyde-booths. I ordered the tasty namesake dish, a from-scratch pie, creamy, peppery, full up with clucker, and doused in a golden sauce.
A boysenberry shake for the road, and it was onto Modesto, where I hooked a right and headed eastward and up the 49, along the old Gold Rush trail, into the Sierra foothills. In Coulterville, the combination antiques shop/bed & breakfast across from the Hotel Jeffrey, which boasts the oldest operating saloon in California (est. 1851), advertised "cold sarsaparilla," but I found the proprietress fast asleep in her chair and was loathe to wake her up. Instead, me and my little white Ford wound ourselves up the scruffy high dessert bends into golden waves of ranch land, cattle lazing in the arroyos, and on up into more shaggy high bends, lakes and reservoirs here and there, pine trees closing in on us. In Jackson, the temperature was 101 degrees Fahrenheit. In Pine Grove, California, I caught a late lunch at the pint-sized 88 Giant Burgers To Go. The name was not a case of false advertising. A half-pounder, squashed and then charred on the flat-top, was laid on a discus-sized bun with two, maybe three, slices of American cheese, raw onions, lettuce, tomato, mayo, and mustard. I could have swum in the bag containing the "small" order of fries.
This was just the lunch to fortify me for the trek over the Sierra. Redwoods pin-cushioned blue sky; waterfalls coursed from packed snow. It had been a trip, like all my trips, punctuated, hyperbolically, by food. But when I cupped my hands and reached for a drink, the snow-melt stream was so sweet it reminded me that, if we're lucky enough, one of the best things we ever put in our mouths is water.