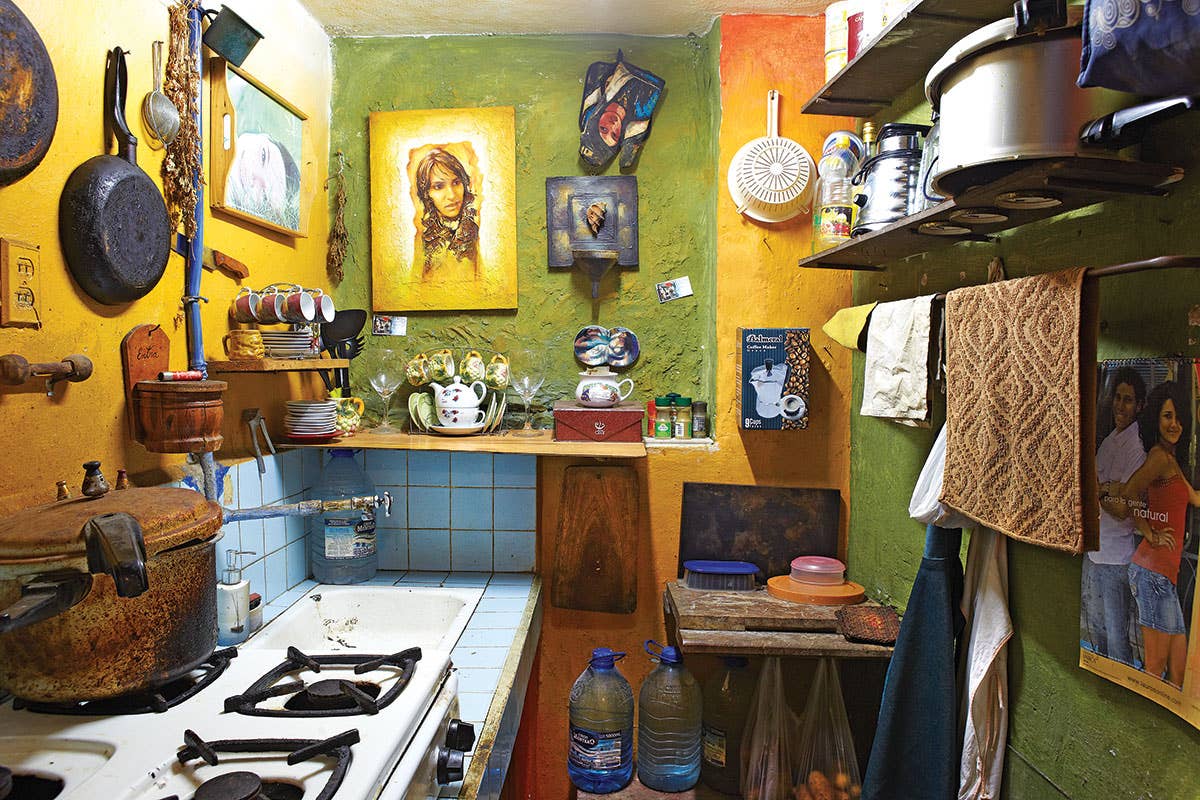 Travel
Where Cubans Cook
A photographic journey through the kitchens of Havana
For the past two years I've been taking photographs of the kitchens of Havana, Cuba. I started almost accidently. On a visit to the island in December of 2010, I met a Cuban photographer named Carlos Otero Blanco. We discovered that we shared a passion for interiors—Carlos had recently self-published a book of photographs of bedrooms from all over Cuba, and I'd started shooting kitchens in New York. For each of us, these rooms had a certain pull and charisma. We decided to try taking pictures of kitchens in Havana—a spontaneous shared undertaking that turned into an ongoing solitary project.
Each morning during my visits, I walk the city's streets, wandering into the courtyards of once grand buildings and knock on doors at random, never knowing what I'll find when people open their doors. Some apartments open onto large, airy kitchens; in many, the kitchens are barely there. In one building I saw a hallway in which a table holding a two-burner gas cooktop and a cutting board created a kitchen where there had been none.
What start out as tentative conversations with the inhabitants often turn into absorbing encounters. One morning I stopped to talk to a woman as she was entering her house. After protesting that her kitchen was not worthy of a photograph, she waved me in. I walked into a space full of life and color, with paint and brushes laid out on the dining table and coffee brewing on the stove. She and her husband were painters, and I lingered for hours over a bottle of wine, talking with them about art. On another day, wandering near the Malecon—the broad esplanade that runs along the harbor—I entered a building and walked up five narrow flights of stairs, knocking on doors as I went. No one admitted me. At last I reached an apartment occupied by two sisters in their 80s, Gertrudis and Elena, who had been living there on the fifth floor for more than 50 years. They were delighted by my mission and graciously allowed me to shoot the tiny tile-walled nook where they cooked together.
I was at first drawn to the graphic simplicity of the Havana kitchens—the bold hues and clean, empty surfaces. It was only after returning several times that I started noticing how there was a distinct lack of food on the counters in this country where the basics have long been scarce, and how much of the richness of the spaces came, paradoxically, from wear: The rooms were furnished with old things, frayed things, things in constant use.
But I also noticed how each kitchen told the story of those who lived there. Even in the photographs without people in them, the spaces conveyed their presence: You can see how someone had lavished attention on an arrangement of plates, how they had set a table for lunch, or how a little plastic flower was positioned just so—how someone had worked to make things pretty or put things in place. And however minimal the kitchen, each one was equipped with essentials: a pressure cooker in which beans were bubbling, a small stove-top coffeepot, and a gas cooktop—sometimes with a pot of rice simmering on top of it. These kitchens might be spare, but they're beautiful—and, I think, vital emblems of those who live, and cook, within them.