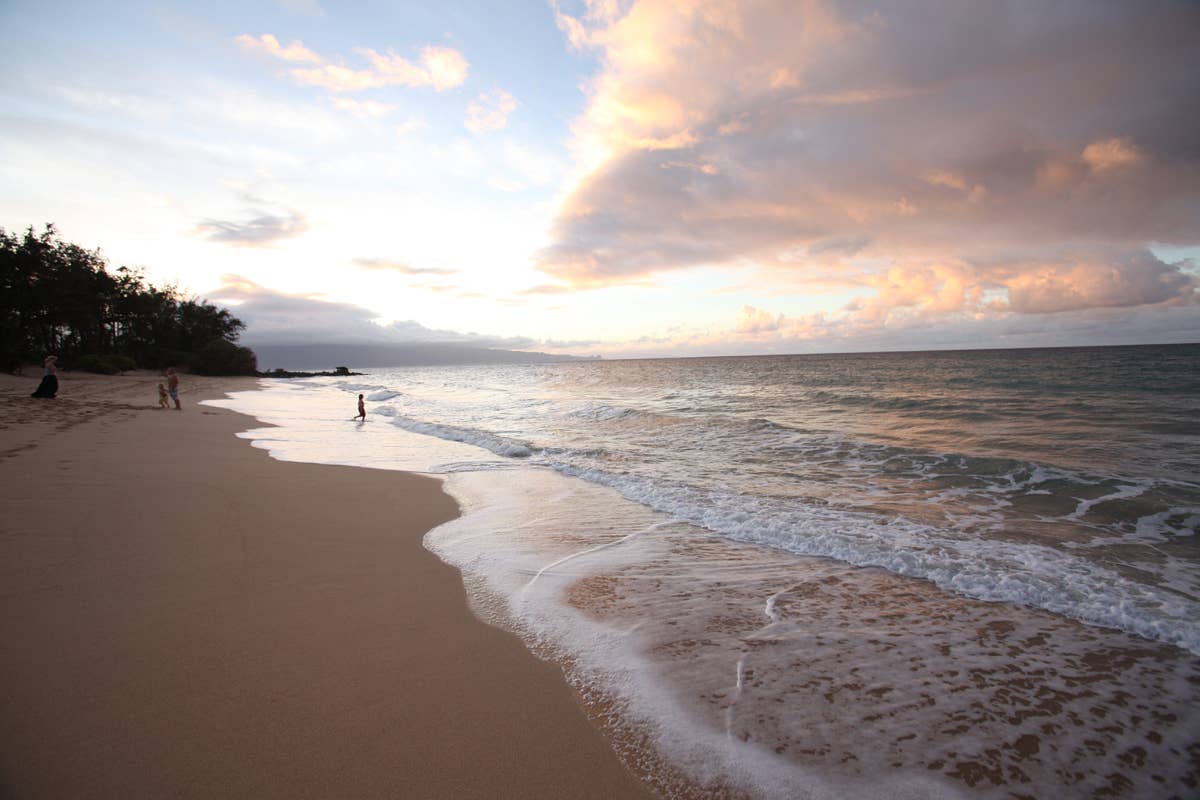 Travel
The Guide: Where to Eat and Stay in Maui
Over a dozen things to eat and see in Maui, from globally-influenced dining at Amasia to a hundred-year-old bakery and off-the-tourist-beat ramen.
Maui, the second largest of the Hawaiian Islands, hasn't been nicknamed "the Magic Isle" for nothing. First, there is its surreal chromaticism: Avocado green valleys; ultramarine blue seas; amber poha berries, ruby red ahi tuna; vivid, rainbow-hued shave ice; and all those spell-inducing sunsets. The food is equally colorful. Hawaiian cuisine is an amalgam of the traditions of its Japanese, Filipino, Korean, Chinese, and Portuguese immigrants. It is a cuisine in constant evolution, and one that embraces both beloved snacks like spam musubi—a slice of spam on top of a block of sushi rice, all wrapped with nori—and refined farm-to-table dining that makes use of the riot of wonderful ingredients native to the island. The options, like Maui's charms, are plenty. —Maria del Carmen Pottage
Set in Kapalua, one of the most beautiful bays on Maui, Merriman's has a stellar location with some of the best views on the island. Owned by chef Peter Merriman, the restaurant is known for its commitment to local, sustainable ingredients. Salads such as the "poke-cut ahi and avocado"—with butter lettuce, mango, beets roasted in Hawaiian sea salt and olive oil, tomato and tamari-ginger vinaigrette—taste so fresh and vibrant, it is evident ingredients didn't travel long to get on the plate. Kurobuta pork raised in Upcountry Maui at famed Malama Farm is used from snout to tail in various dishes, like the Kalua pig and sweet onion quesadilla served with kimchee and mango-chili sauce.
Merriman's
Bay Club Pl
Lahaina, Maui, HI 96761
808/669-6400
This small oceanfront family restaurant in Lahaina is always packed with locals and visitors. Although they're famous for their cheeseburger—juicy Snake River Farms American-style Kobe beef, Maytag blue or cheddar cheese, sweet caramelized onions, and crispy smoked applewood bacon, all served in a housemade flax seed brioche bun—be sure to explore the rest of their eclectic menu, which features local seafood in dishes like seared ahi bruschetta served on flax seed toast over edamame puree and local Olowalu tomatoes, and amazing salads like the gado gado: brown rice, tofu, tomatoes, sugar snap peas, and chickpeas, all dressed with a luscious coconut-peanut sauce.
Mala Ocean Tavern
1307 Front Street
Lahaina, Maui, HI 96761
808/667-9394
In a shopping center near the resort area of Wailea, this bustling modern tavern slings handcrafted cocktails like the Pod Thai, an invigorating drink made with light rum, thai basil, crème of coconut, lime, and lemongrass-cardamom syrup. The food ranges from wood-roasted chicken wings with garlic, chiles, and rosemary, to pizza topped with Big Island lobster, Hamakua mushrooms and white sauce. Don't miss their exquisite chocolate, strawberry, banana, or coconut cream pies.
Monkeypod Kitchen
10 Wailea Ike Dr #201
Kihei, Maui, HI 96753
808/891-2322
4. Amasia at the Grand Wailea Resort
Alan Wong's first restaurant off Oahu is named for the theoretical supercontinent that would be formed by the natural merging of Asia and North America. The name suits the food, which is global and surprising: Sweet potatoes are cooked on a Japanese robata grill and served with coconut-ginger cream; buttery Hawaiian Kampachi—sustainably offshore farmed Almaco Jack fish—is served raw in a Peruvian-style tiradito (thin sashimi-like-cut fish served with a bright, citrusy sauce spiced with Peruvian chili peppers); and a whole tomato is combined with a li hing mui (salted dried plum) dressing in a sweet and tangy salad. Desserts are also playful and technique-driven, as in The Coconut, a coconut pudding sorbet covered in a chocolate shell and shaped into half a coconut.
Amasia
3850 Wailea Alanui Dr
Kihei, Maui, HI 96753
808/891-3954
5. T. Komoda Store & Bakery
In the cowboy town of Makawao, in upcountry Maui, this nearly century-old general store-slash-bakery is beloved for its glazed doughnuts on a stick and cinnamon-sugar dusted malasadas.
T. Komoda Store & Bakery
3674 Baldwin Ave
Makawao, Maui, HI 96768
808/572-7261
In a no-frills space set in a spectacular location, The Gazebo serves generous breakfasts featuring dishes like macadamia nut pancakes and Portuguese sausage fried rice. There is always a line to get in, but the wait is made bearable by a view of Napili Bay where, depending on the season, you can spot humpback whales or sea turtles.
The Gazebo
5315 Lower Honoapiilani Rd
Napili Shores
Lahaina, Maui, HI 96761
808/669-5621
At this solo operation, located in an unassuming space in downtown Wailuku, chef Tom Selman dishes out outstandingly good plates ranging from rock shrimp burgers to grilled Poblano peppers stuffed with spicy chorizo, white stone ground cheese grits, and topped with avocado.
Main Street Bistro
2051 Main Street
Wailuku, HI 96793
808/244-6816
8. Honokowai Ozakuya & Deli
In a small strip mall in Honokowai, this counter-service-only eatery serves some of the best lunch plates for take-out, perfect for eating in the park across the street. Lunch plates were created during Hawaii's sugarcane plantation era, when immigrant farm workers shared their homemade lunchbox meals at work, mixing the culinary traditions from their diverse homelands. Try the chicken katsu (chicken fillet breaded with panko breadcrumbs and fried) and the grilled mahi mahi in a lemon caper sauce, both served with white rice, and a side of steamed vegetables or macaroni salad.
Honokowai Ozakuya & Deli
3600 Lower Honoapiilani Road
Lahaina, Maui, HI 96761
808/665-0512
9. Keanae Landing Fruit Stand
One of the many highlights of driving on the iconic road to Hana—52 winding miles of narrow one-way bridges, sheer rocky cliffs, tropical forest, and hidden waterfalls—is Aunty Sandy's banana bread. Sold at Keanae Landing Fruit Stand in the Keanae peninsula off Hana Highway, Auntie Sandy's fresh banana bread, made from Williams bananas and Ke'anae-grown Apple Bananas, is moist and warm and perfectly sweet.
Keanae Landing Fruit Stand
210 Keanae Road
Keanae HI 96708
Sam Sato's is way off the tourist path, with no ocean views or flashy umbrella drinks, whose "dry mein" have made it into a Maui institution. This ramen-like dish is served with a side of pork-and-beef broth, to be lightly drizzled over the noodles as they are eaten, or used to dip the noodles in, just like soba. The thick, somewhat chewy egg noodles are made in the Iwamoto Natto Noodle Factory in nearby Paia. For dessert, try Sam's manju, a baked pastry filled with azuki or sweetened lima beans.
Sam Sato's
1750 Wili Pa Loop
Wailuku, HI 96793
808/244-7124
A noodle shop with a distinctly Hawaiian sensibility. Big Island native Sheldon Simeon has created a menu loyal to the island's flavor that shines in pohole salad (Hana fiddle head fern, Maui onion, fried shrimp, sundried shrimp, and kelp), local saimin (house-made thin ramen noodles in bonito dashi, topped with spam, fish cakes, sliced omelet egg, and minced green onions), or its Filipino "bacon and eggs" (crispy pork belly served on a sizzling platter with egg, tomato, and onions).
Star Noodle
286 Kupuohi Street
Maui, HI 96761
808/667-5400
On a corner in the quaint little town of Paia on Maui's north shore, Paia Fish Market's communal tables are always full. Set among antique stores, independent boutiques, coffee shops, and other small restaurants, super laid-back Paia Fish Market is most famous for its amazing fish tacos (diced mahi mahi and ono griddled with clarified butter and served with shredded Cheddar-Jack cheese, salsa, lettuce, cilantro and diced tomatoes served on corn tortillas), breaded mahi-mahi fish and chips, and burgers such as "The Obama", a sesame seed bun sandwiching cajun seasoned ono fish topped with wasabi butter, coleslaw, and grated cheese.
Paia Fish Market
100 Baldwin Avenue
Paia, Maui, HI 96779
808/579-8030
For the best sweet frozen treat on Maui, there is no place like Ono Gelato in Lahaina. Made daily from mostly Hawaiian ingredients like passion fruit, guava, Big Island roasted Macadamia nuts, Maui coffee, or local goat cheese from Surfing Goat Dairy, its gelatos are creamy and intensely flavored.
Ono Gelato
815 Front Street
Lahaina, Maui, HI 96761
808/495-0203
For those who want to be pampered the Four Seasons Wailea, on the southwest coast of the island, is the zenith of comfort. Resort guests can launch their day, just as earlier Hawaiians did, paddling into the Pacific Ocean in a 6-person outrigger canoe, followed by a breakfast buffet stocked with a wide variety of items ranging from miso soup to steak specials, and incredibly fresh juices made from local tropical fruits.
Four Seasons Wailea
3900 Wailea Alanui Drive
Wailea, Maui, HI 96753
808/874-8000
Also located in Wailea, the luxurious Fairmont Kea Lani resort features suites and villas with private balconies (with scenic ocean or mountain views). Kō, one of three on-site restaurants, serves dishes like zarzuela (a rich seafood stew in a saffron broth), all rooted in Hawaii's sugarcane plantation era, when local cuisine started to be influenced by that of its immigrant Filipino, Japanese, Korean, and Portuguese workers.
Fairmont Kea Lani
4100 Wailea Alanui Drive
Wailea, Maui, HI 96753
808/875-4100
Maria del Carmen Pottage lived on Maui for four years before moving to New York City to pursue her writing career. She still misses mango season and picking up guavas on her hikes.