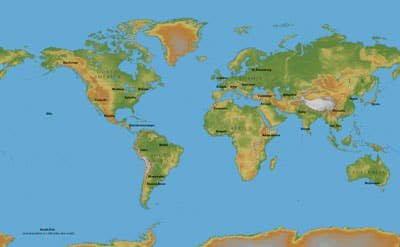 Travel
Wide World of Markets
The 28 destinations featured here represent a cross-section of the world's greatest markets.
This retail market in Anchorage, Alaska, features seafood sourced from local fishermen, like king crab, halibut, giant Kodiak scallops, and Yukon salmon.
This indoor market on Hawaii's Big Island sells the world's best selection of Hawaiian produce, from passion fruits to mangosteens to aquacultured seaweed.
Dane County Farmers' Market
The USA's largest producer-only farmers' market, in Madison, Wisconsin, showcases an amazing selection of the state's prized cheese.
At this large market in New Mexico's capital city, farmers sell an unrivaled selection of chiles, which they will roast on the spot.
Halifax Seaport Farmers' Market
The oldest farmers' market in North America, founded in 1750 by a Royal Proclamation from King George II, takes place every Saturday near the city's port.
Green Dragon Farmer's Market
This 30-acre market in Ephrata, Pennsylvania, offers an unparalleled variety of Amish and Mennonite produce and prepared foods, from pasture-raised poultry to shoofly pie.
MEXICO AND CENTRAL/SOUTH AMERICA
The city of Morelia is the home of Mexico's best market for sweets, with 170 stalls selling treats like turugo (sugar-coated tamarind) and glorias (goats' milk caramels).
At this enormous open-air market in Guatemala, the streets overflow with highland fruits, like mamey sapote, jacote, and granadia fruit.
This market in Belém, Brazil, is probably the only place in the world where you can buy both a 220-pound Amazonian catfish and fresh açaí berries.
The largest food market in Lima, Peru, is housed in a stadiumlike venue, filled to bursting with stalls selling everything from groceries to prepared foods.
The Buenos Aires, Argentina, livestock auction is the world's largest, and it sets prices for beef across the country. Some 13,000 head of cattle are sold here each day.
One of Uruguay's biggest markets, in the town of Montevideo, is South America's best spot for grilled meats, from matambre (rolled flank steak) to mollejas (sweetbreads).
With 573 acres of produce, meat, and cut flowers, this wholesale market on the outskirts of Paris is the largest in the world, selling 1.5 million tons of food and other items a year.
This 255-year-old London market offers some of Britain's finest prepared foods: chorizo sandwiches from Brindisa, potted shrimp packed in butter from Furness Fish & Game, air-dried mutton from Farmer Sharp, and more.
This market in Alba, the epicenter of Italy's truffle trade, is the best (and most affordable) spot for sampling pasta dishes made with the prized tuber.
This market in St. Petersburg offers an astounding selection of honeys—linden, chestnut, creamed, comb—from all across Russia.
By 1897, the Hungarian cities of Buda and Pest had merged to form one giant metropolis. This massive market hall was built to mark the union, and to this day it remains a paradise of prepared foods.
This small market in Gaziantep, Turkey, is renowned worldwide for locally grown pistachios, which are sold fresh, salted, and roasted, and also prepared in sweet and savory dishes.
Delhi's biggest spice market is also a great place to snack, with dozens of food vendors and some of India's best and oldest sweet shops.
Seoul's main market (founded in 1414) extends over 10 acres of downtown Seoul. Its food stalls are some of the city's most beloved nosh spots.
This market in Sichuan Province reflects the region's status as China's agricultural powerhouse, with an amazing array of produce and spices.
The best pickles in Japan are sold at this centuries-old market in Kyoto, where you can also find handmade sweets, flavored jellies, yuba (tofu skin), seaweed, and more.
At the Cai Rang floating market, one of Vietnam's largest, sellers and buyers meet outside Can Tho City on the Mekong Delta in a flotilla of hundreds of small boats.
In Seoul's sprawling 109-year-old Gwangjang market, thousands of eateries offer a kaleidoscopic array of Korean soul food.
This market, based in India's Kerala state (which accounts for 90 percent of the black pepper produced in India), sets the global price for the spice.
This open-air fish market, adjacent to one of Morocco's busiest ports, is the best place on earth to eat sardines. Pick your fish, and vendors will grill it for you.
At West Africa's largest market, in Kumasi, Ghana, more than 10,000 traders hawk locally produced grains, groundnut paste, kola nuts, dried caterpillars, yams, chiles, coffee, plantains, and more.
The world's biggest open-air market sprawls across Ethiopia's capital city; it has its own post office and several hotels. The Merkato sells everything from car tires to sun-dried injera bread.
The main market in Melbourne, Australia, is the largest in the Southern Hemisphere, selling everything from Aussie wines to Aboriginal game meats like crocodile, rabbit, and kangaroo.