Kitchen Tours: Inside Chicago's Riviera Italian Imported Foods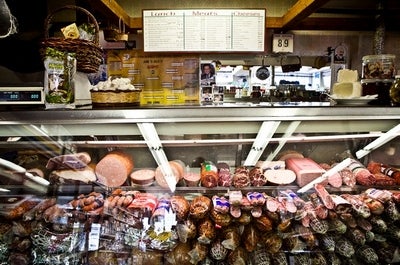 Chicago may have played home to some famous (and infamous) Italians, but it's not a city with a picturesque Little Italy ready for tourists. Instead, the city is dotted with particular commercial strips decorated in the colors of the Italian flag, in which you just might find a storefront that seems to have captured the old country in a suitcase, brought it over and opened up shop with it.
Two generations of the Pugliese family run Riviera Italian Imported Foods, a market on Harlem Avenue along Chicago's western edge. There they make Italian subs using their own sopressata and capicola, housemade fresh mozzarella, and a proprietary spicy giardinera that's stacked up on the counter in jars. Most of the work happens in a narrow space behind the deli cases, where gleaming slicers sit on a marble countertop under the watchful eyes of a mix of Italian saints and soccer players. If a knife is needed, there's one jammed point-first into the crack between the counter and the wall.
Behind a beaded curtain is another, more ramshackle kitchen where work and family life compete for space. A toddler seat sits next to a metal scale out of a 1940s movie. Soccer plays on a flatscreen overhead. Back here, fresh-made sausage comes coiling out of a squat brute of a machine and is carried, cradled in its maker's arms, to the deli case, where it awaits a buyer.
Anything made on the premises is worth taking home, but it's the sandwiches, piled with meats as speckled and varied as Italian marble, that are the main reason to seek out this bit of transplanted Calabria. A good first choice is the off-menu "Will's Special," invented by frequent customer Will Philpot and elevated to cult classic thanks to the internet. Philpot says that when he first picked out the ingredients for his sandwich, taking care to maximize the items made in-house, an older Italian customer nodded approvingly at his choices, finally offering the highest praise he could muster: "That was a good pick for a WASP."
Take a look inside the kitchen at Riviera in our gallery »
Michael Gebert is a James Beard Award-winning journalist and documentarian based in Chicago. His work can be found at SkyFullofBacon.com.